London Group: Past Events
Read more about past Somerville London Group events.
2021 Events
Dr Clara Seeger
Just a year into lockdown life, a time when many of us may feel at least a different kind of balance in our lives and in the world around us, the Somerville London Group hosted Cultivating a Balanced Mind: An Art and a Science, with Dr Clara Seeger (Modern Languages, 1987).
After modern languages academia, Clara worked in investment banking and then studied neuroscience and trained as a coach. Her aim is, in her words, to facilitate "human flourishing through cultivating the mind by way of meditation, mindfulness, applied neuroscience and emotional intelligence".
Speaking over Zoom, Clara described the four functions of the mind: desire: what we are attached to; attention: what we attend to, and how; perception: how objectively do we perceive reality?; and emotions: which of our emotions are prevalent and how well do we regulate them? Each of these functions needs to be in balance. An imbalance may be too much or too little of any one of these, or dysfunction within them; and imbalance may lead to stress, anxiety or depression.
Clara's pathway to a balanced mind is meditation and after her talk she guided us through a fifteen minute mini-meditation.
From the comments in the chat, many of us left with a desire to explore meditation further, being challenged or encouraged by the two hours a day which Clara devotes to her practice. We are grateful to Clara for sharing her valuable insights.
Clara Seeger's talk was recorded and will be available soon. For more information, including about Clara's books and some free resources see https://www.claraseeger.com and https://enlightened-leaders.com
In these exceptional times the SLG is hosting free online events but the College welcomes voluntary donations from alumni and friends to assist students suffering hardship due to Covid. If you would like to donate to the Covid Hardship fund, please go to www.some.ox.ac.uk/donate .Every donation, no matter the size, will make a positive difference to the College community in these uncertain times. Thank you!
Baroness Ruth Hunt: Working Through Conflict

Ruth Hunt's topic for the Somerville London Group on 20 January was Resolving Conflict- for which one might say there's a pressing and widespread need in much of today's world.
Based on her experiences at Stonewall, where she started in 2004, and in a world where John Major and then Tony Blair, Gordon Brown and David Cameron were receptive to, indeed welcoming of, the LGBT agenda for legislative change, Ruth Hunt started believing that change ´just happens', not that change needs leadership. A decade later, and Theresa May, Ruth Davidson and Penny Mordaunt followed a similar line, asking what was wanted next (gender recognition being the answer). But, particularly after Boris Johnson became Prime Minister, the atmosphere had changed: the centre ground had been undermined and the world had shrunk. When Stonewall, with Ruth now at the helm and trying to make that organisation itself more inclusive and diverse, advocated rights for trans women, it was attacked on social media, and acknowledging that Stonewall was not that good at social media, Ruth did not quite know how to manage the conflict. She quickly learnt to disconnect from social media – using it simply as a notice board and not as a way to connect, and certainly not as a way to try and resolve conflict. But the conflict remained: the trans rights agenda, the Black Lives Matter movement, the more diffuse culture wars.
So how to manage – and resolve – conflict? Ruth's answer is manifold:
try and always put ourselves in the space which is active and positive (as opposed to passive and/or negative)
recognise our own power, agency and resilience in a particular situation
use these things to open doors, to build alliances, to lend support and to influence others
This last, she believes is key: it is easier for us to open doors, to lend our power to someone else (witness Joe Biden and Kamala Harris), than to advocate for ourselves.
Ruth left Stonewall in 2019 and now sits in the House of Lords (if, for the moment, virtually). She believes that kindness is an underrated virtue – and that our response to COVID has shown its presence in abundance. She believes we need to be brave and to strive not to be less than we are and she believes good, calm leadership is needed. On the evening of the Biden – Harris inauguration, a message for our times.
You can watch Ruth's talk again on Crowdcast. Please note that registration is required to access the replay: https://www.crowdcast.io/e/working-through-conflict
2020 Events
'Dressed for War' – Julie Summers on Vogue's Audrey Withers
The Somerville London Group held its second online meeting on Wednesday 18 November. The Principal welcomed over 100 guests to Dressed for War: The Story of Audrey Withers by Julie Summers. Julie has written thirteen books and  her biography of Somervillian and Vogue Editor, Audrey Withers is her latest.
Born in Manchester in 1905 to a Somervillian mother and a GP father, Audrey's early influences were her father and his circle of friends (artists, writers and poets, in particular the artist Paul Nash) and her boarding school headmistress, Mary Bentinck Smith, a suffragist who saw no bars to women doing anything and believed they should be as ambitious as men.
Good at English, Greek and Latin, Audrey went up to Somerville to read English, but, considering that she could read books in any event, soon switched to the new-ish subject of PPE. She loved her time at Oxford. It gave her confidence and she thought the tutorial system an excellent preparation for her future as editor of Vogue: "like an athlete preparing fro a race". She left Somerville in 1927, disappointed with a second, but determined to make her own, independent way in the world and headed for London.
After some time working at the bookstore Bumpus, Audrey answered an ad for the most junior copywriter at Vogue, borrowing clothes for the interview from her three flatmates. She got the job and rose quickly to be Managing Editor: liaising with writers and photographers and making sure everything ran on time and to budget. In 1940 she became Editor when the war meant that the previous editor, having returned to the United States for a holiday, was unable to return to  the UK. Audrey's first issues were produced in the cellars while the Blitz raged.
As Editor, Audrey wanted the magazine to about more than fashion and was determined to bring the war to its readers. Whilst Cecil Beaton produced many iconic images,  it was former Vogue model Lee Miller who provided the tougher edge, writing dispatches (which Audrey then edited) and taking photographs in Normandy, in liberated Paris, and in Alsace. In 1945 Lee reported  from the concentration camps of Altdorf, Buchenwald and Dachau and sent photographs (begging Audrey to believe that the horrors shown were true). In the June 1945 Victory issue, Audrey became the first British magazine editor to publish a photograph showing the piles of bodies from the camps: Vogue was indeed more than fashion.
Audrey stuck with "more than fashion" after the war. Contributors included Daphne du Maurier, Benjamin Britten, Henry Moore and Graham Sutherland. Fashion remained: Norman Parkinson took photographs for Audrey for fifteen years. Audrey discovered and promoted Antony Armstrong-Jones. But after twenty years at the helm, Audrey sensed that fashion was taking over and that there was less space for other features. She resigned and retired from Vogue in 1960.
She spent her time travelling (including many trips to Soviet Russia with her Russian émigré second husband). In the 1980s she worked as membership secretary for the then newly formed SDP. She was always meeting new people, always curious, always looking forward. Courageous, energetic and determined, life for Audrey felt "like champagne bubbling up inside". It bubbled until she died, aged 96 in 2001.
The SLG is grateful to Julie Summers for her fascinating talk which can be viewed at: https://youtu.be/EScTC6hqow4
Clare Hastings on Anne Scott-James
Clare spoke live on Zoom to members of the Somerville London Group on Tuesday 29th September, 2020.
Swive
In January 2020 the SLG enjoyed a theatre outing to see Swive [Elizabeth] preceded by drinks and a fascinating private introduction. The SLG is grateful to Margaret Casely-Hayford, Natalie Abrahami and Kate Maltby for their contributions described below, as well as to Rachel Kent for her following write up.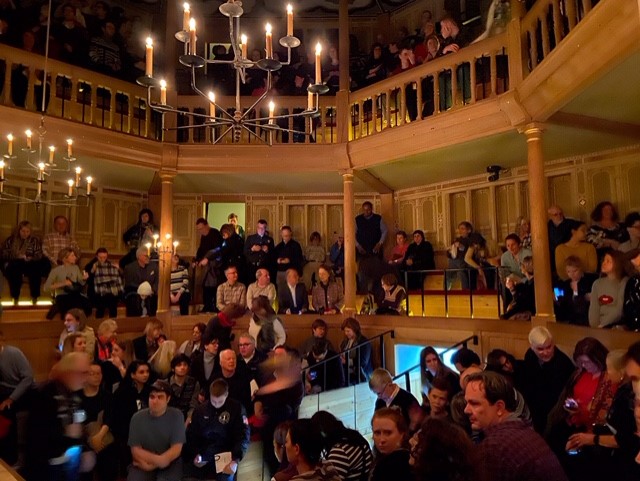 Queen Elizabeth I did not destroy her face by whitening it with lead in a vain attempt to conceal the effects of age.  This was one misconception corrected at a richly informative and entertaining SLG event at Shakespeare's Globe.
As wind buffeted the windows, we gathered for drinks in the Snug at the Swan Bar.  Margaret Caseley-Heyford, the Chair of the theatre, spoke briefly about current projects, and the challenges posed, both to artists and business managers, by an Elizabethan-style stage. She then introduced Natalie Abrahami, the director of Ella Hickson's play Swive [Elizabeth], in conversation with Kate Maltby, who is completing a PhD on the intellectual life of Elizabeth I. Natalie explained how the play considers Elizabeth's  traumatising childhood, which was the opposite of secure,  and how it might have affected the woman who unexpectedly became Queen of England.
She also spoke amusingly about her part in the making of the play, decisions about clothes (Mark Rylance's preferred word for 'costumes') and the peculiar difficulties presented by the Sam Wanamaker theatre – for instance, all the actors had to learn candle-lighting skills as well as lines.  Kate praised the play for its honesty about historical ambiguity and for questioning conventional perceptions of women and age.
The play itself was both thought provoking and a lot more fun than Schiller's play about the same characters. As well as doing Lighting, a cast of four played all the roles, with one actress playing all the young women and another the older ones – a seemingly obvious arrangement that was astonishingly effective. You need to see the play to understand why.
2019 Events
Socrates in Love
We were recently treated to a fascinating talk on Socrates in Love by Professor Armand D'Angour.
That September evening, the Somerville London group went back to Periclean Athens; a world in which women were seen but not heard – and were not that much seen (they did not, for example, go to the theatre) – a world in which if a (grown) woman was not "an Athenian Wife", she would probably be viewed as a prostitute or courtesan (unless she was a slave).
But there was one woman, at least, who was different: Aspasia.
Aspasia was born not in Athens but in Asia Minor, in Miletus, where, unusually, a girl could be educated.  Aged  about 20, she came to Athens and became Pericles' lover (and possibly his wife). More than that, her house became an intellectual centre in Athens, visited by prominent writers and thinkers. One of them was the younger Socrates.
But was she much more than a salon hostess? And did she influence the whole of western philosophy?
Professor Armand D'Angour has gone deep into the sources – copies of the papyrus scrolls that were the books of Athens and quotations from scrolls which have not themselves survived – and made some illuminating connections.
Though not an Athenian Wife, the ancient sources do not call Aspasia a courtesan; that comes only on the later copies or from the comic poets – but they were the then purveyors of fake news.  Instead, both Plato and Xenophon refer to her as a teacher – and as teaching men.
Next, in Plato's Symposium, Socrates speaks of the transformative effects of 'Diotima' (whom he refers to as a prophetess) and how she taught him to think of love as a quest for a higher truth. From which much of his philosophy flowed.
But who was 'Diomita'?
In Periclean Athens, start with Pericles. Pericles is called Zeus by the poets; Plato states that Diotima was 'honoured by Zeus'; who was honoured by Pericles? One piece of evidence is the record that shows Pericles seen kissing Aspasia in public (not something an Athenian Wife would be seen doing), acknowledging her, honouring her.
So is Diotima Aspasia? Professor D'Angour believes she is and if the links Professor D'Angour has found are right, we must recognise that Aspasia –  unusual, educated, and having crucial influence over Socrates – lies at the root of western philosophical traditions.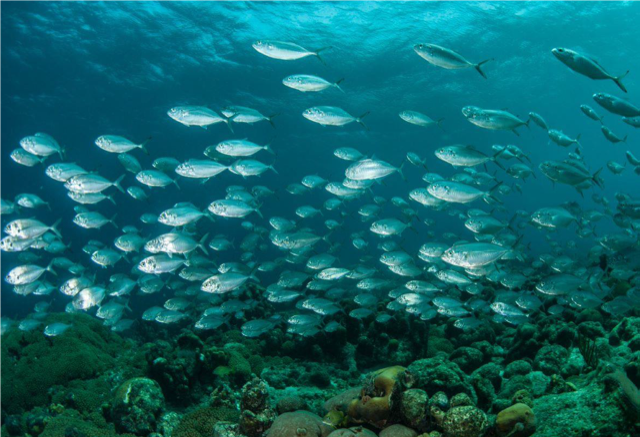 Beneath the waves with Dr Alex Rogers and Dr Lucy Woodall
In July 2019 the Somerville London Group was fortunate to have guest speakers Dr Alex Rogers and Dr Lucy Woodall to speak about their research into the deep oceans and the impact of human activity, fishing, pollution and climate change.
While almost every inch of land on earth has been mapped, the depths of the world's oceans remain a mystery. Professor Alex Rogers and Dr Lucy Woodall gave us some really fascinating insights into this vast region which has only recently become explorable with the aid of unmanned underwater vehicles.
Professor Rogers began with a slide of a 'larval marine biologist' (himself as a child on the Irish coast), and ended with a plea to us all to learn -and teach others – all we can about the ocean. He demonstrated the enormous importance of the oceans to life on earth, and showed us marvels that might have been dreamed up by Jules Verne, such the hairy-bellied Yeti crabs crowding around a hydrothermal vent deep in the Antarctic Ocean, where the water can be over 55.
Dr Woodall described her expeditions to the Seychelles and Antarctica. Happily, her first day of studying the Seychelles had yielded a spectacularly enormous example of healthy coral, and she was able to show us the wealth of fish and other creatures which live in a properly protected area of ocean. We were treated to slides that have yet to be analysed that probably contain new species, and were of places that have never been explored or photographed before. In Antarctica she had spent a day with Adélie Penguins, which she said ought to have clip boards, 'because they stare at you, like managers'.
Although both speakers had much to say that was positive, they stressed the need for immediate action on climate change and pollution. Professor Rogers insisted that the action of individuals can make a difference. He recommended reducing our carbon footprints by driving less, eating less meat and avoiding cosmetic products which contain Benzophenone-3, which is toxic to sea creatures. Ironically, it is sunscreen that contains many of the dangerous chemicals and these are washing off into the tropical seas where corals live.
Various websites giving useful guidance on the food and cosmetic products that are least harmful:
Environmental Working Group www.ewg.org
World Wildlife Fund www.panda.org/get_involved/live_green
Many thanks to Eleanor Sturdy for organising an event that was both sobering and inspiring.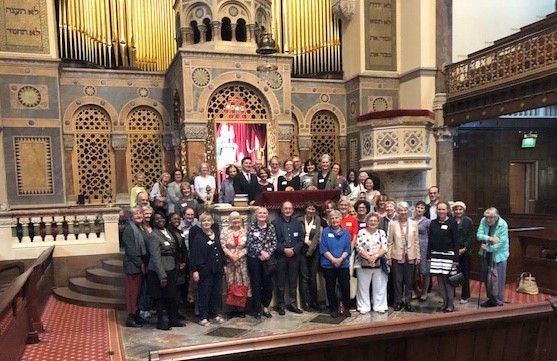 Visit to West London Synagogue
On June 6th 2019 the congregation at West London Synagogue consisted exclusively of  Somervillians and their guests. The Principal welcomed everyone and introduced the speaker, Rabbi David Mitchell, who gave a promenade talk specially designed for us. He began in the Corner of Remembrance and spoke movingly about D-Day and the many lives lost during the Holocaust, then led us into the grand panelled entrance hall, where he swiftly covered seven centuries of Jewish history in Britain, culminating with a description, taken from a Victorian novel, of Yom Kippur at the synagogue. In the sanctuary itself he told us about 'the ceiling that saved lives' and the changing roles of women in Reform Judaism. To end the evening he invited us all onto the bimah and opened the Ark to display the magnificently decorated Torah scrolls. We are very grateful to Rabbi Mitchell and to  Stewart Sether, the Executive Director.
If you would like to come to services please email Kathryn Forro and attach some form of photo id (Kathryn.forro@wls.org.uk). Services on a Friday start from 18.00 until 19.00, with some wine and bread at the end. Services on a Saturday start at 11.00 and finish anywhere between 12.40 and 13.00 and kiddush afterwards.
2018 Events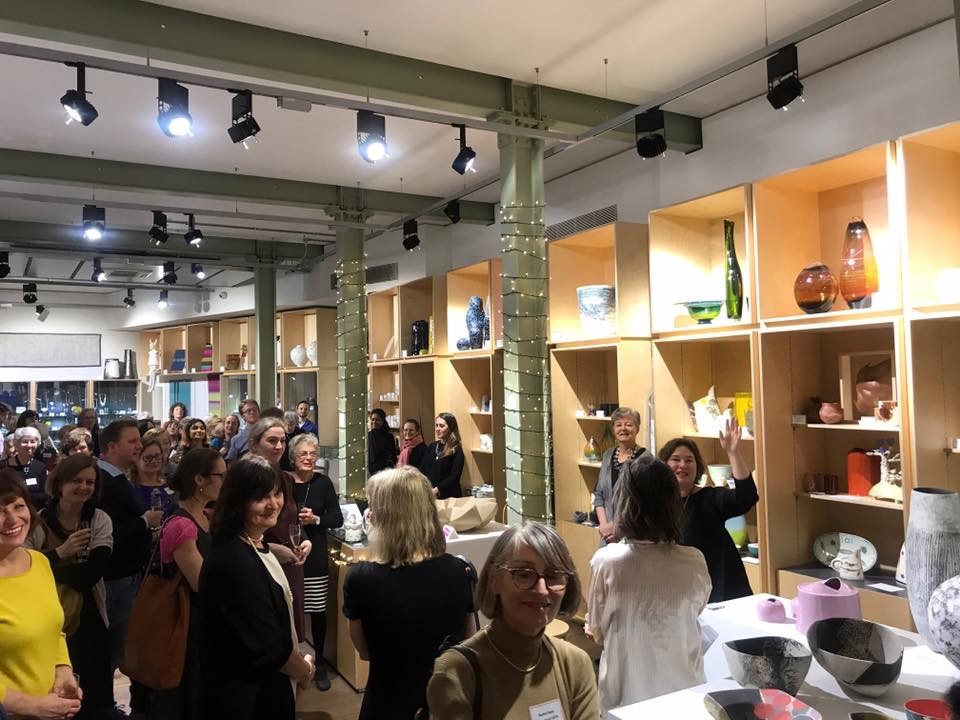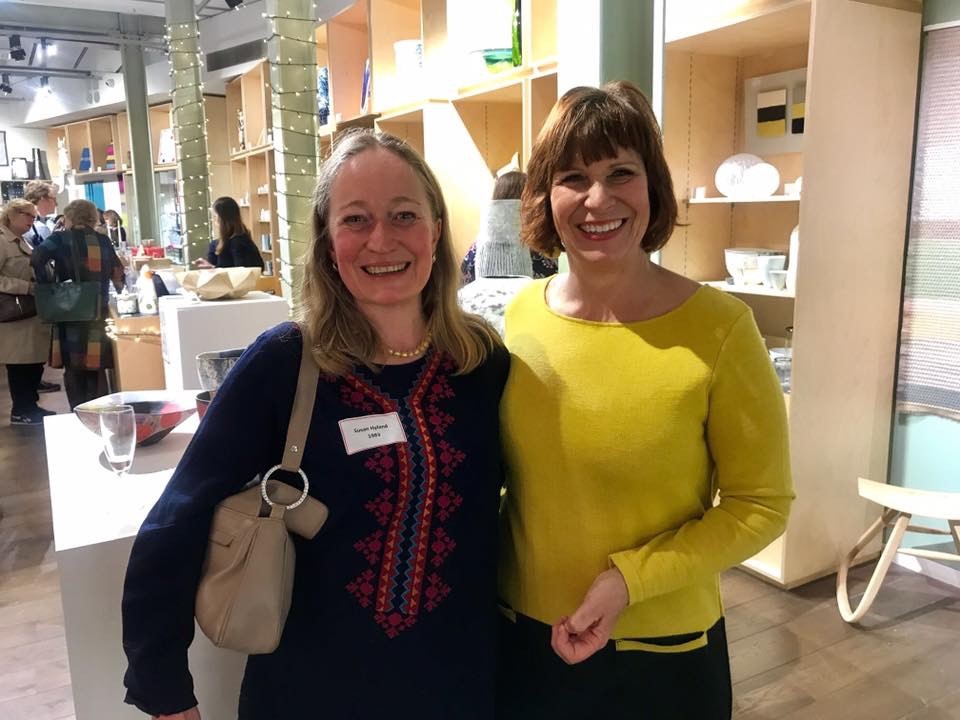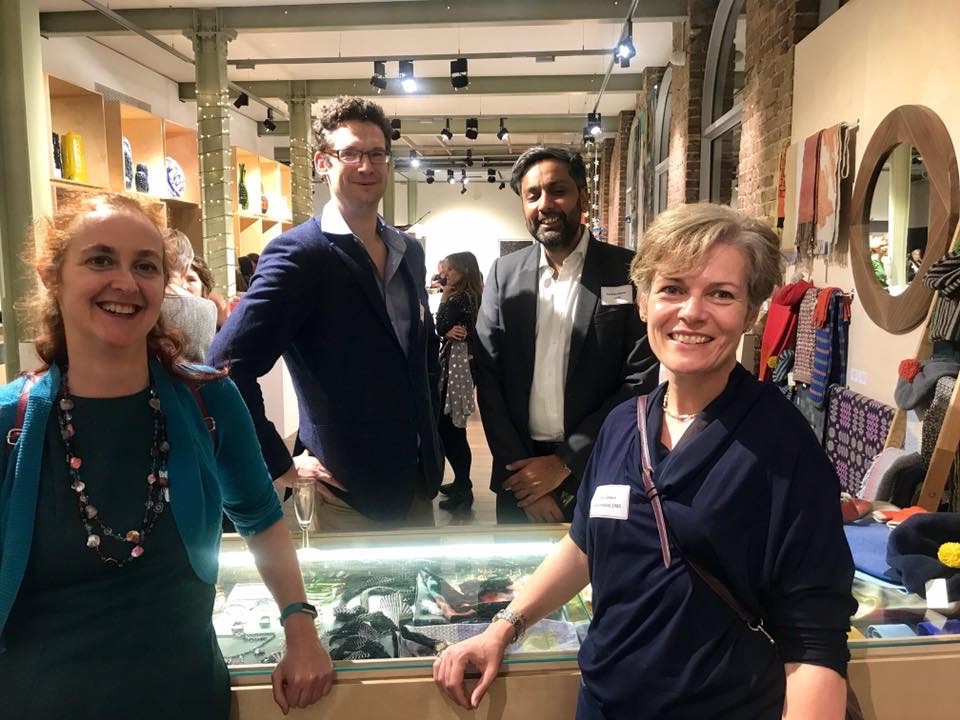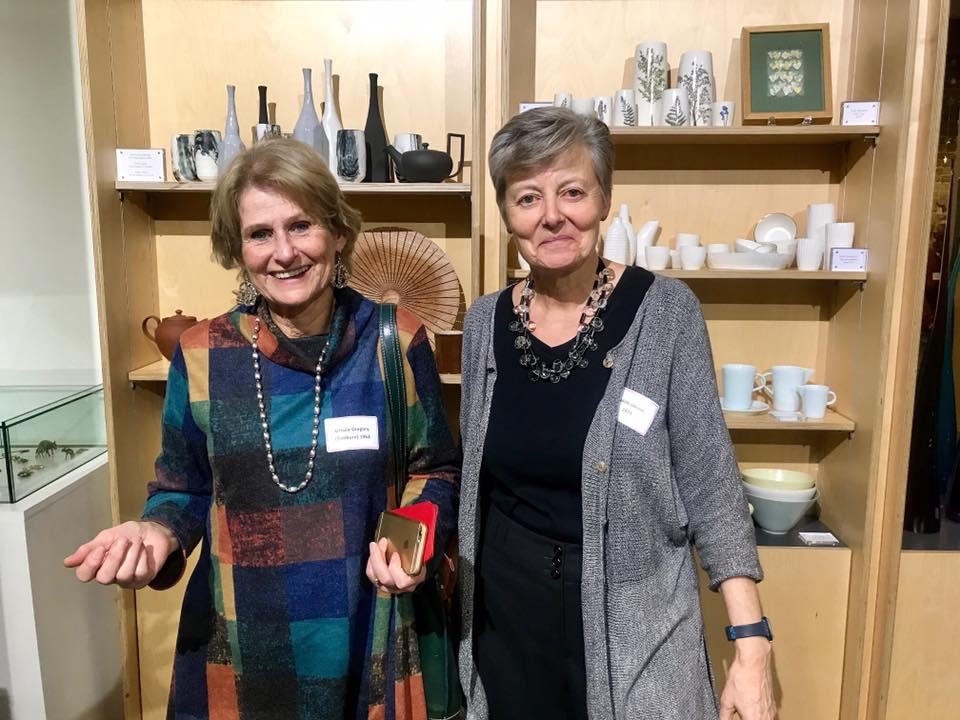 Reception at the Contemporary Applied Arts Gallery in Southwark
In December 2018 Somervillians and their guests enjoyed an evening reception at the Contemporary Applied Arts Gallery in Southwark. Champagne and canapés were served, and there were beautiful objects to admire (and buy), including ceramics, glass, textiles, metal work and jewellery. Experts were on hand to discuss and explain their work. This all made for a very enjoyable pre-Christmas event.
Dr Frank Prochaska: Queens are easier to love than Kings

In October 2018 Dr. Frank Prochaska gave an excellent talk at the Oxford & Cambridge Club on the Feminisation of the Monarchy covering the shift in royal roles over the past 150-200 years. Philanthropy in place of power. The subject gave rise to an enjoyable and lively discussion. For more on the subject please see Frank's article elsewhere on this website at: https://www.some.ox.ac.uk/news/queens-are-easier-to-love-than-kings/
Tour of Roman London

In September 2018 a group of Somervillians and their guests enjoyed a superb walk around Roman London. Guide Marilyn Collis entertained and informed the group about the earliest activities in the area through 400 years of their time in London. The group went underground to the amphitheatre underneath the Guildhall and visited the Mithraeum underneath the Bloomberg building. The walk vividly brought across just how important London was 1800 years ago.
Luke Harding: How Trump Walked Into Putin's Net
In June 2018, on the very day the Trump-Putin Helsinki summit was announced, Guardian journalist and author Luke Harding gave the SLG a fascinating insight into the story behind his latest book "Collusion: How Russia Helped Trump Win The White House."
It's a tale worthy of an exciting John Le Carré novel, except it's true and still unfolding. Its outcome could have the gravest consequences for the world order.
What can explain Trump's strange deference to Putin, both on the campaign trail and later?
Luke had already unearthed astounding facts when he met with Christopher Steele, a highly respected former British intelligence officer and now a private intelligence consultant with an extensive network of credible Russian sources. Shortly afterwards Steele would publish his dossier with its extraordinary allegations of Kremlin collusion with the Trump campaign and claims that Russian intelligence holds material seriously compromising Trump.
Steele was still holding his cards close to his chest but he seemed to endorse Luke's line of enquiry, to "follow the money" and hinted at another: "follow the sex."
On the money front there are some astonishing dealings.
Why would a Russian oligarch pay Trump $95 million for a Palm Beach property bought a few years earlier for just over $41 million?
Why was Deutsche Bank the only major bank willing to lend to Trump for over a decade? Why did they lend a further $300 million after he defaulted on a $45 million loan and even counter-sued for $3billion claiming co-created crisis? This same bank has been fined multi-millions of dollars in the US and the UK for money laundering for individuals connected to the Kremlin.
Trump's visits to Moscow would eventually lead to allegations of unusual sexual proclivities.
The KGB appear first to have opened a file on Donald Trump in the 1970s when he married Ivana Trump. In 1987 he'd made a Soviet government expenses paid trip to Moscow.
Why would Moscow court Trump? According to a later Soviet defector, the KGB's personality profile for prospective recruits included being vain, narcissistic, unfaithful, corruptible and a poor analyst….
On returning, Trump took out full page adverts criticising Ronald Reagan's foreign policy and indicating he would run for president.
Trump appears to have come back to Kremlin attention in 2010-12 when he was a leading proponent of birtherism. At the 2013 Miss Universe contest in Moscow his stay in the Ritz-Carlton Presidential Suite appears to have furnished sexually compromising material.
Leaving aside the background, Trump certainly behaves like a Kremlin asset, including promoting divisions in NATO and the EU and showing support for fascist movements in Italy and France. He uses social media to confuse and spread cynicism.
It's fair to ask if the US is still Britain's ally (and how far Russian interference affected the Brexit referendum result).
Putin's endgame appears to be the end of Western democracy leaving only powerful leaders who can roll over smaller nations-a return to 19th century geo-politics. In this way he'll right what he sees as the injustices of the 1980s and 90s and restore Russia to glory.
In effect, Putin runs Russia as a quasi-criminal mafia syndicate with himself as Don Corleone. His twin projects are vote-catching extreme nationalism, and amassing vast sums of wealth. Intermarriage between oligarchs' families is creating a sort of feudal kleptocracy.
It's a grim picture, though the outcome of the Mueller enquiry remains to be seen. Perhaps measures blocking oligarchs' wealth and movement will assist, as well as upholding the Enlightenment values of truth and reason.
The SLG is grateful to Luke Harding for another excellent talk. (This follows a previous visit to discuss his book A Very Expensive Poison which is being adapted into a play at The Old Vic).
Thanks also go to Sarah Wyles for arranging Luke's visit and chairing the evening.
See all photos here.

Claudia Sturt, Prison Security
In May 2018 Claudia Sturt, Director Security, Order and Counter Terrorism, HM Prison Service spoke to the SLG on "What are the chief challenges to prison".
In 2018 there are some 86,000 people in the country's prisons: double the figure of 1990 and more than any European country bar Turkey. Many prisoners are vulnerable and have troubled backgrounds. The average stay is six months. Most prison buildings date from the Victorian era or the 1960s.
Stakeholders – prisoners, victims, government, the media, the public(/the taxpayer) have opposing demands on the service. And in recent years there have been budget cuts of some 26%, achieved in the main through reduced staffing levels.
Against that background the prison service endeavours to provide rehabilitation and dignity as well as the punishment of imprisonment.
Claudia Sturt's engaging, wide-ranging, thoughtful and thought-provoking talk on the realities and difficulties  faced by the service in doing that  will have been eye-opening to many: the rise in prisoner self-harm, the problems of prisoners telephoning the outside world (leading to a big  trade in 'secret' mobiles),  the benefits of some simple things (curtains to allow a good night's sleep) and the challenges in providing some of them (a prison football team gives a lot to the team members, but an injury means three prison officers are taken out of normal duties to attend hospital).
A salutary insight on a world few of us see.
The SLG is grateful to Claudia Sturt for speaking to us about the courageous work of the prison service.

Peter Bazalgette, The Empathy Instinct
In March 2018, the SLG enjoyed a fascinating, wide-ranging talk by Sir Peter Bazalgette about his book, The Empathy Instinct, How To Create A More Civil Society.
Now Chair of ITV, Peter has also chaired Arts Council England and the UK Holocaust Memorial Foundation. He devised major TV entertainment shows such as Ready Steady Cook and Changing Rooms and brought Big Brother to the UK. In 2012 he was knighted for services to broadcasting.
Peter opened by asking: are we getting angrier? He cited the increase of populism, that people feel less well off, that trust has been declining since the 1970s, and that since the 1980s, individuals increasingly use 'I' more than 'we'.
Peter referred to the science behind aggressive behaviour. Women are, on the whole, more sympathetic than men, from as young as 12 months old. Differences are even discernible at one day old. MRI has allowed experts to map the human brain, showing 92 areas, including those responsible for conditions such as autism. It is possible to detect inherent psychopathic tendencies though nurture may prevent their application.
Peter contrasted cognitive and emotional empathy, alluding to Shakespeare's Iago, Shelley and opera. He contrasted tribal and prosocial empathy, noting that it is hard to balance them and that the former is easier than the latter.
Peter also commented on some specific topics, e.g. that some use Brexit to justify racist behaviour, that he considers prison makes inmates worse, and that the internet giants should accept more responsibility. He also sounded a warning about AI: even its proponents are nervous about it.
We are very grateful to Peter for coming to talk to the SLG. We also thank Rachel Kent for inviting him and for organising and chairing the meeting.


Hilary Spurling, Biography of Anthony Powell
In February 2018 the London Group was delighted to welcome Hilary Spurling to talk about her recent biography of Anthony Powell (AP). His popularity may have suffered in recent years, but the novelist as seen through the lens of his biographer Hilary Spurling was an exciting proposition that drew a large audience to the Oxford and Cambridge Club. Hilary's talk left us in no doubt that Powell should rightly take his place as one of the foremost chroniclers of the 20th century.
Being a personal friend of Anthony and his wife Violet, was, according to Hilary, a significant disadvantage since a degree of detachment was needed to forensically strip away the myth and the literary mannerisms to get to the core of her subject. Which she has achieved in spades!
Her biography focuses on Powell's early years, his hard-won successes and the quarter of a century that he dedicated to the series of novels written between 1951 and 1975 that make up the A Dance to the Music of Time sequence. Described by some as the English Proust, AP's work is very different from À la Recherche du Temps Perdu, except for its dry sense of humour. PG Wodehouse was, however, a formative influence and the two men admired each other's work and exchanged letters and encouragement.
AP was also a great friend and supporter of Evelyn Waugh, another writer whose reputation went into a trough before reviving.
Hilary offered us insights into the youthful AP, a budding artist whose collages wittily incorporated some of the vast collection of buxom Edwardian nudes he discovered in a secret hoard bequeathed to him by his father, the apparently strait-laced Colonel Philip Powell.
After barely scraping a third from Balliol, AP arrived in London. He was hard up and living in London on a small stipend from the Duckworth publishing house– a position Powell senior fixed up with an old army contact, publishing director Thomas Balston. On the periphery of a group of Bohemian artists and writers, AP was taken in hand by the artist Nina Hamnett, a sophisticated older woman. AP later took up with a young publisher's assistant Marion Coates, the playful and promiscuous archetype for Nick Jenkins' muse Jean Templar in A Dance to the Music of Time.
Yet it was his marriage to Lady Violet Pakenham, daughter of a large Anglo-Irish family – brother Frank became Lord Longford – that set the seal on his literary success.
But Lady Violet's connections and literary ambitions weren't her main contribution to nurturing AP's genius. No. It was the way the otherwise diffident Violet would critique his writing frankly and fearlessly in language their son John would later describe as "excoriating"!
As Hilary observed, "if Powell had set out to find the ideal wife he could not have possibly done better than Violet."
2017 Events
Jane Austen, Happiness and Melancholy
In November 2017 the Somerville London Group were treated to a witty and entertaining conversation between Jane Austen experts Sir Sherard Cowper Coles and Dr Jane Darcy – no relation although she has frequently been asked!
Both speakers grew up in Sevenoaks and shared their memories of its associations with Jane Austen and of other influences which led to their becoming dedicated Janeites. Sir Sherard even has a family connection: his great great aunt, Mary Pearson, was engaged for a while to Jane's somewhat racy brother.
Sir Shepard praised Jane Austen's complex plots, universal characters (each with their own distinctive voice) and her beautiful balanced language. Jane's works have now become part of our collective consciousness.
Jane Darcy was asked to comment on the subject of her forthcoming book: the melancholic themes in Jane Austen's work. She referenced the patient waiting and constant disappointments endured by characters such as Anne Elliot and Elinor Dashwood who could not know that their stories would end happily. Jane Austen's own long period without a settled home is reflected in Fanny Price's sense of not belonging. Male characters suffer too, Colonel Brandon being one example.
Both speakers believe that Jane experienced being in love. Sir Sherard quoted a passage from Persuasion which describes Anne Elliot's emotions so vividly that it surely describes Jane's own feelings.
Much more was covered, including banknotes, opinions on dramatisations and humorous accounts of Jane Austen Society goings on.
Thanks to Krystyna Novak and her husband John Brown, the event took place in the The East India Club whose origins and atmosphere reflect a world known to Jane and her characters.
Further thanks go to Rachel Kent for organising the evening and to Somerville's Professor Fiona Stafford for introducing our speakers. For more information about our speakers, please click here.
King's Cross Development
In May 2017, members of the SLG and their guests were privileged to enjoy fascinating and entertaining guided walks around the King's Cross Development led by Michael Freeman (Co-founder and Non-Executive Director of Argent LLP) and Jonathan Thompson (Chair of Argent). It was inspiring to hear first hand about the transformation of the former railway land which had previously been mostly derelict for around 30 years. Two groups enjoyed pleasant strolls in spring sunshine amongst imaginatively converted heritage buildings (including former gasholders), striking modern architecture and attractive plazas, parks and walkways.
Crucial to the success was the vision for a thriving mix of commercial, residential, educational and cultural uses, combined with innovative design. The development has received many plaudits for creativity, use of heritage buildings, social responsibility and sustainability.
In line with this vision, the thriving University of the Arts London has moved to the Granary Complex and companies such Google, Louis Vuitton, Universal Music and Havas are choosing to locate to the district. Residential facilities include affordable housing and a children's playground. Among plans still underway are a primary school, a possible Artificial Intelligence University, a theatre, and a shopping centre with an innovative roof design by the renowned Thomas Heatherwick.
A series of new public squares and gardens have opened, among them Granary Square with its spectacular fountains, Lewis Cubitt Park and Square and the new Gasholder Park. Regent's Canal winds its way through the development and an ecological nature reserve has been preserved.
The result is a pleasing mixture of the energising and the tranquil. It was hard to imagine this had once been such an abandoned, blighted area. The evening concluded with refreshments in Argent's offices amid the stunning architects' models and other displays.
We are grateful to to Clara Freeman (Jones, 1971, Modern History) for her role in organising the event, as well as to our hosts, Michael Freeman and Jonathan Thompson.
The Temple Church
On 1 February Somervillians and their guests joined others at Temple Church in the heart of legal London for Choral Evensong to mark the anniversary of the consecration of the church in 1185 by Heraclus, Patriarch of Jerusalem. The church, built by the Knights Templar, Tardis-like, and echoing the church of the Holy Sepulchre in Jerusalem dates from the 12th Century, was granted a royal charter on 1608 survived both the Great Fire of London and the Blitz and throughout has maintained a fine tradition of choral music. After evensong and drinks, Somervillians recongregated to hear the master, Robin Griffith-Jones, speak of the history of the church, its place as the church for two of the Inns of Court, its role in the birth of Magna Carta and much more. After that, a special view of an exhibition of Death Row art, curated by Samantha Knights (History, 1990) and barrister at Matrix Chambers was both moving and informative.
Dinner at the House of Lords
In January 2017 the SLG hosted a special dinner at the House of Lords. The event was a rapid sell out with a lengthy waiting list! The evening was hosted by Baroness Margaret Jay of Paddington (PPE, 1958), former Leader of the House of Lords. Over 100 guests enjoyed a drinks reception in the Cholmondeley Room followed by delicious food in the Terrace Dining Room overlooking the Thames. After dinner Baroness Jay chaired a wide-ranging and fascinating discussion on 'The State We're In Now', focussing on the potential implications of Brexit, with Jill Rutter (PPE, 1975), Programme Director, Institute for Government, and Will Hutton, Principal of Hertford College and Former editor-in-chief for The Observer. It was also an opportunity to thank Alice Prochaska at her last SLG event as Principal for her tremendous achievements in that role. She in turn thanked Sue Robson, who was about to step down as SLG Chairman (though remaining on the Committee) for her very successful leadership.
2016 Events
Behind the Scenes with The Archers

On a rainy November evening, some 75 Somervillians and guests gathered at the Oxford and Cambridge Club to hear Alison Hindell (English, 1979), Head of BBC Audio Drama and acting editor of The Archers talk about its recent storyline of Helen and Rob, love, coercion, violence and justice.
While Alison battled rain storms and delays on the Great Western Railway, the group listened to that night's episode then heard from two other Somervillians. Alison Skilbeck (Modern Languages, 1964) spoke most amusingly about her time playing Polly Perks in the early 1980s, then Elan Closs Stephens (English, 1966), BBC trustee for Wales, spoke of Radio 4 and Radio 3 now being the sole homes for radio drama and of Alison's role in protecting and championing the genre. Both ably demonstrated a Somervillian's ability to stand and deliver at a moment's notice!
Then the main event: Alison arrived and spoke about how the Rob and Helen storyline arose and developed, the liaison between the production team and charities working in the field (calls to them rocketed after certain episodes), and how the programme had had to deal with the new and untested legal background to cases such as Helen's.
A memorable and enjoyable evening. There are many Archers' aficionados among alumni with an impressive knowledge and clear affection for the longest running radio drama.
"Clinton v Trump-the most significant election of our era?" In October 2016 constitutional expert Professor Vernon Bogdanor and The Times' political commentator and interviewer Rachel Sylvester spoke at the Oxford & Cambridge Club. Of the surprise success of Trump's campaign, they concluded we're in an era of 'post-truth politics' – an 'age of unreason'-Trump was riding high on the latest wave of populism. Rachel Sylvester argued that emotion, not rational self-interest, shifts votes in this era – but the complex, globalised problems we face demand reasoned thinking. Professor Bogdanor showed that the political split is no longer left or right, but the people versus the elite. His historical context showed how populism – a focus on identity more than ideology – has paved the way for significant political realignments and policies.
The Romantic Seaside In May 2016 Dr Jane Darcy (Honorary Lecturer at UCL specialising in the literature and culture of the 18th and 19th centuries) gave a talk on the origins of the British seaside holiday. Dr Darcy's scholarly and very entertaining talk touched on topics ranging from innovations in theological thinking to the discomfort of putting on a wet bathing suit, all illustrated by a range of informative and amusing images. The venue was Burgh House, built in 1704, and once the home of Dr William Gibbons who made his reputation from the supposedly health-giving waters of the area. SLG guests were able to stroll around to discover the house's charms. Its last residents were Rudyard Kipling's daughter and her husband. Inside is much as they knew it in the 1930s. Part of the terrace was designed by Gertrude Jekyll. Today it is home to the Hampstead Museum.
Shakespeare Walk In April 2016 the Group held a specially commissioned guided walk led by Marilyn Collis, Blue Badge Guide. The walk took in locations specifically associated with Shakespeare or which he would have known, but the walkers also learned much more, especially about the Guilds, the Great Fire of London and the real reason the Millennium Bridge swayed. From Roman remains to the latest modern architects, Somervillians and their guests enjoyed London at a leisurely place and could look more carefully at its buildings and vistas. The walk ended with drinks at the historic George Inn in Borough.
A Very Expensive Poison In March 2016 Guardian journalist Luke Harding spoke to the Group about his book, A Very Expensive Poison, which tells of events pre and post Litvinenko's murder in London November 2006. He told a tale with a cast of global leaders, mobsters, spies and ordinary people, from cooks to tourists, all locked in an apparently parallel universe where behavioural and moral norms were subverted. Luke's book concludes with the public inquiry's findings which were damning and illuminating, though still not entirely public. Comments from those who waited to get their copy of the book signed were "Gripping", "scary", "fascinating" and "entertaining."
2015 Events
Freud's House In September 2015 the Group held a private viewing of the home of Sigmund Freud and his daughter Anna Freud. Highlights included an amusing talk from the Museum's Education Officer and the opportunity to wander freely around the home. Its centrepiece is Freud's study containing his remarkable collection of antiquities and his famous couch. There guests had the opportunity to hear further short talks in small groups. Anna Freud continued to live at the house for many years after her father's death and continued to develop her pioneering psychoanalytic work with children. It was her vision for the house to become a museum and to be a place of discussion and learning for those interested in psychoanalysis.
Lord Peter Hennessy In June 2015 Lord Peter Hennessy, Attlee Professor of Contemporary British History at Queen Mary University of London, spoke to the Group at the Oxford and Cambridge Club on the state of British politics in the aftermath of the General Election and the Scottish referendum and with the EU referendum on the horizon. Surveying the scene from his vantage point in the House of Lords, Lord Hennessey looked back on a momentous few months and gave some predictions for the future.
Emma Sky In June 2015 Emma Sky gave a fascinating and insightful talk about her time in Iraq. She spent years living with US troops in some of the most dangerous parts of a shattered, post-war Iraq where her forthright views and considerable expertise on the Middle East were noted by US Army leaders. She became US army commander Major General Ray Odierno's special adviser. Emma had been against the war but answered a Foreign Office call to help rebuild Iraq. Her book The Unravelling covers her time there, including how she became part of the US army's team, yet built strong trusting relationships with various Iraqi factions. Emma received the OBE for her services and contributed to the Chilcott Inquiry. More recently she became Senior Fellow at Yale's Jackson Institute.
Espionage during WW1 In January 2015, Gill Bennett, specialist in the history of secret intelligence spoke to the Group at the Oxford & Cambridge Club on the British secret intelligence during the First World War. Gill described the the major organisational developments that took place during the war which laid the foundations for today's secret service. She also gave intriguing accounts of some of the colourful characters involved, some of whom went on to become renowned authors such as Somerset Maugham and John Buchan. Gill also noted the invaluable role of networks of civilians who helped to gather intelligence.
2014 Events
Climate Change In October 2014, Professor Joanna Haigh spoke to the Group on climate change. Professor Haigh is recent Head of the Department of Physics and currently co-director of the Grantham Institute (Climate Change and the Environment) at Imperial College. She is President of the Royal Meteorological Society and an authority on solar variability and climate modelling. Joanna engaged her audience with convincing explanations of why global warming is happening and how very serious it is.
Walks Around St James On two evenings in July 2014 the Group held specially commissioned guided walks, led by Marilyn Collis, Blue Badge Guide. This marvellous neighbourhood, which includes Pall Mall and Piccadilly, has great historic significance and remains one of the most interesting and surprising areas of London. The tours took in buildings, people and events of significance and finished with (optional) refreshments in a traditional public house.
Florence Nightingale In March 2014 the Group had a private view of the Florence Nightingale Museum at St Thomas' hospital and Mark Bostridge, Florence Nightingale's biographer, gave a talk about her life and work: heroine of the Crimea, social reformer, statistician and the founder of modern nursing (and as an aside also spoke on the writing of biography).
The State of the Union In February 2014, Michael Moore, former Secretary of State for Scotland, spoke to the Group at the Caledonian Club. Having guided the Scotland Act 2003 through parliament and negotiated the Edinburgh Agreement which set up the legal framework for the 2014 independence referendum, Michael Moore gave his insider's view of the future of Scotland in the UK and of the UK in the European Union.
2013 Events
Persephone Books In December the Group enjoyed two evenings of wine, canapés, browsing and pre-Christmas book buying, followed by a talk by Persephone Books founder and publisher, Nicola Beauman, on some of the Somervillian authors she publishes.
Peter Jones Fashion Evening Champagne in a VIP area; a fashion show; chocolate tasting; beauty product testing: all made for a lively and enjoyable pre-Christmas event at Peter Jones in Sloane Square for members of the Group and their guests.
Six Moments of Crisis: Inside British Foreign Policy Gill Bennett (Somerville, 1969) former Foreign and Commonwealth Office Chief Historian gave a fascinating talk based on her book about how six critical post-WW2 British foreign policy decisions were taken: from sending land troops to Korea in 1950, to the Falklands conflict in 1982.
Foundling Museum The Group enjoyed a private guided tour of the Foundling Museum. Established on the site of Britain's first home for abandoned children, the museum tells the stories of the children who lived there over more than two centuries and of the Foundling Hospital's founder, Captain Thomas Coram. Exhibitions of the works of artist William Hogarth and the London life of composer George Frederic Handel, both of whom were early supporters of the Hospital, completed the visit.
Josephine Bonaparte: Mistress of Empires Kate Williams (Somerville, 1993) spoke to the Group at the Oxford and Cambridge Club about the extraordinary life of the first empress of the French, Napoleon's first wife, Josephine. Kate's biography of Josephine was published in October 2013.
2012 Events
George Leslie Hunter The Group enjoyed a private view at the Fleming Gallery in Mayfair of the works of the early 20th century Scottish colourist George Leslie Hunter with a talk by the curator.
Security in an Age of Austerity Vice Admiral Philip Jones, Deputy Chief of the Naval Staff, spoke to the Group at the Oxford and Cambridge Club on the role – and the changing role – of the British navy in the modern world and how it combines the use of military hardware and soft power to influence world events.
A Gala Evening at Strawberry Hill House On a summer's evening the Group and guests visited this iconic gothic mansion. Drinks and a tour of the house and garden were followed by dinner in the gallery after which the Principal, Dr Alice Prochaska, gave an entertaining talk on Horace Walpole's library, now at Yale University (where the Principal had curated it), but originally at Strawberry Hill House, Sir Horace's home in the 18th century.
The London Library The Group had a private tour of the stacks of this London institution in St James' Square, followed by drinks reception.
2011 Events
A Book of Liszts The Group's pre-Christmas event this year was at the Oxford and Cambridge Club in Pall Mall: an evening of words and music with John Spurling, author of A Book of Liszts, a novel written in celebration of the bicentenary of Franz Lizst's birth.
Fashion Event at John Lewis In October the Group enjoyed a private fashion show, followed by personal colour analysis, chocolate tasting, wine and canapes at the Oxford Street Store, all making for a lively and enjoyable evening.
Stories of Extraordinary Women and How They Get Forgotten A talk by Professor Ann Oakley (Hon Fellow of Somerville) centered on her biography of Professor Barbara Wootton, the renowned sociologist and one of the first life peers.
When Print was King The Group had a private visit to the St Bride Foundation, its library and fascinating collection of early printing presses with a talk by Ursula Jeffries (Somerville, 19 xx) on the history and work of Foundation.
Britain in Afghanistan Sir Sherard Cowper-Coles, the former ambassador to Afghanistan and special representative for Afghanistan and Pakistan spoke to the Group about his experience of policy and reality in Afghanistan.