2020 Development Awards
This year, the operative word was 'pivot', as the pandemic and uncertainties of global travel prompted our development awardees to adopt a flexible mindset and re-think their projects in light of looming lockdowns.
The selection panel focused its eye on proposals that enabled students to advance their academic research skills, facilitate personal growth and would also have a positive impact on others. From over 30 applications, the successful projects included: Volunteering in refugee camps; a research internship in human rights and forced migration, a music ethnography field trip to Kenya; an innovative project developing a system to remove arsenic from water in Bangladesh; English language teaching in Eastern Europe; a documentary on student mental health and cardiology research in Canada.
Although many of the eleven projects were cancelled, several projects finally came to fruition, including projects to support refugees, teach English and offer legal training and advice.
Charlotte Finegold (MSc Refugee & Forced Migration Studies, 2019/20)
When the pandemic prevented Charlotte getting to Uganda to intern for Justice Defenders, an opportunity arose closer to home in Oxford, working alongside Professor Catherine Briddick, a lecturer in international human rights law. While she hopes to work with Justice Defenders in future, last summer she gained valuable research skills to support her ambition to become a legal advocate for human rights.
"I got to apply and hone the legal analysis skills Prof Briddick had taught me, as I synthesised the legal reasoning used by the UN Committee on the Elimination of Discrimination Against Women in hundreds of documents – predominantly policy statements on migration and rulings on individual asylum-seekers' and migrants' claims. My research was presented at the 'Undoing Discriminatory Borders Workshop' in October 2020. It was a highly satisfying experience, contributing to scholarship on the intersections of refugee and discrimination law that can better guide advocacy efforts."
Alongside this research, Charlotte was an invaluable member of Somerville's team preparing our College of Sanctuary application, a reflection of our new refugee scholarships and commitment to educational support for displaced persons. "From discussions with students and faculty with experiences of forced displacement attending and working at UK universities, and from research on other Universities of Sanctuary, I formulated recommendations for steps that Somerville could take to welcome and support displaced students."
Charlotte is currently interning at the UN Relief & Works Agency (UNRWA), which provides humanitarian assistance and protection to Palestine refugees and at Human Rights First, which provides direct legal representation to asylum-seekers and does advocacy on immigration issues and other human rights issues.  She has secured a place at law school in the US next year. "During and after law school, I hope to work with Justice Defenders (formerly Africa Prisons Project), where I had hoped to work through the Development Award before the COVID-19 pandemic hit. As I pursue my legal education, I'll be better able to assist with their core services: providing legal and other training to incarcerated populations and vulnerable peoples across Africa."
"Ultimately, I want to work to eliminate discrimination faced by migrants in the law, education, and beyond. Through the Development Award, I broadened my network and acquired knowledge and skills that will help me pursue these goals. I gained perspective on innovative scholarship that will inform my future advocacy and ways in which universities can leverage their power to make their and other institutions more accessible to forced migrants."
I'm doing two internships at the moment — one is at the UN Relief & Works Agency (UNRWA), which provides humanitarian assistance and protection to Palestine refugees; the second is at Human Rights First, which provides direct legal representation to asylum-seekers and does advocacy on immigration issues, as well as many other human rights issues.
Lucas Jones, 2nd Year reading European and Middle Eastern Languages
Lucas, an accomplished linguist, wanted to teach English abroad to support his future plans to volunteer at refugee camps in Europe. He volunteered with Angloville, which organises immersive English camps for Eastern-Europeans. When the pandemic put his plans for Prague, Budapest, and Bratislava on hold, Lucas persevered, rearranging flights as restrictions lifted. He travelled to Poland, picking up a TEFL qualification, a bit of Polish and an insight into Eastern European politics and culture.
"I spent two weeks in Lipowy Most, bordering Belarus, teaching English to Polish teenagers. It was an intense introduction to working with children and probably the most enjoyable experience I've had with a volunteer organisation. Working with Angloville taught me important lessons about engaging with young adults, and the kind of questions and activities that elicit good responses. Producing interesting lessons required constant creativity, from searching for frogs in a nearby pond to discussing the state of Polish politics. Each volunteer was a 'mentor' to a small group of children; this level of responsibility was extremely rewarding and we also learned a lot about Polish culture from them."
Lucas also picked up some Polish, which he plans to keep up as a hobby. "Poland was a country that I knew nothing about. I visited the POLIN Museum of the History of Polish Jews and the Palace of Science and Culture, as well as the old city of Warsaw. This, coupled with the discussions I had with several older teachers about Polish history, has given me a deeper appreciation of the country's culture and history."
"I now feel equipped with the skills and experience to effectively teach English to young people. I intend to make use of these skills in the future by working for charities both in the UK abroad that need people who are able to deliver effective lessons in English, and hopefully put my French Arabic and Spanish to practical use."
Devaang Savla, (BCL candidate and Cornelia S Scholar) – Bringing Legal education and free legal aid to deprived communities in India
In 2017, Devaang Savla (BCL candidate and Cornelia Sorabji Scholar, 2019) founded an NGO, which provides cost-free legal education to economically & socially disadvantaged students and free legal aid to deprived communities in his hometown district in India. His award supported much-needed infrastructure and equipment costs.
"I am the founding President of a small NGO — Legal Aid Social Development Educational Society (LASDES)— which has 13 member lawyers, volunteering their time, and has three core aims, supporting students from deprived communities within the Prayagraj district in Uttar Pradesh, India. Firstly, we teach students to crack law entrance examinations in India and thereafter try to provide financial aid to sustain their college education. This project targets extremely poor students studying in dilapidated government schools."
"Secondly, we sponsor economically and socially challenged graduate law students, earning less than ~£20 per month, to develop a career in litigation at Allahabad before various courts and tribunals. We also provide free legal advice and sponsor litigation for the poor who fall below the poverty line."
"Due to lack of physical infrastructure, classes are conducted in collaboration with three commercial coaching institutes which allow a negotiated number of seats to our students in lieu of society members teaching at their institute for free (law subjects only). This way our students get professional guidance in other tested subjects like English and Mathematics, which are not taught by us. My project is to develop an equipped physical infrastructure to enable us to withdraw our dependence on commercial coaching establishments. This will allow us to accommodate a large number of students, and avoid being dependent on commercially-driven private institutes."
"Developing the future leaders of tomorrow, growing students' confidence to head projects and and motivating students to act as contributors to society, has been incredibly rewarding and I'm also learning how to grow, sustainably develop & structure a Non-Profit Organisation for the benefit of society. Our team of volunteers are committed to not only teaching students free of charge but also to financially aid their education to the best of our capacity, enabling our law graduates to get their foot into litigation practice to become bread-earners for their family."
Finlay Dove, Music 2018-2021
Second year musician, Finlay Dove, planned to spend the summer in Kisii County, Kenya, conducting a music ethnography project on the music of the Abagusii tribe and exploring the intersection between ancestral tradition and globalised modernity. He also secured a position with Education Partnerships Africa, volunteering in rural secondary schools, building on last year's volunteering project – installing a water gathering and filtration system and a new science labatory. His project has catalysed a partnership with a popular musician and their music has caught the attention of a Canadian World Music producer.
"International development and ethnomusicology, are both areas I aspire to go into after graduation," he explained, "so this project was not only a great opportunity for my personal musical development — branching out from classical, funk and jazz performance into the realm of World Music and Afro-Fusion — but also gave me valuable direction for my career."
During the summer, Finlay interviewed musicians online, hoping to complete his fieldwork in person over Christmas. As lockdown lifted, with very few cases in Kisii, immersing himself in Kenyan musical culture was finally on the horizon. "A popular musician, Moses Arati, invited me to perform in concerts with him. After interviewing him, we started producing Afro-Fusion music together, blending his obokano with my trumpet to create a unique sound. We produced several songs and music videos with local artists, learning a lot from each other's contrasting musical experiences, and did four performances with a live band. Experiencing first-hand the intersection between local and global has been an exciting element of my project; a crucial part of ethnomusicology is participation and immersion."
"Musically, my eyes have been opened to a new musical culture. Blending my trumpet and piano with the obokano and traditional singing was a valuable experience that has bolstered my training as a musician. I developed my ethnographic fieldwork skills, finding the balance between researcher and collaborator whilst negotiating the obstacles of corruption, colonial background and cultural differences."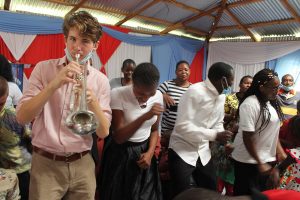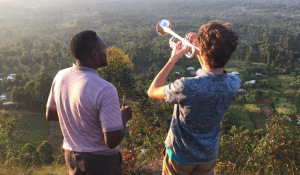 Finlay also contributed to education initiatives through partnerships with a local NGO that runs secondary school mentorship programmes. "We spoke and performed at three schools, encouraging the students to develop their talents and work hard towards their upcoming KCSEs (A-level equivalents). We also helped a group of student musicians with their piano playing."
"After the challenges of lockdowns last year, meeting so many inspiring individuals has invigorated my studies and musical life; the trip has left me on a huge high. I've made precious friends and had experiences that will be difficult to forget. Moses and I intend to spend a year researching and collaborating before I start postgraduate study. We believe there is a big future for our partnership and I hope to be back in Kisii very soon."
Traditional music of the Kisii people is centred around the incredibly unique obokano lyre (an instrument from Ancient Egypt that can only be found in this tribe today) and deeply symbolic traditional singing (in the native Ekegusii). You can listen at https://www.youtube.com/channel/UCU9iZdJ-1tZiqwAOWUaiUeQ
Recipients of the 2020 Development Awards
Zach Brubert (2016, Bm BCh Medicine) received £800 to create a documentary exploring the mental health of university students.
Gauri Chandra (2019, DPhil Public Policy) was offered £1,000 towards the costs of an internship at the World Bank. The scheme was unfortunately cancelled due to the pandemic.
Finlay Dove (2018, BA Music) was awarded £350 towards the cost of travel to Kisii County, Kenya, to conduct ethnography research exploring the intersection between ancestral tradition and globalised modernity in the music of the Abagusii tribe, and volunteer with Education Partnerships Africa.
Charlotte Finegold (2019, MSc Refugee & Forced Migration Studies) was offered £1,500 towards an internship in Uganda with the charity Justice Defenders. After the pandemic hit, rendering travel impossible, she redesigned her project, instead working alongside noted human rights law academic Professor Catherine Briddick in Oxford.
Aivin Gast (2018, BA Classical Archaeology and Ancient History) received £1,200 towards the costs of volunteering in Peru. His project has sadly been cancelled due to the pandemic.
Aaron Henry (2015, Bm BCh Medicine) was awarded £2,000 to support a cardiology research project in the UK and Canada, although this has been postponed due to the pandemic.
Lucas Jones (2019, BA European and Middle Eastern Languages) received £500 towards the costs of gaining a TEFL qualification and experience of teaching English as a volunteer in Poland.
Zineb Mimouni (2019, MSc Water Policy and Management) was offered £700 towards a lab project to test out a novel method she has devised for purifying arsenic-contaminated drinking water in Bangladesh. This will take place this summer in Oxford's School of Geography and the Environment.
Oliver Quinn (2017, BA English) was awarded £750 for a volunteering project with refugees in Calais, which has unfortunately been cancelled due to international travel restrictions.
Devaang Savla (2020, BCL Law) received £1,650 towards equipment and physical infrastructure for his legal education NGO (see above).