Welcome to the latest issue of the OICSD newsletter, featuring quarterly updates on our research, scholarships and seminars.
There is no doubt that the past quarter has been a grim one for India and the world. These difficult times have also brought forth immense solidarity and support from communities everywhere, including from Indian students at Oxford. Three Oxford student societies came together to raise more than £50,000 for relief efforts in India. Students worked round the clock to reach various organisations doing critical work on the ground and we applaud their efforts to make a difference. 
One of the OICSD's priorities is to bring people together to solve real world challenges. As we contribute to relief efforts, we continue our work on interdisciplinary approaches to sustainable development in India. This term, we have a new set of interdisciplinary publications along with a term card of events focussing on reimagining 'sustainability' in cities and urban life. Scroll down to read about an exciting new project by our OICSD scholar Gaurav Dubey, and our upcoming webinars and conference on India and Climate Change. But first, some highlights from a very special visit at the OICSD and Somerville College…
The Royal Visit
His Royal Highness Prince Charles met the scholars from the Oxford India Centre for Sustainable Development along with its Research Director, Dr Radhika Khosla. They discussed the climate emergency and research at the OICSD including the massive ongoing energy transitions taking place in India, changing consumption patterns of cooling technologies, the use of reforestation projects to mitigate climate change, among other sustainability challenges in India. 
Healthcare and Technology
Gaurav Dubey has created a first-of-its-kind online platform to connect the world's climate change research community with each other in a meaningful way. The Global Climate Research Portal is a collaborative effort of PhD students from the universities of Oxford, Cambridge, Harvard and Yale. For the first phase, the platform will create an online directory of PhD students working on climate change across the globe. Through this directory, it will offer advanced search functionality to know what form of climate change research is being conducted by whom and where.
 
Gaurav and his team are looking to bridge the funding gap to develop the portal. If you are interested in knowing more, please reach out to gaurav.dubey@ouce.ox.ac.uk, or visit the initiative's webpage www.globalclimateresearchportal.org.  
Reimagining Sustainable Cities
In the past few months, the OICSD has engaged extensively with questions of urban sustainability through its webinars and reading group activities. Indian cities are made up of dense networks which often resist being streamlined and neatly organised through various modes of governance. In an event on the politics of urban sustainability co-hosted with the School of Geography and the Environment, Prof Solomon Benjamin of IIT Madras spoke about how well-meaning acts of 'saving nature' could form sites of violence for many who live beyond the survey or the imposed grid of master planning. In a webinar co-hosted with the Oxford Climate Society,  Prof Anne Rademacher of New York University, and Jagan Shah, Senior Infrastructure Adviser in the Department for International Development of the UK Government spoke about reimagining the concept of sustainability that is sensitive to social and spatial vulnerabilities in the city.
Upcoming Seminars and Conferences
India and Climate Change COP26 Dialogues: How can the private sector in India engage with climate change?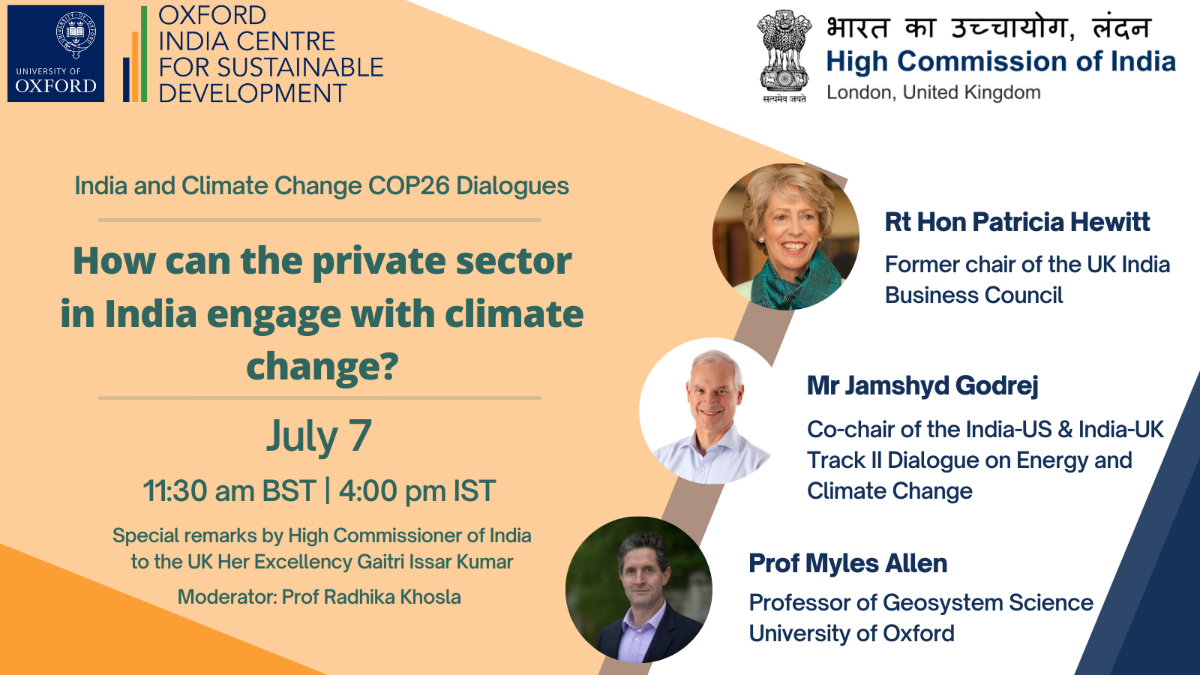 In the inaugural webinar of the India and Climate Change COP26 Dialogues, Patricia Hewitt, Jamshyd Godrej and Myles Allen will discuss how businesses and companies might collaboratively engage with India's climate change ambition. This is the first of a series of webinars in collaboration with the Indian High Commission (IHC), London in the lead up to the COP26 in Glasgow in November 2021.
Food Futures in a Changing Climate:
by the OpenAg Symposium Series
Global food systems are tasked with the complex challenge of satisfying the growing food demand while encouraging environmentally sustainable farming practices. On September 3rd, the OICSD will host the inaugural OpenAg Symposium in partnership with UPL. The event will explore 'Food Futures in a Changing Climate' ahead of the UN Food Systems Summit and COP26, bringing together a select group of academics, policymakers, industry figures, and NGO leaders from across the globe to discuss the social and environmental trade-offs and challenges in agriculture posed by climate change, with a view to apply research to real world examples of food security and agricultural sustainability.