Oxford India Centre for Sustainable Development Newsletter
Summer 2020
Welcome to the sixth edition of the OICSD newsletter.
We hope you and your families are safe and well. As we prepare for the new academic year amid some uncertainty, we are excited to be joined by new OICSD scholars who will pursue research in the fields of zoology and biochemistry. Through this pandemic, we have been committed to serving as a hub for knowledge exchange and solution-oriented discussions around sustainable development challenges in India. Our recent much viewed webinars included: India's response to COVID-19; malnutrition in India during the pandemic; and environmental politics in India. In addition, our researchers published a rich set of new journal articles (see below).
We are also pleased to announce two new engagements with institutions who share a focus on development issues in India. First, we are delighted that Somerville College Principal Baroness Jan Royall is now a Distinguished Fellow at the National Foundation for India (NFI), which works towards promoting social justice by strengthening civil society organizations. Two, we are delighted to partner with the India Climate Collaborative (ICC), an India-focused organization that aims to connect and empower institutions, individuals and communities to rise to the climate challenge. Through these collaborations we hope to continue to grow our interdisciplinary work and translate research to impact at various scales.
New Publications

Rethinking India's Energy Policy: Development Challenge around Multiple Objectives
Authors: Radhika Khosla and Navroz Dubash
Journal: Economic & Political Weekly
The authors suggest a reorientation of India's supply-centric energy strategy to address the country's simultaneous multiple objectives: energy access, environmental quality and energy security.
Superimposition: How Indian city bureaucracies are responding to climate change
Authors: Ankit Bhardwaj and Radhika Khosla
Journal: Environment and Planning E: Nature and Space
The authors analyse how cities with limited climate governance capacity and with existing non-climate priorities develop a climate response within existing bureaucratic practices.
The Challenge of Using Epidemiological Case Count Data: The Example of Confirmed COVID-19 Cases and the Weather
Authors: Francois Cohen, Moritz Schwarz, Sihan Li, Yangsiyu Lu and Anant Jani
Journal: Forthcoming in Environmental and Resource Economics
The authors show that it is impossible to know if weather influences the spread of coronavirus at this stage. Their research findings have been reported in multiple media outlets including The Conversation, The Telegraph, The Evening Standard and Daily Mail. Oxford's Future of Cooling Programme at the Oxford Martin School aims to understand and shape the unprecedented future growth in global cooling demand to deliver on the Sustainable Development Goals.
Precision social prescriptions to promote active ageing in older people
Authors: Muir Gray, Giovanna Adamo, Erica Pitini & Anant Jani
Journal: Journal of the Royal Society of Medicine
In an ageing population, we must reimagine the role that older people can play in society in an inclusive way by designing interventions and environments that suit their needs, write the authors.
Resetting priorities in precision medicine: the role of social prescribing
Authors: Erica Pitini, Giovanna Adamo, Muir Gray & Anant Jani
Journal: Journal of the Royal Society of Medicine
The authors argue for the need to support a comprehensive precision medicine approach where research and interventions on genes, environment and lifestyle can work in collaboration.
Digitally enabled social prescriptions: adaptive interventions to promote health in children and young people
Authors: Richard A. Harrington, Muir Gray, & Anant Jani
Journal: Journal of the Royal Society of Medicine
The authors write that technology and data can help enhance social prescribing to address environmental and lifestyle-related issues of children and young people.
Preparing for COVID-19's aftermath: simple steps to address social determinants of health
Author: Anant Jani
Journal: Journal of the Royal Society of Medicine
The author argues that during complex and uncertain situations such as the COVID-19 crisis, simple steps in areas we can control can go a long way in supporting people.
Non-monetary intervention to discourage consumption of single-use plastic bags
Author: Gauri Chandra
Journal: Behavioural Public Policy
The author shows how a non-monetary interventions can foster a commitment to reuse carry bags and finds it to be as effective as a charge of 5 pence per plastic bag.
New funding: OICSD Research Associate Siddharth Arora
Dr Arora has received funding (co-investigator) as a part of the Lab10x award to further develop a smartphone app for use in clinical trials in Parkinson's disease. The app measures voice, gait, postural balance, dexterity, reaction time and tremor, to facilitate remote assessment and monitoring. He is also involved in two research projects on COVID-19.
Scholar Highlights
Aradhana Cherupara Vadekkethil
Presented her ongoing DPhil research on rape adjudication in India, along with the impact of COVID-19 on domestic and interpersonal violence across the world. Aradhana was part of the Oxford Human Rights Hub team that made submissions:
– to the Women and Equalities Committee highlighting the disproportionate impact of COVID-19 on women's reproductive rights and their role in unpaid care work.
– to the Joint Committee on Human Rights (UK) arguing that the government must have due regard to women's right to equality in internet access, gender-based violence and housing during these COVID times
– to  United Nations Special Rapporteur on the increased domestic violence against women in India, Canada, South Africa and the UK during COVID-19.  
Gauri Chandra
Gauri presented her research paper on non-monetary interventions to discourage the use of single-use plastic bags  at the Centre for Social and Behaviour Change, which is the Behavioural Insights Unit of the NITI Aayog.
Trisha Gopalakrishna
Trisha presented an academic poster titled "Is India's dominant vegetation savannah? Reforesting in India for climate change mitigation without compromising native savannahs" at the Nature Based Solutions 2020 Digital Dialogues in July this year. Trisha has also been offered a Teaching Assistantship position for the MSc course in Biodiversity and Change Management at the School of Geography and the Environment  for Michaelmas and Hilary terms.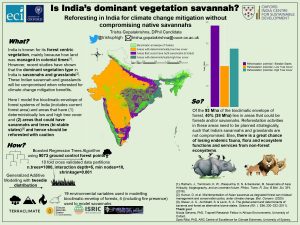 Recent News and Events
Important Dates