The Oxford India Centre for Sustainable Development has awarded scholarships to eight Indian students who will take up their places at the University of Oxford in October 2021. They will pursue research on India's sustainable development topics ranging from solar cells and renewable energy to the role of diverse communities in shaping urban landscapes in South Asia.
Including the existing scholars, the OICSD cohort for the academic year 2021-22 has grown to 21 students – which is the largest cohort of scholars the Centre has supported since its inception in 2013.
Candidates are selected based on their academic merit and the alignment of their work with the Centre's impact themes such as climate change, energy, cities, healthcare technology, biodiversity and conservation, among others.
The Centre has funded the postgraduate studies of a total of 43 Indian students till date, most of whom have returned to India upon their graduation to work in fields of law, governance, conservation and social development, thereby carrying forward the Centre's ambition of developing 'brain gain' for India.
This year, the Centre has awarded the prestigious Indira Gandhi scholarships to Snigdha Lal and Karthik Ganesh towards their DPhil research in Condensed Matter Physics and Inorganic Chemistry respectively.
Snigdha Lal's research will be aimed at understanding the fundamental properties of various perovskites (synthetically formed compounds used in solar cells) which can then be used to improve their performance and make high efficiency devices. "I believe that perovskites will be an important technological leap in the global transition to clean energy and through OICSD I want to use my research to create the greatest impact in the field of clean energy especially for countries such as India," said Snigdha, who previously did her undergraduate studies in IIT-Bombay and master's in chemical engineering at TU Delft, Netherlands.
The Indira Gandhi scholarships were instituted at the OICSD through a joint endowment by the Government of India and the University of Oxford towards research on the challenges and opportunities of sustainable development in India.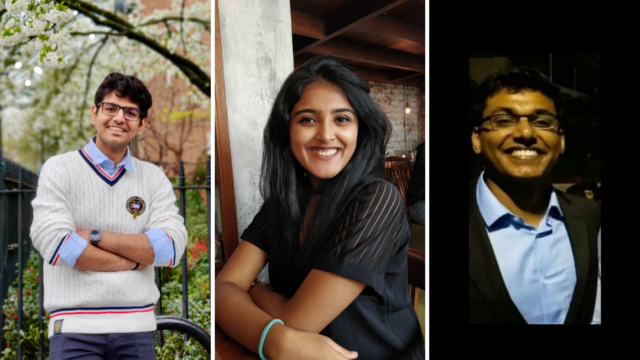 The Centre has also awarded the Gopal Subramanium scholarship to Swapnil Tripathi for pursuing a DPhil in Law. "I aim to focus on the judicial tools of Public Interest Litigation and Suo Moto cognizance and argue that although created to achieve 'substantive justice', the use of these tools has done more harm than good," said Swapnil, who has recently completed the Bachelor in Civil Law degree at the University of Oxford. "I aim to propose a theory that shall achieve 'substantive justice' without compromising procedure, like these tools do."
This scholarship has been established by Somerville College and the Oxford India Centre for Sustainable Development through the generous support of Mr Gopal Subramanium, former Solicitor General of India.
This year, the OICSD has awarded Indira Gandhi-Radhakrishnan scholarships to Mrinalini Mitra and Sumedha Chakravarthy to pursue a one-year masters degree in Modern South Asian Studies.
Each year, the Centre awards partial scholarships for postgraduate studies in law, through generous donations from Mr Sarosh Zaiwalla, Senior Partner and Founder of Zaiwalla & Co, and Mr Hemant Sahai, Founding Partner of HSA Advocates. The supporters of the Cornelia Sorabji Scholarship are distinguished friends from the Indian legal and business community and include Dr Pheroza Godrej, Senior Counsel Darius J Khambata and Senior Advocate Harin Raval.
This year, the Ratanshaw Bomanji Zaiwalla scholarship was awarded to Sarvatrajit Singh Jajmann for an MSc in Law and Finance. The HSA Advocates scholarship and the Cornelia Sorabji scholarship were awarded to Avani Agarwal and Shubrojyoti Mookherjee respectively for the BCL degree.
To be considered for the scholarship, applications for graduate study at the University of Oxford must be submitted by the relevant January deadline for a specific course. Please see the Standard scholarship selection terms for more information about the application and selection process.