Sustainability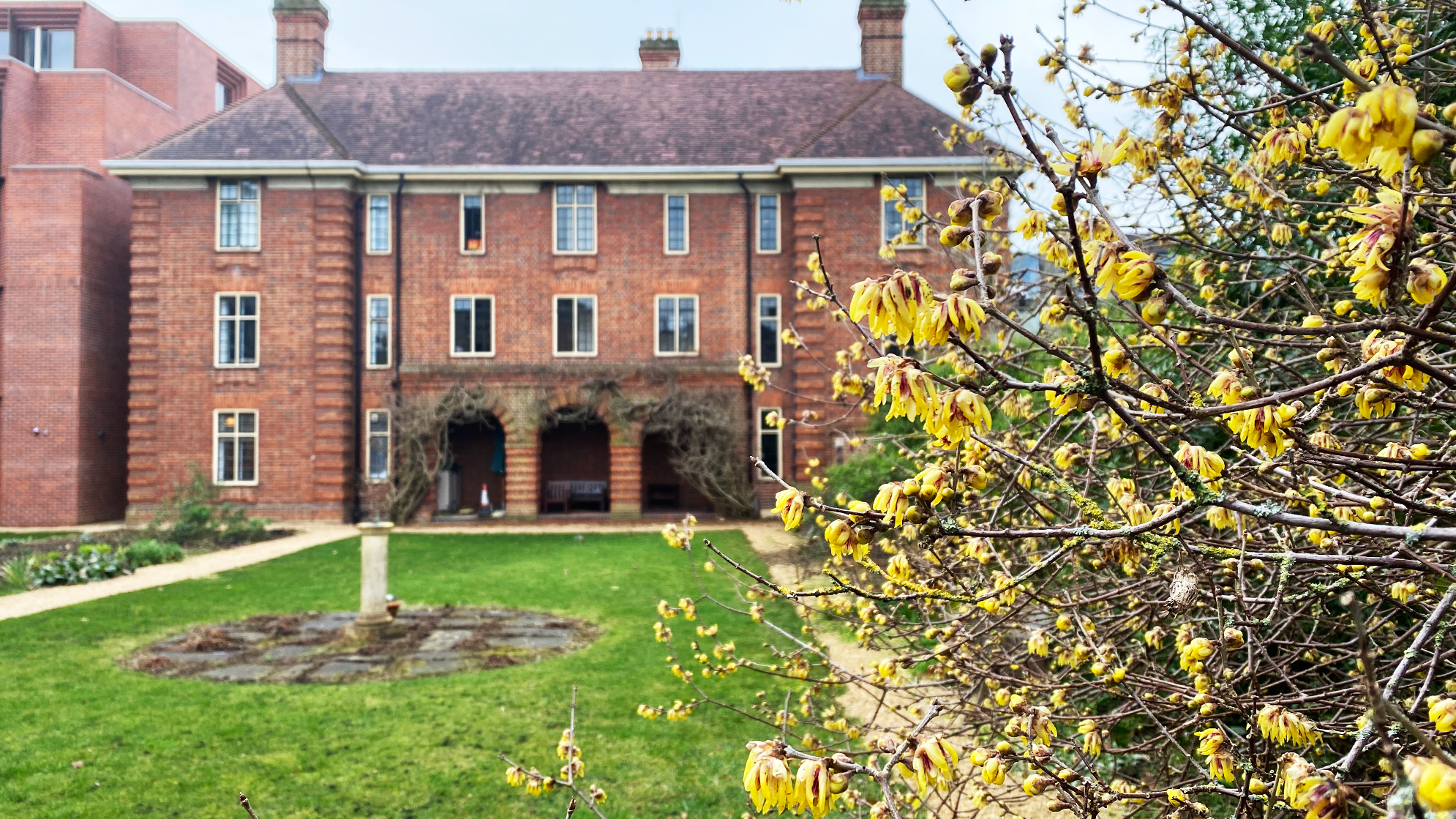 With the climate crisis worsening, we are pursuing a comprehensive sustainability agenda that will support our ambition of achieving net-zero emissions as soon as possible.
We are pleased that the Conference of Colleges, the body which represents Oxford University's colleges, has joined the Zero Carbon Oxford Partnership. This will provide a forum for organisations based in and around the city to collaborate in accelerating emissions reduction and help Oxford achieve net zero carbon by 2040 for scope 1 and 2 emissions. Somerville regards this as a positive indication by the Conference of Colleges of its ambition to achieve net zero emissions across the city by 2040, a goal we share.
We have formed a Sustainability Working Group comprised of representatives from our undergraduates, postgraduates, academics, and support staff, who will generate policies to help us reach net zero. The group is chaired by our college Climate Change Champion, freshwater and marine ecologist Associate Professor Michelle Jackson. Professor Jackson's research investigates the response of individual ecosystems to environmental change and global heating.
We are already making progress on multiple fronts:
Lighting: All tungsten lights in the college will be replaced when they expire with efficient LEDs, a process which is currently halfway complete. Sensors are being installed in communal rooms to save energy through unecessary lighting.
Heating: Smart Building Management systems have been installed across the site to monitor, manage and adjust boiler performance. Thermostatic radiator valves are being installed to heat more efficiently, and we are currently piloting the use of water ionisation technology in boiler feeds. Solar panels and ground source heat pumps are installed on two student accommodation buildings for low-carbon heating. Our latest accommodation block utilised CLT rather than traditional concrete to reduce energy use both during manufacturing and in its operation now.
Energy: Somerville currently procures all its energy from renewable suppliers.
Travel: One of the areas where academic communities have historically made a significant contribution to pollution is by flying to conferences, field work placements, and other academic engagements. Following a proposal led by one of our own students, we are committing to a new scheme that will provide incentives to our students and academic staff to choose lower carbon travel solutions such as rail over flying when college travel funding is available.
Managing waste: We were the first college to implement food waste recyling. The kitchens recycle all food when safe to do so, and we have implemented a comprehensive waste management strategy. We are currently piloting food bins in student kitchens. We are currently developing further recycling strategies, including the donation of unused computer hardware to Dell for recycling/reuse in schools and a contract to offer terracycling bins for hard to recycle items.
Food: We have revised and improved our vegetarian and vegan menu, and on Mondays we serve only plant-based food in our dining hall. Ingredients are sourced locally whenever possible, and fish is now purchased from Marine Stewardship Council certified sustainable suppliers. Following kitchen refurbishments in 2020-21, our kitchens will use induction cookers to prepare food more energy efficiently and without need for fossil fuels.
Biodiversity: Our Head Gardener has devised a plan to increase biodiversity in the gardens over the next 3 years by introducing a wider variety of species of plants to provide habitats and mitigate the effects of climate change, along with the provision of wilder spaces to accommodate different species. She also plans an initiative where members of the college community will use an app to help track the incidence of different species with the college grounds to map biodiversity on the site.
Investments: We aim to fully divest from fossil fuels by July 2021, and our remaining investments represent less than 1% of our total endowment. We have already divested from £400,000 of investments in coal, and from a significant proportion of our holdings in oil and gas companies. We will re-invest this income in new green investments.
Sustainability Officer: We have agreed in principle the appointment of a new Sustainability Officer, who will orchestrate, facilitate and promote our sustainability efforts both internally and externally. The post will be partially funded by our JCR and MCR as well as the college administration, as a gesture in recognition that this is a critical appointment for our entire community.
Somerville also contributes to the fight against climate change across the world by supporting climate change research.
The Oxford India Centre for Sustainable Development supports India's sustainable future through research, events and scholarships for Indian postgraduates working in science, policy and law.
Its research director, Dr Radhika Khosla, co-leads an ambitious project at the Oxford Martin School on the future of cooling, which seeks a solution to the massive emissions caused by air conditioning and refrigerant use.
We are proud to host a new conference, OpenAg, looking at the development of sustainable agriculture in partnership with UPL. The conference has been postponed due to the coronavirus pandemic, but we will make more details available in due course.
We continue to work in partnership with the University and the Conference of Colleges to reduce our carbon emissions. You can read the University Sustainability Working Group's proposed strategy here.