Welcome to the latest issue of the OICSD newsletter featuring updates on our research, scholarships and seminars.
It is that time of year again when we at the OICSD reflect on our lessons and achievements over the past months before we wind down for the end-of-year break. It has been a year of resuming our normal research hub activities, with highlights including a visit to India by the Centre's academic leads as well as the graduation of a crop of our senior scholars who have secured fantastic results at the end of their degrees. Read on to find out more about their journeys. 
In September, Somerville's Principal Baroness Royall, Development Director Sara Kalim and the academic team had an immensely rewarding trip to India to meet OICSD's supporters, well-wishers and academic partners. The trip involved the announcement of a new set of scholarships funding postgraduate studies in law, public policy, business, and the environment supported by Cyril and Vandana Shroff, to commemorate Mr Shroff's 40th year of legal practice. As part of the engagement, Mr Shroff convened a high-level meeting in which OICSD Research Director Prof Radhika Khosla spoke to an audience of decision-makers from India's private sector on the nature and scale of the global climate challenge. Other activities in India included a partnership visit to the Tata Institute of Social Sciences, Mumbai, a reception hosted by the British Deputy High Commissioner for Western India Alan Gemmell, and a visit to our Honorary Patron Mr Ratan Tata.
Overall, it's been a rich year of vibrant and well-attended events, both virtual and in-person – the latest including a documentary screening and panel discussion on Extinction Rebellion, a conversation between two noted anthropologists on urban climate infrastructure in Mumbai, and a workshop for prospective candidates of the OICSD scholarships of 2023. Please read on for more about the Centre's research, scholarships and seminars.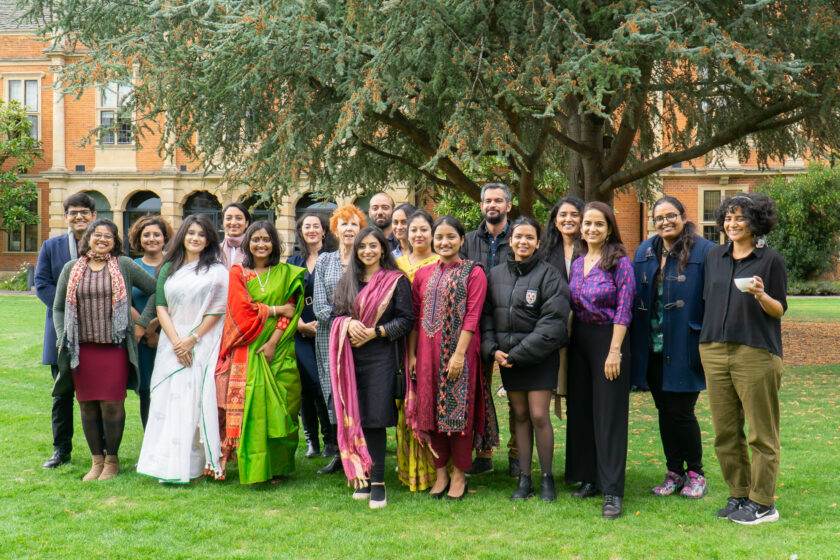 OICSD Scholars
We are incredibly proud of our scholars Dr. Ranu Sinha and Dr. Navya Jannu who have officially graduated with doctoral degrees this year, and Dr. Vanshaj Jain and Dr. Safa Fanaian, who have successfully passed their DPhil vivas. 
Dr. Ranu Sinha currently works as an Irrigation and Drainage Specialist at the World Bank, Washington DC. Her DPhil research examined the impact of a ten-year World Bank Funded irrigation infrastructure project in Madhya Pradesh to better understand the relationship between changes in monsoon patterns and crop yields and their impact on poverty for Indian farmers.
Dr. Navya Jannu's research focussed on law, climate change and clean energy infrastructure in India. Through her doctoral research, Navya explored the role of lower courts and tribunals in India's transition to renewable energy. She now works as an International and Environmental Law Consultant at World Bank in Washington DC.
Dr. Vanshaj Jain's research interests pertain to public international law and climate change. He studied the impact of rising sea levels on international maritime boundaries and entitlements, to better understand how the law may be developed to accommodate sea-level change. He is currently a Pupil Barrister at Brick Court Chambers, London. Take a look at our in-depth interview with Vanshaj here.
Dr. Safa Fanaian is currently a post-doctoral Research Fellow at the Water Justice Hub, Crawford School of Public Policy, Australian National University. Her research seeks to understand the possibilities for effective governance and management in urban rivers while navigating trade-offs for policy, civil society and enterprise.
We are also proud to share that our OICSD alumna Dr Vaanathi Sundaresan has taken up the position as an Assistant Professor at the Department of Computational and Data Sciences (CDS), Indian Institute of Science (IISc), Bengaluru, India. She is also an Honorary Research Fellow at the Nuffield Department of Clinical Neurosciences (NDCN), University of Oxford. Vaanathi previously worked as a postdoctoral researcher at the University of Oxford and at Massachusetts General Hospital, Harvard Medical School, USA.
OICSD Research: Introducing Dr Shobhana Nagraj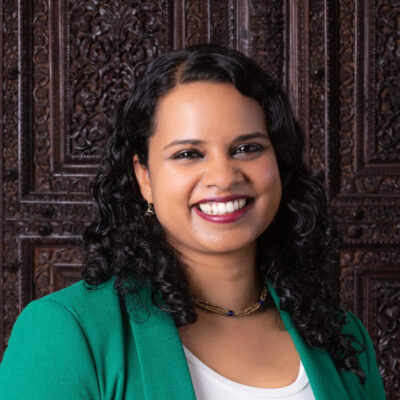 We are delighted to welcome Dr Shobhana (Shobi) Nagraj who has joined the OICSD as our Research Associate. Shobi is a post-doctoral Clinical Researcher, with a professional background in paediatric surgery and primary care, and a research background in Health Services Research and Implementation Science. She is interested in how complex innovations can be designed to facilitate implementation and sustainability within the health system and the communities they serve. She works in the fields of Global surgery and Global Health. During her time as a clinician and medical educator, Shobi has worked closely with rural communities and Health Care Workers in low-resource settings globally.  She is passionate about delivering high-quality, universal health services to women and children, that meet the needs of the communities and end-users. Shobi's research focuses on the use of human-centred design and theory in the development and implementation of complex interventions (including mobile technologies) to support the healthcare workforce in low-resource settings. 
OICSD Research Highlights
A virtual bridge to Universal Healthcare in India
New piece co-authored by OICSD Research Associates Dr Vikranth H. Nagaraja and Dr Anant Jani with Biswanath Ghosh Dastidar and Shailesh Suri proposing steps that may help India leverage virtual healthcare to deliver on its commitment to provide Universal Healthcare (UHC) to its citizens within a largely threadbare public health infrastructure.
Sustainable Cooling in a Warming World: Technologies, Cultures, and Circularity
Prof Radhika Khosla and co-authors discuss the knowledge base for sustainable cooling and its significant, interconnected, and coordinated technical, social, economic, and policy approaches.
Unlocking the benefits of Credit through Saving: NBER Working Paper Series
DPhil candidate in Economics Sanghamitra Mukherjee and co-authors discuss how access to savings products helps translate the benefits of credit into investment and increased consumption among farmers in Kenya.
The 2021 Global Review of Constitutional Law – India chapter
DPhil Candidate in Law Swapnil Tripathi discusses the major constitutional developments and cases of 2021 in India, including the role of the Supreme Court in monitoring the government action during the pandemic.
'Study Farsi and Sell Oil' Colonialism, Gender and Language in Late 19th-century India
Kankana Chatterjee writes about the decline of Farsi as a language of administrative significance, the 'feminisation' of Farsi and its gradual erasure from the public sphere in 19th & 20th century India.
OICSD Events
Extinction Rebellion 
The OICSD held a screening and panel discussion of Rebellion, the 2021 documentary telling the inside story of Extinction Rebellion from its grassroots origins to international impact. This included a discussion with climate lawyer and Somervillian Farhana Yamin, film director Maia Kenworthy, Oxford Net Zero's Research Director Sam Fankhauser and OICSD Research Director Radhika Khosla on the origins and evolution of Extinction Rebellion, the challenges of environmental activism globally, and unpacking the recent COP27. Watch here​.
Durable Derangements: The Climate of Mumbai's Coastal Road
A talk by Nikhil Anand, Professor of Anthropology, University of Pennsylvania, on Mumbai's coastal road as a project of modernity and world-class city making. This was followed by an insightful conversation with Hannah Knox, Professor of Anthropology, UCL.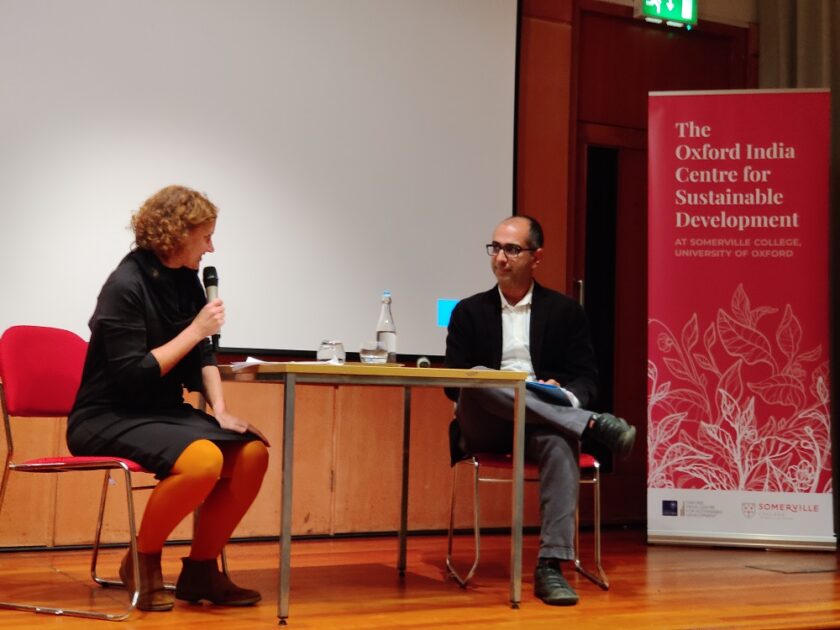 A conversation between Prof Nikhil Anand and Prof Hannah Knox on climate change and urban infrastructures.
How can we improve cooling sustainability for factory workers? Learning from the case of Bangladesh's ready-made garment industry
Discussion of a 3-year Wellcome project exploring low- to moderate-cost sustainable strategies to reduce heat stress in two Bangladesh RMG factory buildings, and their performance under future climate change. Watch here. 
Scholarship workshop
Programme Director Siddharth Arora, OICSD scholars Gaurav Dubey and Meghmala Mukherjee led an open workshop on the OICSD scholarship process along with Project EduAccess, an Oxford-based non-profit aimed at furthering inclusivity in higher education institutions. Watch the recording here.
Exchange with the Chevening Gurukul Fellowship cohort
The OICSD hosted a session with the Chevening Gurukul cohort at Somerville College to learn and exchange ideas with a diverse group of Indian professionals working in areas of social policy, governance, politics, technology and more.