Our Tutorial Fellows in Linguistics and Engineering, Louise Mycock and Noa Zilberman, have taken part as mentors in this year's Uniq+ summer school initiative.
The seven-week programme provides experience for current undergraduates across the UK from groups that are currently underrepresented in postgraduate studies who have not been able to experience a period of substantial research. Interns undertake a research project with the supervision of Oxford University academics, as well as attending skills training sessions.
Professor Zilberman, supervised projects by two interns. University of Edinburgh Engineering student Ozlem Kesgin's research, supported by Dr Damu Ding, identified new Distributed Denial of Service (DDoS) attacks using vulnerabilities in current detection algorithms; and Aston University student Esra Salem's work, assisted by Somerville DPhil student Sawsan El Zahr (2022, DPhil Engineering), examined how Internet traffic affects the power efficiency of network switches, towards reducing their carbon footprint. It is their hope that their findings will be published in the coming year.
Professor Mycock's interns built on and further developed her ongoing research into the use of pronoun tags (ProTags) in English. This linguistic device, which involves adding an apparently superfluous pronoun to a sentence (for example: "it's a great thing, that"), began appearing in dramas in the 16th century. University of Glasgow student Daniel Street and Durham University student Dylan Ryder worked to determine why this pronoun occurred when it appeared to be unnecessary, tracing the variety of functions that the ProTag construction can have and its changing use over several centuries. Their work is also being written up for publication.
Congratulations Esra, Ozlem, Daniel and Dylan!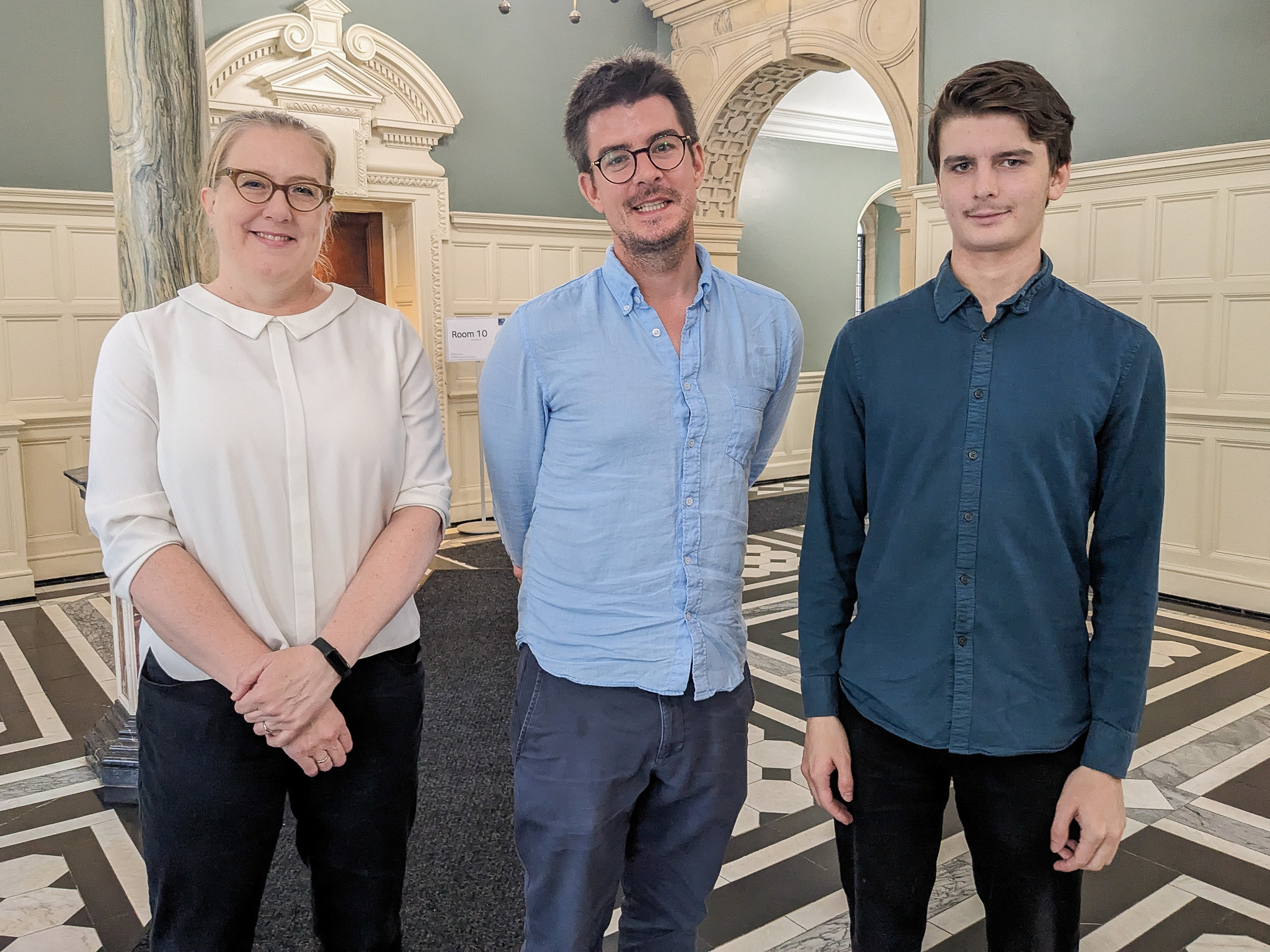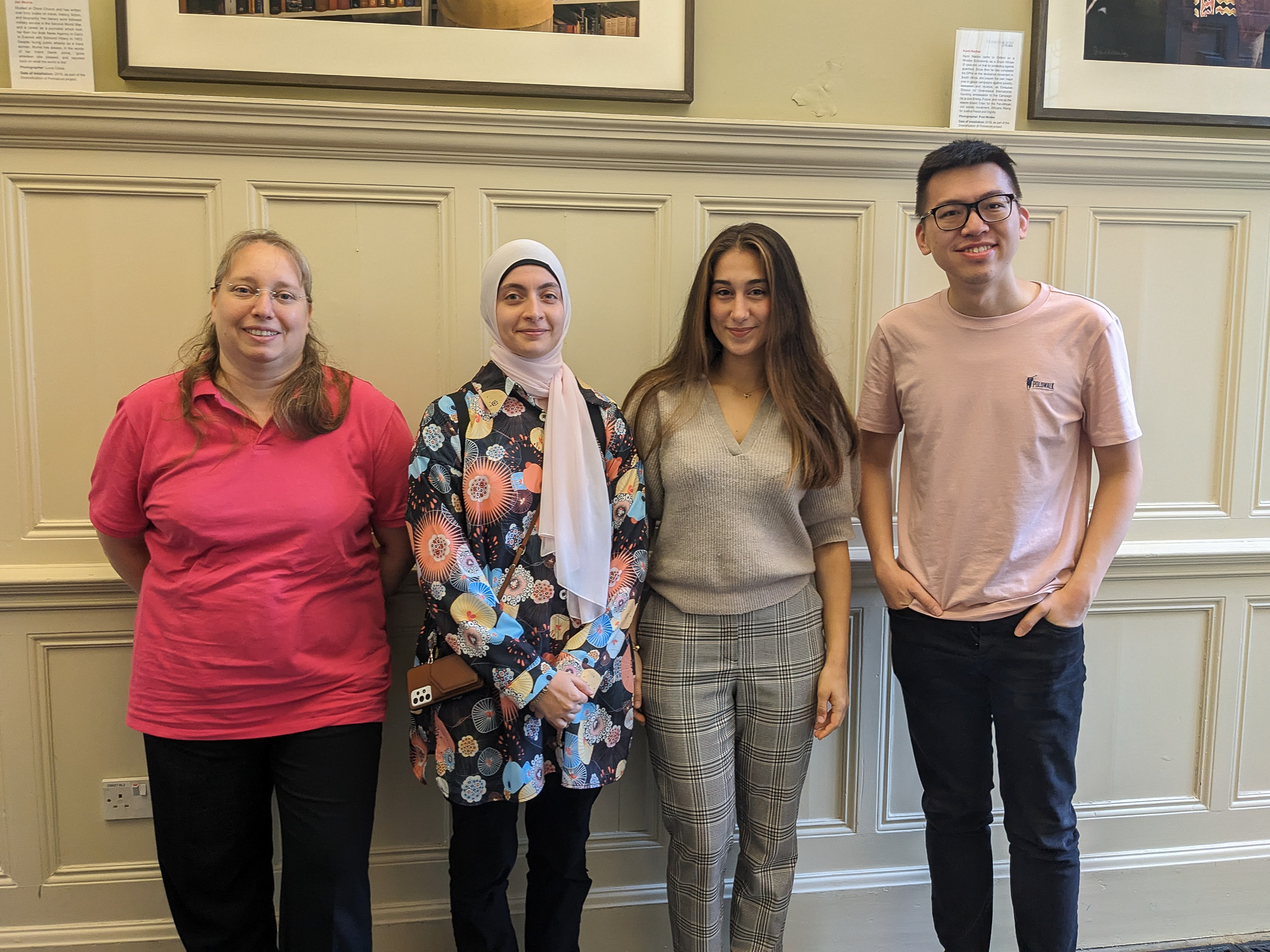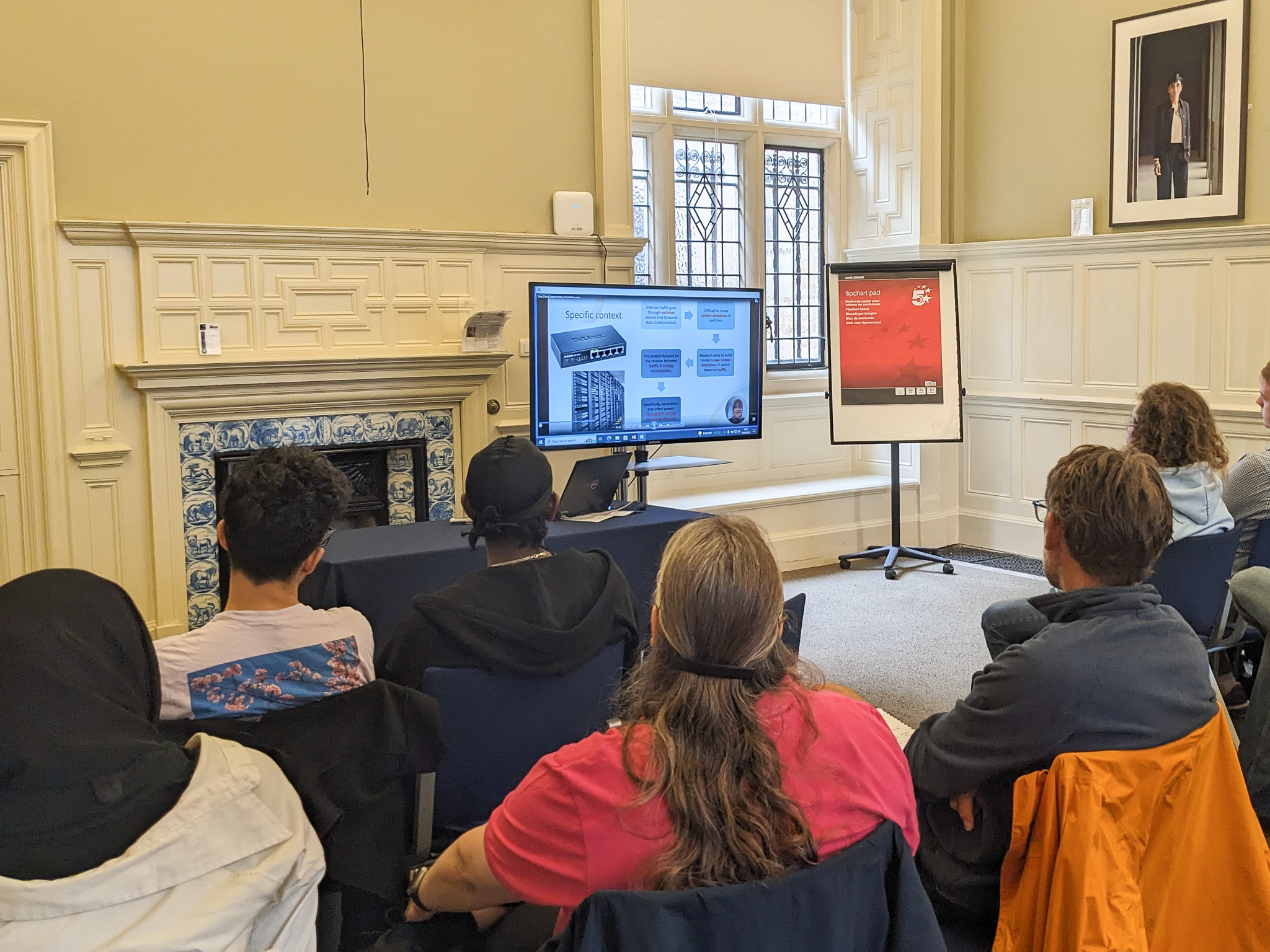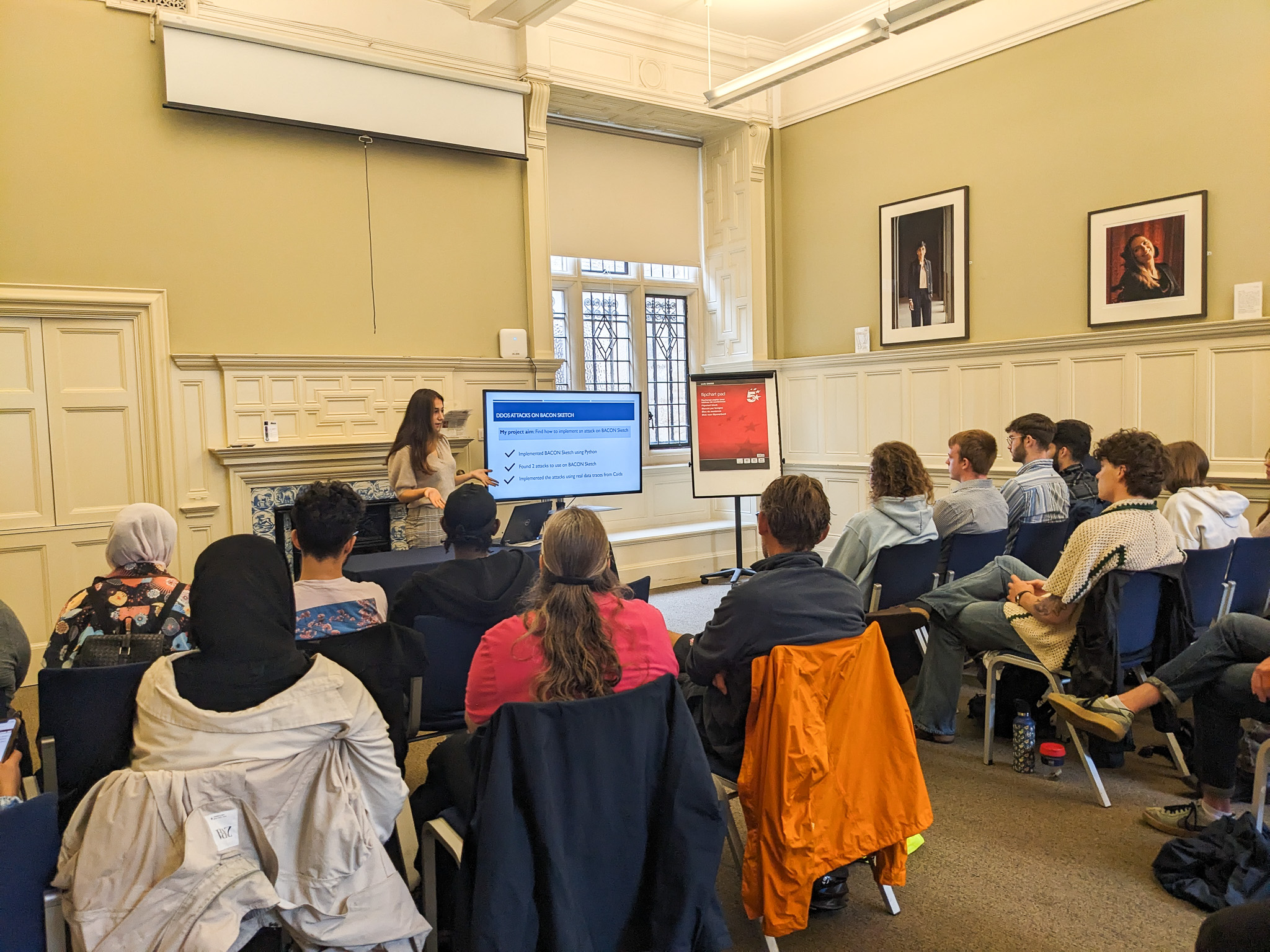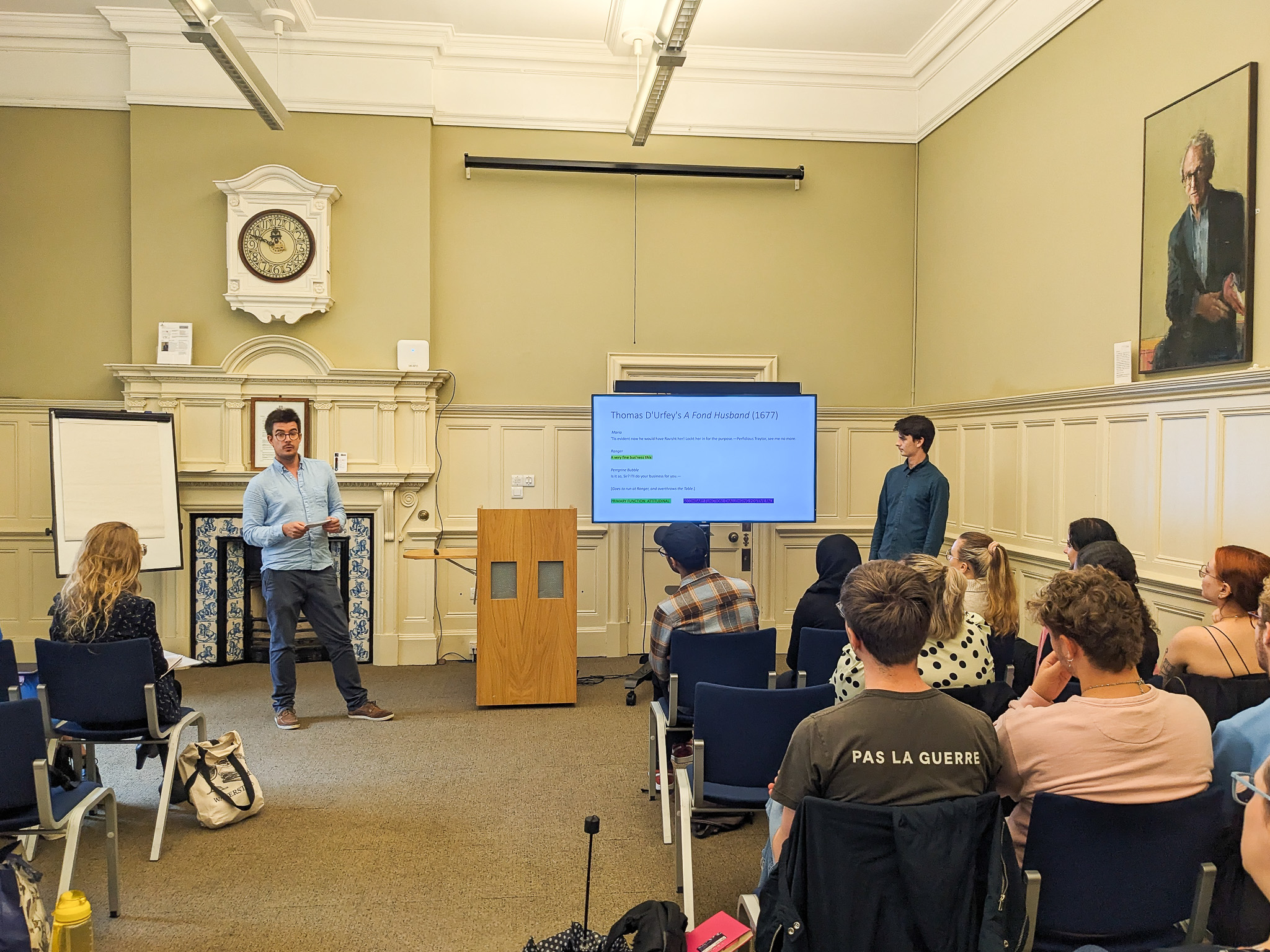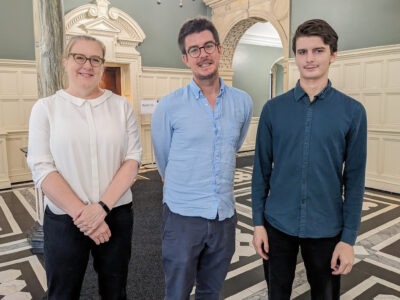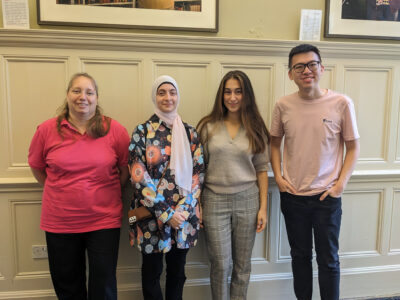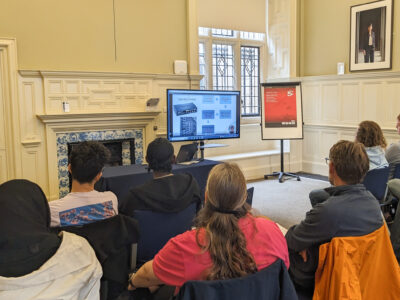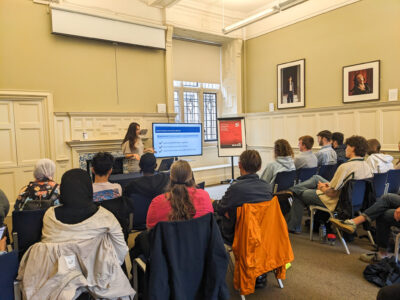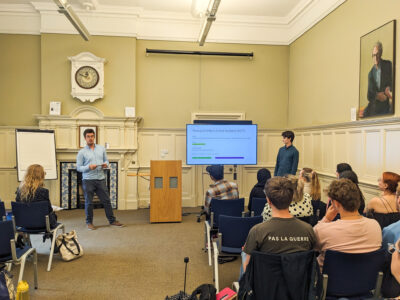 Dan, Dylan and Ozlem kindly offered the following reflections on their project:

Dan
"Our task was to uncover what this meaning was by close reading 1,038 entries from the Chadwyck Healey drama database on ProQuest, ascertaining the functions of the ProTags which had been split into seven different categories of meaning. We found that the ProTag is overwhelmingly an attitudinal construction – it is used to convey an opinion or to state a fact, such as: "'Tis fine tobacco this!". There were other interesting elements that we uncovered too, such as the ProTag often being used within an aside to the audience, meta-theatrically breaking the fourth wall and narrowing the distance between character and audience. This is striking as it highlights the intersubjectivity of ProTag use. The construction shows that communication is more than just words on the page – it is also about things one would not usually write, the 'salt and pepper' of language.
"It has been a pleasure to meet so many people from all over the UK from so many different walks of life. Communicating with people has always been one of my stronger points – and so it was great to have a cohort of so many different students to talk to. I hope I've made some contacts that I will keep for many years to come, both in academia and professionally."
Dylan
"As the project progressed, we noticed the frequent occurrence of ProTags in asides and first lines of plays, which was particularly interesting in terms of dramatic and formal value. This suggested, alongside the varied subjective and intersubjective use of ProTags, that they are used to build bonds and relationships between speakers and audiences, even playing an important role in metatheatre. While asides in plays may separate the a character from the rest of those on stage, they also unite the audience with the opinions of both themselves and the playwright.
"During the project, I learned valuable presentation skills, and the importance of confidence. Although outwardly the university appears to stand on the pillars of intelligence, creativity, and hard work, inwardly it is about people connecting with people, which itself is sparked by confidence. Although such inward workings have often been exclusionary and elitist, working as an intern has unveiled the more positive aspects of the university and postgraduate life in general. From the friendliness of the other interns, to the generosity of the colleges, there is ample evidence of a developing attitude towards those who otherwise would be considered (and therefore even would consider themselves) "not the Oxford type". Alongside the generous help of my supervisor, this has given me confidence in applying for postgraduate study, while my time in Oxford has enriched my love of literature and learning."
Ozlem
"Embarking on this internship at the prestigious Oxford University was a remarkable opportunity, which expanded my academic horizons but also profoundly shaped my personal growth.
My primary goal during this internship was to design a targeted attack strategy focused on a sketch data structure, with the aim of uncovering vulnerabilities in current detection algorithms and mitigating Internet Distributed Denial of Service (DDoS) attacks. With the expert guidance of my supervisor Professor Zilberman and mentor Dr Damu Ding, I embarked on an exciting journey of learning and discovery as a first-time researcher. 
I began my project with an extensive research phase, reviewing academic papers and articles to gain a good understanding of switches and DDoS attacks. Later, continued my research by spending hours brainstorming and translating ideas into Python code, experiencing the thrill of seeing my concepts come to life. At the end of the project, I identified new Distributed Denial of Service (DDoS) attacks using vulnerabilities in current detection algorithms and had the opportunity to evaluate the proposed attacks using traces from actual traffic datasets. The results and methods obtained from this project will be used to write a conference paper.
I'm leaving Oxford with gratitude and a newfound passion for research, enriched by the diverse perspectives I encountered, particularly from other interns who were engaged in various research projects across different fields. I extend my heartfelt thanks to Oxford, my supervisor, and my mentor who were always there to support me in this remarkable experience."