On 15th February, our former Principal Dame Fiona Caldicott passed away. Thank you to everyone who kindly shared their treasured memories, stories and tributes with us. We have collected many of them here so that we all might remember Dame Fiona together.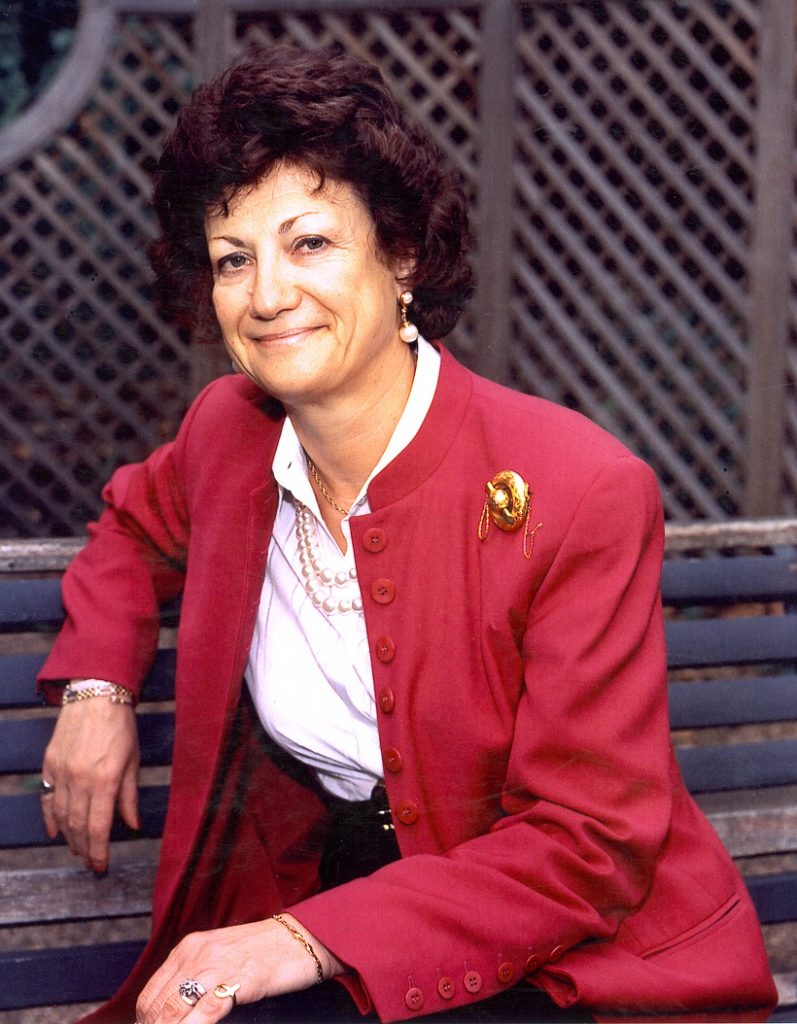 It is not easy to reckon the legacy of our former Principal, Dame Fiona Caldicott. She was a woman of phenomenal accomplishments in both public and professional life who also had an incalculable effect behind the scenes as an inspirational colleague, mentor and friend.
So, rather than provide a summary that might fail to convey her true stature, we thought the best way to pay tribute to Dame Fiona would be to let the words of her former students and colleagues say what we would otherwise find so difficult. Through this kaleidoscope of memories, we hope it will be possible to get a true sense of our former Principal's kindness, integrity and intellect – as well as her famously wry sense of humour.
Of course, no such memorial would be complete without a reminder of just what Dame Fiona achieved during her lifetime[, so you may read a full version of these reminiscences and a short obituary on our website.
Dame Fiona Caldicott is perhaps best-known for the role she played in developing the Caldicott Principles, which govern the use of patient information within the NHS. Under her leadership, the Principles enshrined a lasting means of balancing the information needs of medical research with the rights of patient confidentiality in a digital age. Since the publication of the Caldicott Report in 1997, the Caldicott Principles have become indispensable tools for managing personal confidential data, with over 22,000 Caldicott Guardians appointed not merely within the NHS, but also in prisons, the Ministry of Defence, the police and overseas.
Having already served as the first female president of the Royal College of Psychiatrists and the chair of the Academy of Medical Royal Colleges, Dame Fiona's career encompassed many other positions of high office, including as Pro Vice-Chancellor of Oxford University and Chair of Oxford University Hospitals NHS Trust. However, it is for her time as Principal of Somerville, from 1996 until 2010, that she is so fondly remembered by so many within our community.
Dame Fiona – or 'Dame Fi' as she was often known by our students – was the first Principal appointed after the college's decision to become co-educational, and firmly established the college's new, and, at the same time, unchanged culture. With extraordinary  , she placed great importance on ensuring that Somerville was a supportive environment for its members. She also oversaw key moments in the college's history, such as the establishment of our mixed voice choir in 2001; victory in University Challenge in 2002; and Margaret Thatcher's visit to Somerville in 2005 for the unveiling of her portrait (pictured below). Equally well loved was her feline companion Pogo, who took up a parallel position as the college cat (but, by all accounts probably thought he was actually in charge!).
Reminiscences
Norma Macmanaway, Emeritus Fellow and Senior Tutor of Somerville College (1990-2010)
When Fiona Caldicott was appointed Principal in 1996, Somerville held a very different place in the University to the one it holds today. Men had only recently begun to be admitted (after long and bitter debate) and the College was still adjusting to its new form. The transformation to the modern, professional, and forward-looking institution it is today is very much the product of her leadership and resolve during her years as Principal. Always calm and elegant, she managed change with finesse and discretion, whilst at the same time setting high standards. Sometimes these standards seemed intimidating, but those of us who worked closely with Fiona soon learnt to aspire to them, knowing that her support and encouragement would be unfailing. Her formidable intellectual abilities were matched by her wisdom and compassion, qualities which she wore lightly and unobtrusively, as many of us can attest. I shall always be grateful for her support, friendship, and wise counsel, and count myself blessed that our paths in life crossed.
Helen Morton, Emeritus Fellow and Treasurer of Somerville College (2000-2012)
Fiona was a very special, wise, kind and compassionate woman, and an inspirational leader. She was one of the main reasons I came to Somerville and I will always be grateful that I had the opportunity to work with her and get to know her. I learnt so much from working alongside her and always found her inspiring, energising and an excellent example of leadership. She possessed tremendous empathy and her listening skills combined with her energy, clear thinking and ability to cut through the inessentials to the real issue were second to none. I will miss her a lot.
Mrs Lesley Brown, Emeritus Fellow and Former Senior Tutor (1985-88), Dean (1993-96) and Vice-Principal (1996-99) of Somerville College
Dame Fiona made a profound mark on Somerville during her thirteen year Principalship. Among her many legacies to the College are the strength of its medical teaching and the new buildings on the Radcliffe Observatory Site. Even while holding important positions in the University and in the wider world, Dame Fiona showed total commitment to the College and especially to its students, who took her – and her Burmese cat Pogo – to their hearts. I specially recall the genuine concern and very practical help she gave to students who encountered difficulties, as well as her delight in undergraduate and graduate successes.
Dr Alice Prochaska (1965, History), Former Principal of Somerville College (2010-2017)
I met Fiona several times as an alumna, but it was only when I was elected to be her successor as Principal that I got to know her better – and to understand the deep care and loyalty she felt for the college. Above all, she cared for the students; they bestowed on her the affectionate nickname "Dame Fi" and she reciprocated with an abiding concern for their happiness and the collective values that define our College. Despite all of her other distinguished roles and professional associations, I think this was the one closest to her heart.
Baroness Professor O'Neill (1959, PPP), Emeritus Professor of Philosophy at Cambridge University
Fiona Caldicott resolved a recurrent problem in medical ethics. Data protection measures prohibit reuse of individuals' medical data, but medical research often needs to reuse them. More than 25 years ago Fiona and her committee pioneered a coherent and practical way of reconciling requirements for individual privacy and medical research. The principles that define the 'Caldicott Guardians' have worked well and have lasted.
Dr June Raine (1971, Physiology) CBE, Chief Executive of the MHRA
I share in Somerville's deep sense of loss at this news. Fiona played a major part in shaping so many lives and our national discourse on protecting patients' interests relating to their data and information. Her contribution to healthcare is inestimable.
Professor Dame Kay Davies (1969, Chemistry) CBE, Professor of Genetics and Co-Director, MDUK Oxford Neuromuscular Centre
Fiona was one of the most approachable senior figures in the university, and acted as a great mentor to me over several decades. She was an excellent listener, but also very supportive and keen to see women succeed. When I became Chair of Athena Swan for the Medical Sciences Division, we met regularly to discuss how to improve gender equality, and she was full of good, non-confrontational ideas. I know she was also a huge support to graduate students, whom she guided through the difficulties of training as well as balancing the demands of family and academia. I shall very much miss our coffee sessions, when we talked about the vision of the university and medical sciences in particular.
Professor Sally Mapstone, Principal and Vice-Chancellor of St Andrews University
Dame Fiona was a model of principled, decent leadership. She was often described as 'formidable' in my day, but that belied the kindness and compassion that was never far below the surface. She was an enormously influential and compelling role model, and I know this will be felt as a great loss.
Mrs Margaret Kenyon (1959, Modern Languages), Emeritus Fellow of Somerville College
I well remember hearing Fiona speak at the first Foundation Dinner I came to, and thinking then what a splendid role model she was for the students, both the women and the men. She was elegant, warm and effective, just right for a newly mixed college.
Professor Rajesh Thakker, May Professor of Medicine and Professorial Fellow of Somerville College
Working with Fiona was always a pleasure, not only for her remarkable breadth of knowledge and wisdom, but because she cared. She cared about the students, Fellows and staff of Somerville, and she cared deeply about the University and the NHS, including its patients, about whose sensitivities she was always so mindful. It was wonderful to see Fiona in action, as she always had a calm approach to the situation, yet you knew that beneath that calmness was an immense determination combined with kindness that made her truly unique. Fiona leaves behind an enormous legacy of which we should all be very proud, and personally I will miss her and her gentle words of guidance enormously.
Professor Sarah Gurr, Chair in Food Security, University of Exeter
Fiona was strong, feisty, articulate, determined and decisive. She "led" us with verve, poise and elegance. She was also blessed with a wry and dry sense of humour. Whilst being a rather private person herself, she was able to see the needs of others and offered sage, timely and compassionate advice. She will be much missed.
Professor Angela Vincent, Emeritus Professor of Neuroimmunology and Emeritus Fellow of Somerville
As one of only two medically-trained Fellows at Somerville in 1996, I was privileged to meet Fiona prior to her interview with Governing Body. I was in awe of her extraordinary achievements in the NHS and Royal Colleges, but, despite only sharing a minute or two together, she always said that it was me who put her at ease – though I always felt that a woman of her qualities would hardly need it! In later years, it was always a pleasure to bump into her at the John Radcliffe or elsewhere and go for coffee, and I hope she found our chats helpful during what was a difficult time for the Trust.
Professor Jennifer Welsh, Canada 150 Research Chair in Global Governance and Security; Director of the Centre for International Peace and Security Studies
I was elected to a Tutorial Fellowship at Somerville in 1999, arriving at the College that autumn to a community that was emerging from its momentous decision to 'go co-ed'. Dame Fiona was a crucial hand of steady leadership in those years, and also gradually built up a structure and process to improve fundraising for Somerville. One of her great skills (which I experienced at first-hand!) was the respectful but determined manner in which she could tap into one's sense of duty to Somerville and channel it in productive ways. Her wonderful and daring portrait in the Somerville dining hall – featuring Pogo the cat – somehow managed to capture her many sides. But the side of Dame Fiona I will most remember is the one that offered support to students and Fellows in the College going through difficult times. She was compassionate but also 'no nonsense' in a crisis. I saw this in my role as Dean, when we faced a number of hugely challenging situations with students, but also during a dark period in my own life, when she intervened in a way that offered just the right support at just the right time. Many of us will have these memories, and will remember Dame Fiona not just for her incredible public stature, but also for the many discrete ways in which she cared for members of the Somerville community.
Professor Elizabeth Chapman MBE, Professorial Fellow and Keeper of the College Pictures (1998-2003)
Fiona Caldicott was one of the most encouraging people I ever met during my career. When it became Somerville's second turn to elect a Proctor she suggested that anyone who was interested should talk to her about it – which I duly did. I was duly elected by the Fellowship and spent a fascinating and frantic year with her continued support. Commissioning an appropriate artist to paint Fiona's portrait, in my capacity as Keeper of the College Pictures, was a challenge, as she clearly needed an individual to whom she could talk and relate in order to sit. But I will always remember the standing ovation at the dinner during which we unveiled the portrait,  including the vocal crescendo of excitement expressing the college's admiration not only for the portrait but also for Dame Fi – and Pogo. She cared about individual Somerville students hugely and in that moment they reciprocated her care.
Dr Kassim Javaid, University Lecturer in Metabolic Bone Disease and Senior Research Fellow of Somerville College
As medics in training, we grew up hearing and learning about the Caldicott guidelines for data protection. When I joined Somerville, I was awestruck to meet their author. She had the best of the best qualities. Clarity, intelligence and a kindness to listen and a sense of the maverick. A hero of our times who gave so much.
Mark Schaan (2002, Social Policy), Assisant Deputy Minister, Strategy and Innovation Policy Sector
I am fortunate enough to have been Junior Dean and Acting Dean of Students under Dame Fiona's exceptional leadership. I have so many fond memories of her from that time – touching, funny, difficult, and truly formative moments, when she was a leader, a friend, and a teacher. Whether it was her grace under pressure, including supporting me as we assisted students with real and significant mental health issues, or her surprising wit (like the time she downed it in one from high table after being 'pennied'), she was charming, thoughtful, and never to be underestimated. I learned much about human and directed leadership from Dame Fiona, including how one responds to challenging institutional tensions, and feel lucky to have had those experiences at such a formative time of my life.
Annabel Hirani (2004, Classics)
I was at Somerville 2004-2008 and we all had such respect for Dame Fi. I was part of the college's first football club for women (SCWFC), and by my third year we made it to the Cuppers final. Our supporters called themselves Dame Fi's Barmy Army and chanted that from the sidelines, even when Dame Fi herself was present. I just found an old email she sent to our coach, in which she asks if it might be possible to share a photo of herself 'with my barmy army' – a very typical gesture showing her warmth and connection to her students.
Jenny Bacon (1998, Music)
I was saddened to hear of Dame Fiona's death yesterday. She was always a real supporter of music at Somerville and I have very fond memories of her. I remember her attending many concerts and performances during my time as an undergraduate and she always took such an interest in whatever performances I was involved in.
Oliver and Claire Rosten (1997, Physics & PPP)
We joined Somerville in 1997 and, nine years later, had the honour of being married by Dame Fiona in a secular service held at the college chapel. She was a remarkable human being of rare intellect, but, beyond that, we had the privilege of feeling her warmth and humanity; she will always hold a very special place in our hearts.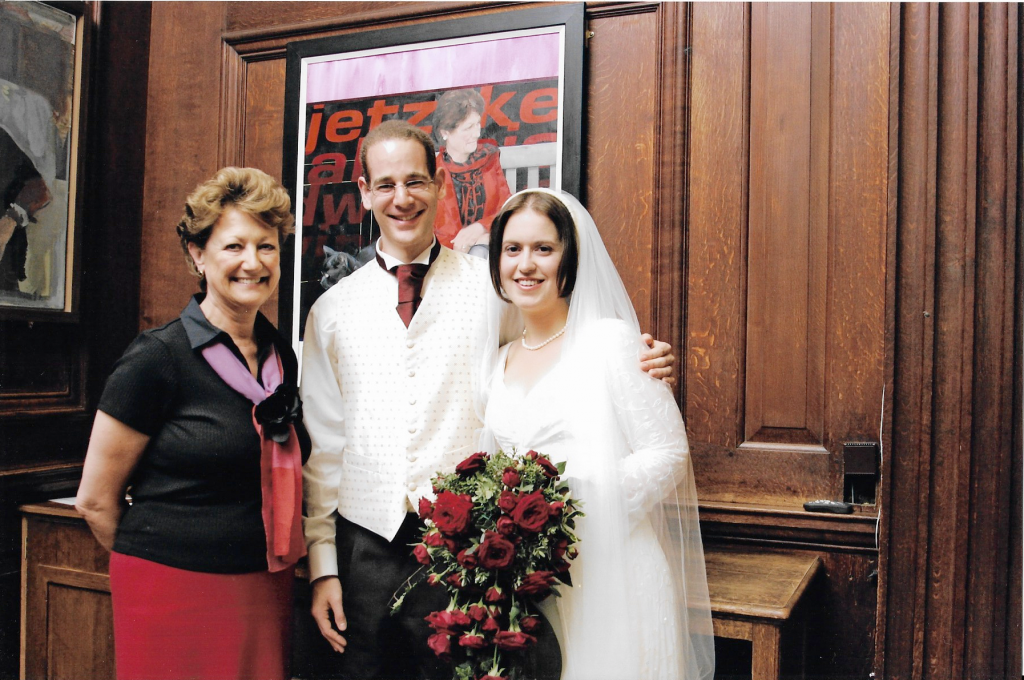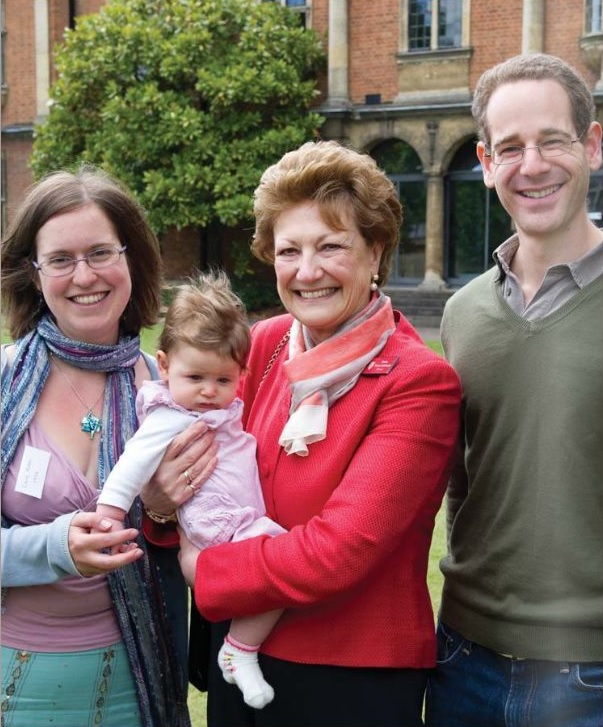 Rebecca Mattingly (2005, History)
I'm so sad to hear this – Dame Fi was an incredible, strong woman and wonderful principal. I loved her bold portrait in the hall! I also remember being so daunted by the prospect of the annual 1:1 meetings with her and yet every year I was bowled over by how warm, welcoming and supportive she was. She spoke to each of us with ease and interest, like we were the only one of these conversations she was having, despite the fact that she must have been doing this exercise hundreds of times. My deepest sympathies to her family for their loss.
Sue Griffin (1964, PPE)
Alongside her significant work for healthcare and Somerville, Dame Fiona agreed to be Patron to Friends of Sunera Foundation, the small UK charity that I set up with fellow alumnae Alison Skilbeck (1964, Modern Languages) and Susan Hoyle (1964, PPE) to support the impressive work of our contemporary, Sunethra Bandaranaike (1964, PPE), for young disabled people in Sri Lanka. Thank you, Fiona, for giving us your blessing and support.
Kristian Walsh (2006, English)
RIP Dame Fi. She loved the college and its students — you wouldn't get many (any!?) other principals turning up to a soggy pitch in Marston on a Sunday to cheer on their college in the Women's Football Cuppers final. A lovely person.