Yesterday afternoon, we were delighted to join our friends from Asylum Welcome at the Botanic Gardens to welcome Little Amal to Oxford.
Amal, a three and a half metre high puppet, arrived in Oxford where she was welcomed by The Story Museum's Alice in Wonderland puppet in a specially commissioned story from Nadine Kaadan. Nadine is an award-winning children's book author and illustrator from Syria who works with young refugees in the UK.
Little Amal represents the tens of thousands of displaced children currently seeking sanctuary in Europe. On the 26th October, she stopped in Oxford as she neared the end of her 8000km journey from Turkey to Manchester. Somerville welcomes her message of courage, kindness, resilience, and action and stands alongside her in solidarity with all displaced peoples. 
"Welcome Amal… I'm Alice."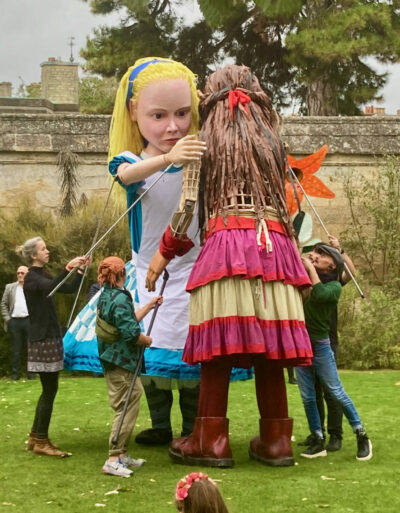 Oxford is home to 100 children currently seeking asylum. As a University College of Sanctuary,  we are committed to raising awareness of the issues people experiencing forced migration face while also promoting access to education and providing a place of refuge for at risk academics and students. We are working with Asylum Welcome, Oxford City of Sanctuary, and Mansfield College to play our part in making Oxford a welcoming home and place of opportunity for all.
As part of this, we are proud to have launched a Sanctuary Scholarship for displaced students. This scholarship enables us to remove the obstacles which mean only 1% of sanctuary seekers attend university. We would be delighted if you would consider supporting this scholarship via our Sanctuary hub.