Self Catering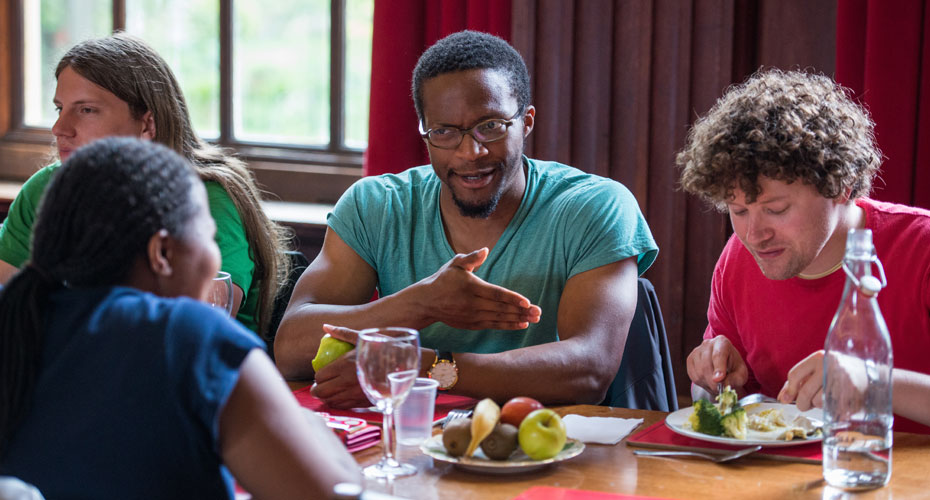 Self-catering facilities are provided throughout the College.
The catering charge for students living in College is £80 per term. This charge is added to your first Battels (College financial account) statement each term and the full amount is available for you to spend on food. You will be able to spend it on food and drink in Hall as well as in The Terrace. If you are living in accommodation that is not provided by the College, you do not need to pay a Catering credit.
In the event that you decide not to add any further amounts to your cards each term, this sum of £80 is equivalent to eating one meal in hall approximately every 3 to 4 days, leaving you to choose where you eat for the rest of the term (in hall, out of college or self-catering).
This payment makes a significant contribution to maintaining the college's catering facilities for everyone. (Similar schemes in other colleges ask for contributions of between £100 and £180 per term.)
However, for regular use of the Catering service, it is recommended that at least £200 is paid into your College food account at the commencement of each term. This and subsequent top-ups of your food account will be possible via an online payment facility or by payment at the Treasury.
Please note that your College food account will not be active for the first few days after you arrive at Somerville. If you intend to buy meals in the Pantry in your first few days, you will need enough cash to pay for these.
Any unspent credit remaining in your food account at the end of a term will be carried forward to the next term. However, you will not be able to reclaim any balance not spent by the time you leave College at the end of your course.
Exemptions from the Catering credit will only be considered on medical or religious grounds. To be considered for an exemption, you should write to or e-mail Andrew Parker, Treasurer, with details of why you think you should be exempt, by Monday of 1st week in Michaelmas Term. All requests for exemptions will be treated in the strictest of confidence and will be considered by a small panel of senior staff, taking into account individual circumstances, the existing provision of menu choice and the capacity of the kitchen to meet many dietary requirements by arrangement.