Undergraduate accommodation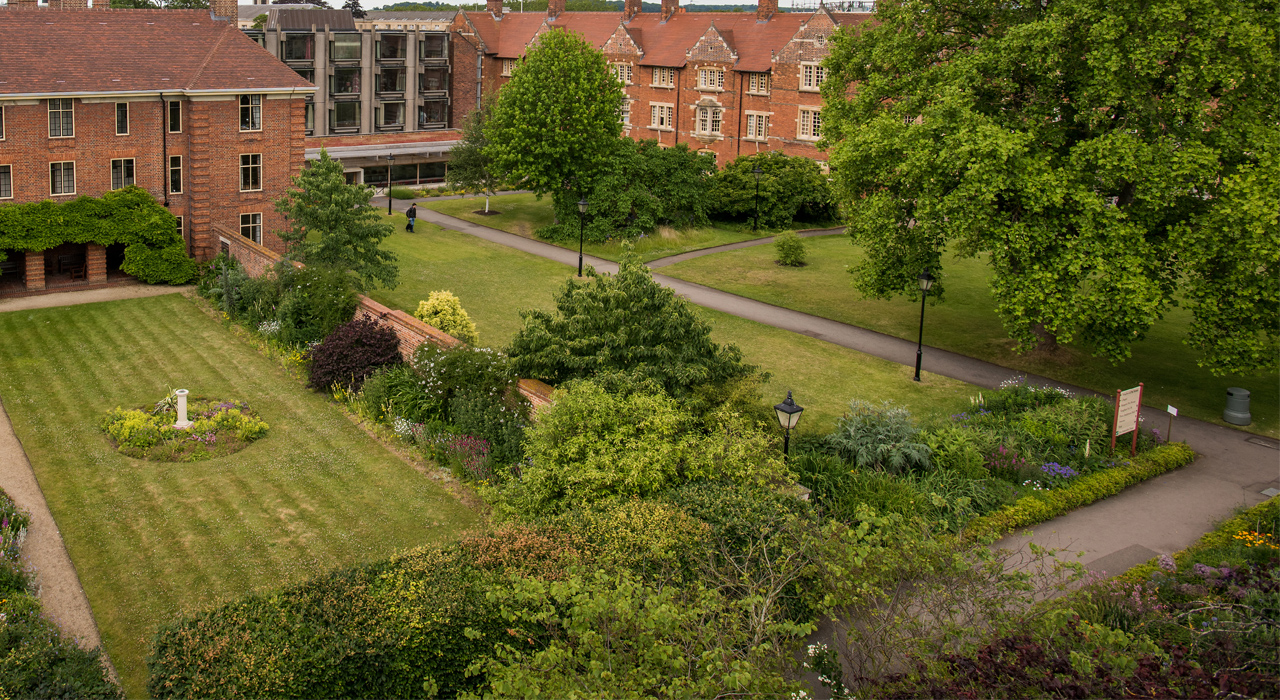 All first year and finalist undergraduates are guaranteed a room in College.
Allocation of rooms
First years are allocated a room prior to the start of the academic year, and do not need to apply for accommodation. The JCR organises a randomised room ballot to allocate rooms for all finalists and some non-finalists. Some second year students (and third years studying a four year course) choose to live out of College, sharing rented houses close to Somerville, but many students can now stay in College for the duration of their studies. For more information on undergraduate accommodation, please visit the JCR website.
Charges
You are required to pay the first term's room rent in advance. Accommodation charges cover light, hot water, background heating, and cooking facilities. A fixed fee per annum is also charged to all occupants to cover any additional electricity used in rooms.
Daily average room rates for undergraduates, including utilities and services is £21.60.
The most common length of an undergraduate contract is 184 days.
Licence to occupy
A licence to occupy must be signed and returned before the start of each academic year.
Facilities
Each study bedroom has the following facilities:
Magnolia walls
Coloured curtains
Adequate, but not generous, cupboard space
Chest of drawers
Desk with reasonable book space
Central lighting
Desk lamp
Noticeboard
3ft wide bed
Mattress with mattress cover
Duvet (first year students only)
Pillow with pillow cover
A number of 13-amp twin sockets (local voltage is 230/240v AC)
Wi-fi
Furniture and fittings must not be removed from rooms, nor should any furniture be brought into rooms. You will need to provide your own sheets, pillowcases, duvet cover and towels. Bed linen can easily be bought in Oxford and, if necessary, the Housekeeping Manager can, given prior notice, provide it for newly arrived undergraduates from overseas for the first week. In addition to bed linen, you will need to bring towels and any kitchen utensils, crockery, and cutlery you think you might need. You do not need to bring kettles and toasters. Please see the Electrical Regulations for details of what you can bring to College with you. There is a legal requirement for all electrical equipment brought into College accommodation to be tested and certified as safe. If you bring a television or watch live TV broadcasts over the internet, it will be your responsibility to obtain a television licence at your College address. The use of Blu-Tack or similar adhesives to hang posters etc. is forbidden, as this causes damage to wall surfaces.
Heating
All rooms have background heating at a minimum temperature of 21°C (70°F), when the central heating is on (1 October – 30 April).
Vacation residence
If you have a good reason for wanting to stay in College accommodation outside the periods of your licence to occupy, you may apply for a total of 14 nights' vacation residence each year. This total is in addition to any days outside term-time spent taking University examinations. This is the same for both UK and non-UK students. Vacation residence allowances not taken in any one year may be carried forward to the next year, in the same way that excess nights may be deducted from the following year's allowance. Undergraduates are therefore eligible to apply for a total of 42 nights (for a three year course) or 56 nights for a four year course.
Requesting vacation residence – new undergraduate students
If you are a new undergraduate and are hoping to stay in College accommodation prior to the night of Tuesday 3rd October 2017, it is your responsibility to request vacation residence. To do so, please contact the Housekeeping department as soon as possible (email accommodation@some.ox.ac.uk or phone +44 (0)1865 270623). Requests must be made well in advance of your planned arrival at Somerville.
Requesting vacation residence – new Graduate Entry Medicine students
Graduate Entry Medicine students hoping to stay in College accommodation prior to the night of Tuesday 19th September 2017 must contact the Housekeeping department as soon as possible (email accommodation@some.ox.ac.uk or phone +44 (0)1865 270623). Requests must be made well in advance of your planned arrival at Somerville.
Requesting vacation residence – continuing students
Application details will be circulated by the Housekeeping department each term for which there may be vacation residence. Please note that there is no guarantee that all vacation residence requests can be accommodated.
Vacation residence charges
The charge for vacation residence will be £21.20 a night in 2017/18. Anyone in financial difficulty who is applying for vacation residence may also apply for a vacation residence grant. Grants are paid from limited College resources so it is not generally possible to meet all requests for support. Students who do not apply for vacation residence and do not move out at the end of term will be charged at the full commercial rate of £47.49 a night. As all rooms will be needed in 9th week of Michaelmas Term (the autumn term) to accommodate candidates who come for admissions interviews, undergraduates will be required to vacate their rooms by 10am on Saturday 2nd December 2017.
Cleaning
Your room will be cleaned by a 'Scout' (cleaner) once every two weeks, and your waste bin will be emptied each weekday, Monday to Friday. Recycling bins are emptied Monday, Wednesday and Friday. Students are responsible for their own recycling of glass/bottles. Please put your bin outside your room each morning, Monday to Friday. Please note that Scouts are not responsible for tidying your personal belongings, or dealing with your washing up. You will be advised in advance which day/week your room will be cleaned, and your Scout must have access on this day. Communal areas will be cleaned daily Monday to Friday. This includes corridors, stairs, bathrooms, showers, toilets, kitchens, and pantries.  When you take possession of your room, you will be given a list of contents for which you will be accountable, with a description of their condition. You will be asked to sign this and return it to the Housekeeping Manager. Bear in mind that, if there is any damage or unreasonable deterioration to your room or furniture, you will be charged for any necessary repairs or replacements.
Storage
Whilst we appreciate that it is tedious to have to clear all belongings from College rooms at the end of each term, every student is required to remove all his or her property from the premises at the end of term, or when vacating his or her lodgings. Belongings left in rooms no matter how small or unobtrusive will be removed by Housekeeping staff and, if kept, will be subject to a storage charge (of up to the student commercial rate of a minimum of £30 a night). The College has limited storage facilities, and storage priority is given to overseas students. Students who wish to take advantage of this limited facility should make contact with the Lodge during term to ascertain availability, and the terms and conditions that apply. Alternatively, commercial storage facilities are available in and near Oxford. Companies include:
Guest rooms
While there are no guest rooms specifically for use by JCR members, it may on occasion be possible to hire an undergraduate room that is not occupied. Please contact the Bursary for information (email bursary@some.ox.ac.uk).