The Plantlife Debate: Does rewilding work for plants?
4th March 2020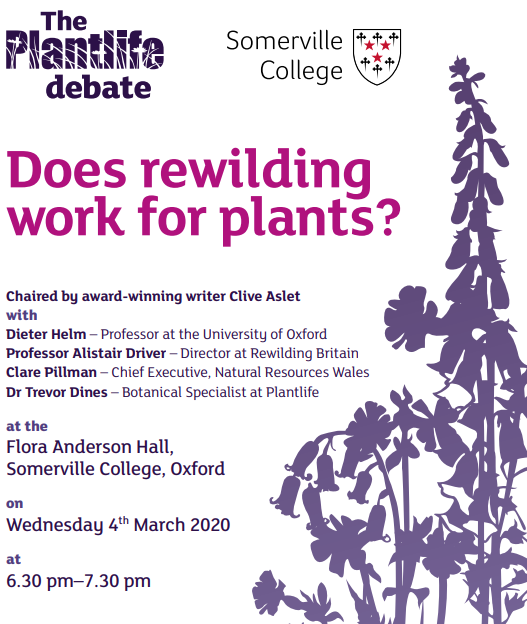 Rewilding is one of the most talked about, provocative and compelling conservation movements of our time. The vision of nature in charge speaks to us all and harks back to a time before man's dominance over our natural landscapes.
Some of the stories of spectacular wildlife recovery to come out of pioneering projects such as the Knepp Estate in Sussex can't fail to hearten but the question for the inaugural Plantlife debate is does rewilding also work for our wild flora?
Chaired by Clive Aslet, famed for his editorship of Country Life and an award-winning writer and journalist, with a distinguished panel including Professor Dieter Helm CBE, Professor Alistair Driver, the Director of Rewilding Britain, Clare Pillman, the CEO of Natural Resources Wales and Dr Trevor Dines, Botanical Specialist at Plantlife, this promises to be a lively and thought-provoking evening at Somerville College in the heart of Oxford.
Held in the Flora Anderson Hall. A reception follows at 7.30PM
Registration is required. Tickets are free for Oxford University students and staff. For others, the cost is £20 for the debate and reception or £10 for the debate alone. Tickets are available here: https://www.eventbrite.co.uk/e/the-plantlife-debate-does-rewilding-work-for-plants-tickets-90300381873.