The Perils of Wifehood: How what wives do gets written out of history
6.30pm on Thursday 8th July 2021 – Crowdcast
Somerville London Group
Professor Ann Oakley – The Perils of Wifehood: How what wives do gets written out of history
Thursday 8 July, 6.30pm – Crowdcast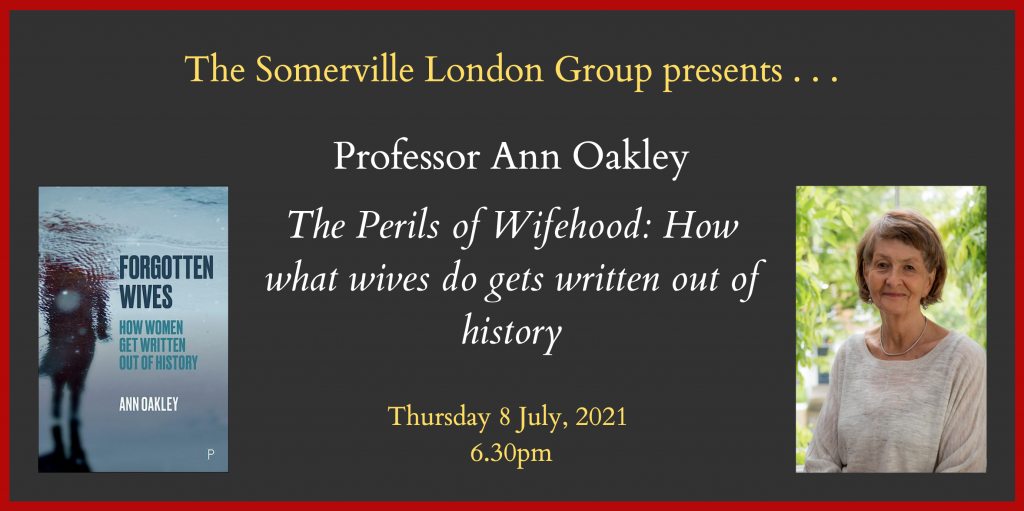 This event is hosted by the Somerville London Group (Chair Caroline Totterdill), but is open to all Somervillians and their guests.
We are delighted to welcome Professor Ann Oakley to talk about her book Forgotten Wives, which examines some of the ways in which biographers and historians have devalued the labours of married women. The work many wives do to help their husbands both professionally and domestically is assumed to be just what wives do and is therefore treated as insignificant. What wives do on their own account is ignored or assumed to be secondary to what husbands do. This is illustrated through the stories of four marriages which feature in the early history of Britain's welfare state: Mary and Charles Booth; Charlotte and George Bernard Shaw; Jeannette (Beveridge, 1900, Mod.Langs.) and R. H. Tawney; and Janet and William Beveridge.
Ann Oakley (Titmuss, 1962, PPE; Honorary Fellow) is a prolific writer (fiction – The Men's Room, 1988 – and non-fiction) and a sociologist. Most of her life has been spent in university research, working particularly on sex and gender, housework, childbirth and feminist social science. Her most recent interests have focused on evidence-based public policy and methodologies of research and evaluation, on the sociology of the body and on biography and autobiography as forms of life-writing. She is Professor of Sociology and Social Policy at the UCL Institute of Education, where she set up the Social Science Research Unit. In 2011 the British Sociological Association gave her one of their first Lifetime Achievement Awards for her extraordinary contribution to the history of the development of sociology.
Forgotten Wives is available for sale here: https://policy.bristoluniversitypress.co.uk/forgotten-wives. A promotion code for a special 30% discount will be shared during the meeting.
Booking arrangements
You can register directly on Crowdcast here: www.crowdcast.io/e/perilsofwifehood/register. There is no charge and all Somervillians and their guests are welcome.
If you have any questions about the event, please just email the Development Office at development.office@some.ox.ac.uk.