Gandhi at 150
23rd October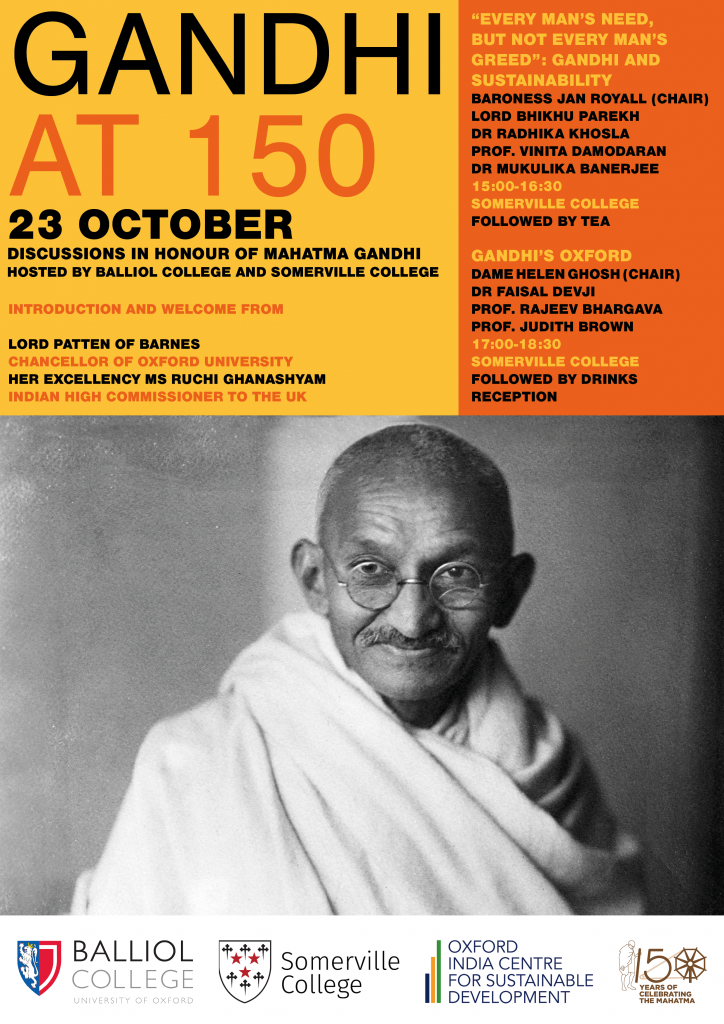 On the 150th Birthday of Mahatma Gandhi, the Oxford India Centre for Sustainable Development at Somerville College and Balliol College are delighted to invite you to a symposium on Wednesday 23rd October at Somerville's Flora Anderson Hall to mark his life and legacy.
After a welcome and introduction from Lord Patten of Barnes, Chancellor of Oxford University, and Her Excellency Ruchi Ghanashyam, Indian High Commissioner to the UK, each college will host a panel discussion exploring Gandhi at 150.
Admission is free, but we would kindly request that you RSVP to confirm your attendance using the form below.
"Every man's need, but not every man's greed": Gandhi and Sustainability
15:00-16:30
Baroness Jan Royall (Chair)
Lord Bhikhu Parekh
Dr Radhika Khosla
Professor Vinita Damodaran
Dr Mukulika Banerjee
Followed by tea and cake
Gandhi's Oxford
17:00-18:30
Dame Helen Ghosh (Chair)
Dr Faisal Devji
Professor Rajeev Bhargava
Professor Judith Brown
Followed by drinks reception