Somerville at Home Series
Throughout the term, we will be bringing the best of Somerville from their homes to yours in our 'Somerville at Home series'.
Ranging from quizzes to videos and interviews to live events, we'll make sure that even though we're spread around the world, Somerville's community will be strong as ever.
We have both a regular weekly schedule and live events. Below, you can find out more about each feature in the series and access previous episodes.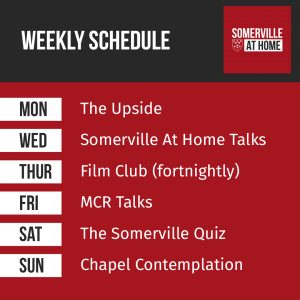 The Upside
Every Monday, we start the week with an uplifting message or story from our community. Share your own with us own social media using #SomervilleUpside
12/05/20: Jan Royall, Principal
18/05/20: Professor Simon Kemp, Fellow and Tutor in French
26/05/20: Kaelyn Apple, Middle Common Room Vice-President
01/06/20: Talisha Ariarasa, Junior Common Room President
The Stay At Home series
In this series, we present lectures, talks, interviews and ideas from our wider community.
14/05/20: Dame Esther Rantzen in conversation with Jan Royall
20/05/20: Kit Yates and 'The maths of life, death and disease'
27/05/20: "Privacy vs prevention: The Ethics of Information" featuring Dame Fiona Caldicott, National Data Guardian and former Somerville Principal; and Professor Renaud Lambiotte
Film Club
We've taken our Film Club, hosted by Senior Tutor Steve Rayner, online. Every fortnight, we'll watch a film chosen by you through a Facebook poll over the previous week, with a specially recorded video intro from Steve followed by a chance for discussion after.
28th May: The Princess Bride

MCR Talks
Members of Somerville MCR present their research in online seminars every Friday evening held live through an open video call. Keep your eyes peeled on our Facebook https://www.facebook.com/SomervilleOxford/ for details of each week's event!
Somerville Quiz
Every Saturday morning, we pose 3 questions on our social media based around a mystery picture selected by our archives and library team. View each week on Twitter:
Choral contemplations: music and words from Somerville Chapel
Atheir usual time of 5:30PM on Sunday, the Chapel and Choir will be releasing podcasts, recitals, and musical discussions on our social media, YouTube and Soundcloud accounts.
10/05/20: Discovering the music of Dante's Divine Comedy: A lecture recital featuring Katie Bastiman (2016, Modern Languages) and the Somerville Choir
17/05/20: Choral Contemplation podcast with Dr Xiaowen Dong: "How data engineers fight a virus"
24/05/20: Alumna and professional singer Katie Jeffries-Harris (2013, Music) shares music and discussion with Will Dawes, Director of Chapel Music
31/05/20: Choral Contemplation podcast with Professor Karen Nielsen
Live Events Archive
In addition to the regular parts of the series, we will also be hosting some live and interactive events. Here's an archive of what's been on so far:
05/05/20: Somerville Gardens Live with Sophie Walwin, Head Gardener