To celebrate ten years since its creation in 2013, the Oxford India Centre for Sustainable Development at Somerville College, is launching a new scholarship for Indian students from Dalit, Bahujan and Adivasi (SC/ST/OBC) backgrounds and/or first-generation students to take up their place at the University of Oxford. This is the UK's first fully-funded graduate scholarship dedicated to Indian students from these underrepresented backgrounds.
Each year, the OICSD offers a set of graduate scholarships to Indian students working on topics relevant to India's sustainable development, with the expectation that students will return to work in India. The Phule scholar will be a part of the 2023 cohort of scholars, with access to its academic and leadership workshops as well as the OICSD's extensive networks and opportunities post-graduation. In establishing this scholarship, we recognise the effects of historic and current caste-based discrimination and prejudice including household poverty and lack of opportunity as well as lack of information, advice and careers guidance in multiple spaces.
The scholarship was launched on Friday, May 12, at Somerville College with a keynote address by Lord Harries of Pentregarth, co-chair of the All-Party Parliamentary Group (APPG) for Dalits, on the efforts to end caste discrimination in the United Kingdom. This was followed by a panel discussion with Barbara Harriss-White (Emeritus Professor at the University of Oxford), Surajkumar Thube (representative of Project EduAccess and the Oxford South Asia Alternative Forum), Raju Kendre (co-founder and CEO of Eklavya India) and Niharika Singh (the first Savitribai Phule scholar).
"With its long history of women's education and empowerment, Somerville College is honoured to establish a new scholarship in Savitribai Phule's name to support the next generation of leaders from Dalit, Adivasi and other underrepresented backgrounds," said Jan Royall, Principal of Somerville College. "Our motto of including the excluded extends to people who have been subject to generations of social discrimination and prejudice under the caste system, and it is thrilling to think that these scholarships will offer brilliant young people from these under-represented groups a platform by which to change the world."
The scholarship is named after 19th century social reformer and educationalist Savitribai Phule, inspired by her pioneering work eradicating gender and caste barriers to education. The first scholarship has been awarded to Niharika Singh, who will take up her place in the MSc Nature, Society and Environmental Governance programme at the School of Geography and the Environment in October 2023.
"As the first Savitribai Phule scholar, I am grateful to the support of the University of Oxford and Oxford India Centre for Sustainable Development. The opportunity will immensely support my larger goals of contributing in inclusive community development," said Niharika Singh, who previously worked as a social sector professional in India. "By pursuing my MSc in Nature, Society and Environmental Governance at the University of Oxford, I will develop insights on global themes related to environmental governance and community development. Moreover, as a representative of the Dalit community, I wish to contribute in bridging the gap between environmental sustainability and caste marginality in India. Unfortunately, Dalits in India are invisible from the broader discourse of the environment as issues concerning accessibility to natural resources, discrimination and multidimensional vulnerabilities are largely unaddressed in the current environmental policy and discourse in India."
The OICSD was launched in 2013 through a historic partnership between the Government of India and the University of Oxford, to honour the Somerville College's strong links with India by supporting a community of Indian students who would otherwise not be able to take up their place at the University of Oxford. Over the past ten years, the Centre has grown into a full-fledged research hub funding over 50 students, leading impactful research on climate change and healthcare, and facilitating engagement across sectors on sustainable development issues with India, UK and beyond. The Centre's alumni, having specialised in fields ranging from biomedical imaging to environmental law, have returned to high-impact roles in India and are already contributing to India's sustainable future.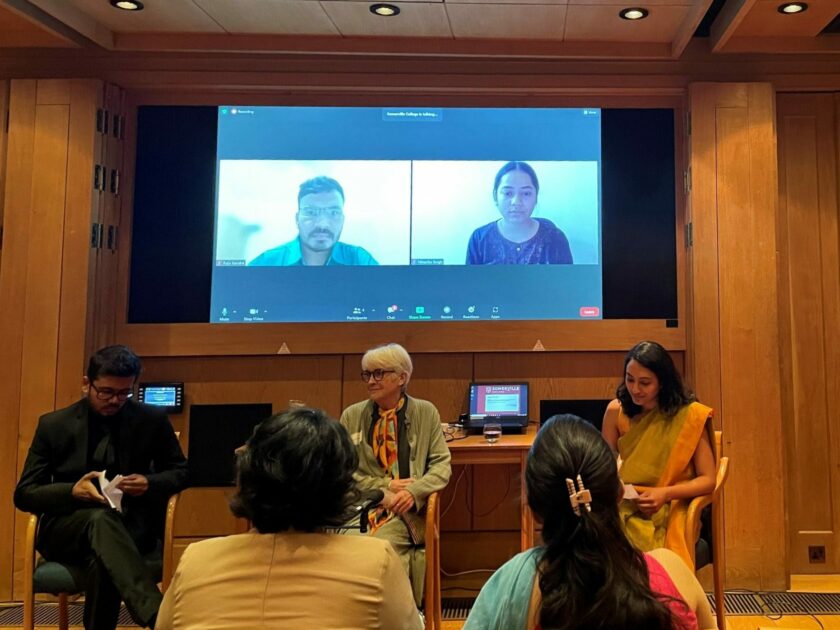 Panel discussion on issues of higher education access for students from marginalised communities, at the Savitribai Phule launch event. Photo credit: Neeraj Shetye