Aaron Henry (2015, Medicine) has been awarded both the Stewart Greenall Memorial Prize and the John Pearce Memorial Prize for his performance in this year's Objective Structured Clinical Examination (OSCE), a practical skills test for fourth year medics held in June.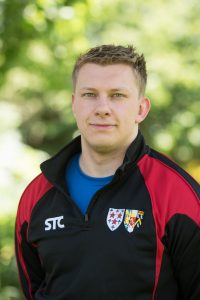 The Stewart Greenall Memorial Prize is awarded to the student who obtains the highest mark in their cohort for the OSCE, and is given in memory of a former patient in Oxford. The John Pearce Memorial Prize rewards the clinical student who is considered to 'have demonstrated care and concern for their patients in the most exemplary fashion' in the examination. John Pearce was a student at Balliol in the 1940s who went on to serve as Doctor to several colleges and to the University.
The test sees future clinicians rotate through 12 tasks ranging from examinations such as respiratory checks; to taking a history from a patient and explaining complex procedures; to interpreting medical investigations such as X-rays and Electrocardiograms. The exam marks the end of their fourth year of studies.
The John Pearce award has particular resonance for Aaron as both he and Pearce represented the University as members of the Blues' Rugby Union team. John Pearce played for the side for 3 years, captaining them in 1945, while Aaron was the starting hooker in this year's Varsity Match at Twickenham.
"John Pearce's picture still hangs proudly in the pavilion of the University Rugby Club – it's a huge honour to be awarded a prize in his memory," said Aaron.
"I think it's fantastic that we recognise that there is much more to medicine than simply diagnosis and treatment. It is important that patients feel they understand what is going on and have been shown respect."
Aaron credited his success to two Somerville alumni who taught the cohort throughout the year: Dr Liz Morris (Medicine, 2005) and Dr Scott Frazer (Graduate Entry Medicine, 2014).
"Their teaching was invaluable throughout the year, preparing us not only for the exam but more importantly for our professional lives as qualified doctors on the wards."
Aaron, who comes from Ballymena, Northern Ireland, has been captain of Somerville's rugby team and president of the Janet Vaughan Medical Society. He was awarded the Wronker Prize for Pharmacology in 2017 for his research investigating the toxic side effects of a commonly used chemotherapy drug, Doxorubicin, in a project supervised by Somerville Fellow Dr Damian Tyler.