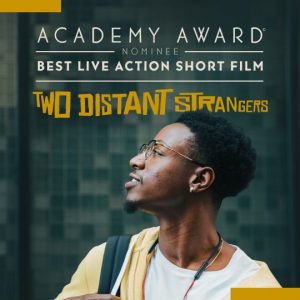 Congratulations to Somervillian Martin Desmond Roe, who won the Best Live Action Short at this year's Academy Awards for his latest film, Two Distant Strangers.
Martin's (1997, Lit. Hum.) work has been gaining enormous momentum over the past few years. In 2019, he won an Emmy for Outstanding Serialized Sports Documentary for the series Tom vs. Time, which gave an inside look at how Tom Brady balances his off-season training. He also scored mainstream success for his production company, Dirty Robbers, with the brilliant and hilarious Netflix documentary We Are The Champions, which looks at extreme competitions such as cheese-rolling, chili-eating and fantasy hair-styling (we really can't recommend this show highly enough!).
However, the Oscar win for Two Distant Strangers, which Martin co-directed with the film's writer Travon Free, feels like a game-changer for several reasons. The film stars actor-rapper Joey Bada$$ as cartoonist Carter James, whom a police officer kills while James is trying to get home to his dog, forcing Carter to relive the moment again and again. The shades of Groundhog Day are given a visceral and harrowing spin by the racial violence they depict and the way the film confronts the institutionalised racism highlighted by last year's Black Lives Matter protests. Filmed in just five days in the midst of a pandemic, the entire cast and crew worked furiously to bring its powerful narrative to life.
The film was executive produced by two NBA players, the Brooklyn Nets forward Kevin Durant and Utah Jazz point guard Mike Conley, in a move testifying to Martin's love and deep connection to American sports.
"From the minute we saw the script for this project, we knew it had the potential to be very powerful and we wanted to be involved," said Durant.
"Getting to see it come to life on the screen was an intense experience – I also had the opportunity to screen it for my teammates and coaches at the Nets, and I think everyone came away with the same feeling that I did that the film is telling a really important story about the Black experience, but in a way that is real and raw and not at all preachy."
Martin and Travon joined us to discuss the film in a live event, which you can view below: