We are delighted to announce that Dr June Raine (1971 Physiology) has been made an Honorary Fellow of Somerville College.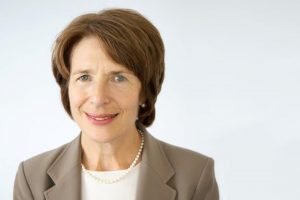 The decision to confer this honour on Dr Raine was unanimously agreed by our Governing Body in recognition of the exemplary work she has done during 30 years of quiet public service – as well as the incredibly challenging year during which she led the MHRA in approving vaccines against Covid-19.
Ordinarily, the approval process for a new vaccine takes upwards of ten years. However, in response to the severity of the global pandemic, Dr Raine and her team were able to approve the Pfizer Biontech vaccine in just ten months. The task was a Herculean one, with pressure being applied from all sides and scrutiny both in the media and from other regulatory authorities.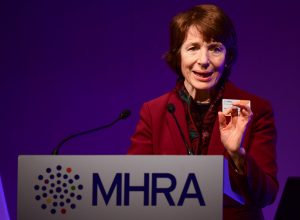 Despite these myriad pressures, we all saw how Dr Raine, as Chief Executive of the MHRA, navigated a flawless path between the urgency of the challenge and the ethical imperatives of regulatory approval. As a consequence of her work, the UK became the first country in the world to approve a Covid vaccine for mass use, thereby paving the way for a mass immunisation programme which has, as of March 2021, seen over 22 million people vaccinated against Covid-19.
Dr Raine embodies many of the values we hold dearest in Somerville alumni: she combines a fierce intellect with compassion and an instinct for public service, and she exudes a quiet dignity which is unabashed in speaking truth to power. Her confirmation in early 2021 as Chief Executive of the MHRA following her work over the past year seems entirely deserving.