In honour of LGBTQ+ History month, our alumnus Richard Wagenlaender (Law, 2018), General Editor for the Cambridge International Law Journal and an LLM Candidate at the University of Cambridge, reflects on his personal journey at Oxford, pays homage to his role model, the late Jonathan Cooper OBE, and shares his hopes for a open, loving future for all LGBTQ+ identities.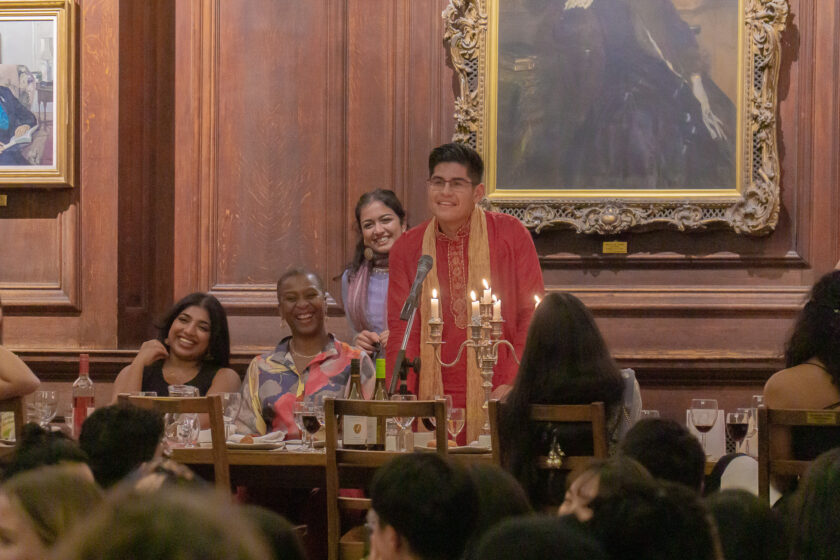 Richard Wagenländer (2018, Law) making his address as a guest speaker at the 2022 BAME Formal
I graduated in July 2022 and remember LGBTQ+ life at Somerville very fondly. Somerville's founding purpose and motto has always been to include the excluded, and this motto resonated with me when I first arrived at Oxford. My undergraduate degree was the first time I could openly explore my identity and make lasting connections within Somerville's LGBTQ+ community and across the university. I previously viewed myself as something wrong and abnormal which coupled with issues of race had always held me back from feeling comfortable within my own skin. Somerville offered a place where I could slowly grow into that skin, shielded from most external factors and supported by the most entertaining, fabulous, and loyal friends.
However, not everyone, be it in Oxford or elsewhere, is as shielded from the homophobia, transphobia and other prejudices our community still faces. That is why, in my last years at Somerville, I got more involved in LGBTQ+ rights activism and human rights law research. For instance, I worked with the late Jonathan Cooper OBE on drafting a report outlining how to ban conversion therapy in the UK, which was published by the Ozanne Foundation in 2021. We sought to protect the most vulnerable victims from abhorrent, inhumane practices which continue to deny their dignity and identity so long as the Government does not act.
This experience and Jonathan's impact on me was profound and taught me one crucial thing: as much as we should and can celebrate LGBTQ+ History as a reflection on how far we have come, we must remember that the road is not yet at an end. There is still more to be done until queer identities, affection, and love can truly be said to be free from the internalised stigma and obstacles of the past and present. This is particularly true for the trans community, which we all ought to actively support in a time in which political discourse has become toxic and demonising.
Writing this, I remembered the hymn "Love Divine, All Loves Excelling" which was played at Jonathan's memorial last year in St Paul's Cathedral, and to which I shed a good amount of tears as some Somervillians may know. The hymn's verses provide a bar which we may not ever achieve, but can all aspire to: a world in which queer identities and love are viewed not as something abnormal, but as divine, perfect, and worthy of dignity. With this aim in mind, I hope we can all someday, as the last verse goes, truly set our hearts at liberty, and embrace, in all our ways, who we are.