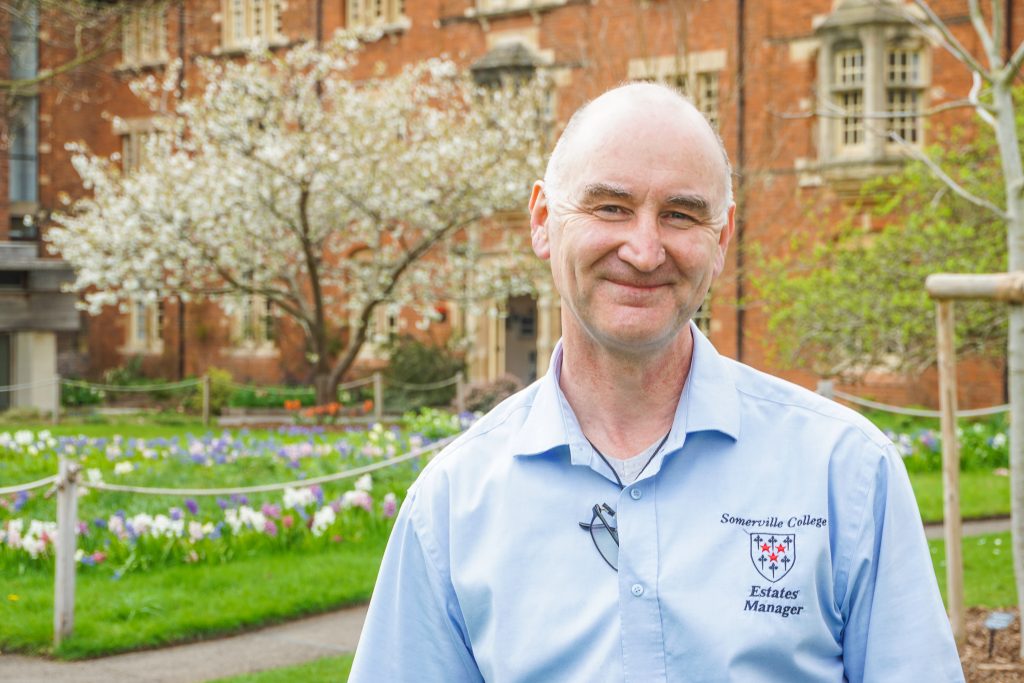 Our Estates Manager Steve Johnson today marks an amazing thirty years of service to Somerville. Here he tells us the story of how he came to be one of the indispensable cogs that keeps the college not only ticking over but feeling like home.
There's no question that Somerville has changed my life, giving it a structure and purpose it might never have had. Like a lot of people, I lost myself a bit in my early twenties. I spent four years in the army out of school, where I was a cable layer setting up HQ telecommunications, then almost joined the navy simply because I didn't know what to do next. I ended up working at the car plant for six years, but without much focus. It was after I took redundancy there that I applied for the General Assistant job at Somerville.
I was pretty much looking for any style of work at that time, so the role – which involved a range of cleaning, portering and general college duties – suited me fine. But what really made it different, right from the word go, was the atmosphere in College. There is a very strong sense you get at Somerville that everyone is working towards a common goal, and that was something which pretty much held me in the early days. I suppose in some ways it reminded me of my time in the army – but with more warmth and a bit less discipline!
The other thing which kept me at Somerville in those early days was the people. There was just a wonderful group of people around, including a Bursary assistant who really supported me in getting on an NVQ plumbing course. Combined with the cabling training I already had from the army, that meant I was pretty quickly doing a whole range of skilled tasks within Housekeeping, which led naturally to a move into Maintenance as college plumber in the mid-Nineties.
The work has always been interesting at Somerville, no matter what I've been doing. In 2004, after further training courses, I became the Assistant Maintenance Manager, an arrangement which lasted for ten years until the Maintenance Manager left and the College appointed me as his successor. Then in 2019, I had the privilege of taking up a new role as Estates Manager. My job now includes responsibility for all maintenance requirements, assisting with project works, the grounds & gardens, plus as all waste management of the site and a list of other duties it would take too long to mention here!
It is a lot of work, but I never mind that, because I love Somerville. Anyone who has worked here for long enough knows what I mean: we give up all this time and make the extra effort willingly; Somerville is a part of us.
Being here so long, and learning to love the place, you come to feel a tremendous sense of responsibility to the College, to protect it and preserve it for the future. In my time, I have seen Somerville come through lots of changes, from becoming a mixed college to the period when it was modernising its procedures, right up to the new building projects which have changed the appearance of the college so much.
Sometimes those changes are difficult, but I think the college has always been able to adapt really well, yet remain fundamentally Somerville. We saw that last year during the pandemic. I tend to think that the reason we are so good at managing change is because, being a younger college, we are not constrained by traditions and history so much, which means we can be a bit more flexible, a bit more relaxed – that's definitely what the students notice when they come here for Open Days.
A lot of that culture comes down from the people at the top. Andrew and Jan, and Alice Prochaska before her, have always given us the space to get on with our jobs, and that trust makes you work harder and pull together to achieve the goals required.
Then again, we all create Somerville in our own way. The students who are here feel like the place is theirs, as they should, and each generation shapes it as they pass through. Then there are people like me, who also feel a strong sense of responsibility towards Somerville and its heritage. We can tell all its stories, we know when this was built and that was changed, and we can still picture some of the brilliant people who were here ten or twenty or thirty years ago as we walk around the College, whose example we want to live up to. It's a privilege.
Some of my favourite moments at Somerville are those times when the college is almost empty. There's a lovely moment in late Summer, when the conferences are over and term hasn't started, and you feel the college preparing itself for the next phase, like it is taking a deep breath. Or there's Christmas, when I am often the only person around apart from the few students who stay over the holidays. I've stood in the centre of College quad on Christmas Eve night, with the buildings dark and silent all around me, and at times like that, you really do feel like you're looking after the whole college, waiting for everyone to return.
Today, I very much look forward to the coming years of continuing to look after the College buildings and grounds and helping Somerville achieve its goals.
Finally, I would like to take this opportunity to thank all the amazing people who have supported and continue to support me at Somerville – as well as those very important people at home, who sometimes have to listen to far too many Somerville stories…