Activist, lawyer and philanthropist Dr Ann Olivarius (1978, DPhil Social Studies) is an alumna of Somerville and Yale. After gaining a prize-winning doctorate from Somerville as a Rhodes Scholar and graduating with highest honours from Yale Law School and Yale School of Management, Ann worked as a lawyer and financier, making an international reputation for excellence in each, before setting up her own legal practice. Rosie Sourbut (English, 2017), profiles her.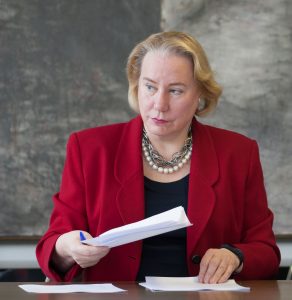 Her achievements so far include getting universities to institute grievance procedures for sexual harassment in the ground-breaking Alexander vs. Yale case while still an undergraduate. More recently, her firm won a landmark civil claim in the UK in a case of revenge porn. Ann is the lawyer to go to if you have been discriminated against on any ground, if your civil rights have been violated, if you have been sexually assaulted or abused, if you are being cyber-bullied, trolled, if you have lost your job unfairly, if you want a fair divorce, parental rights, or if you want to establish business opportunities around the world.
Ann advised Nelson Mandela, who described her as one of the finest lawyers he had seen in action – one who improved life opportunities for "hundreds of millions" of people who are oppressed. Mandela saw her as a visionary; a person who takes people's dreams and makes them happen. During our conversation, in which Ann described the reach of sexual harassment, violence and discrimination from within our own university to the very heights of power, I felt despair at the all-pervading scale of the issue which Ann has made central to her work.
But I also felt inspired. I realised how much I and other Somerville students and alumnae beginning our adult lives have to learn from her, and so I am sharing certain messages I took from our interview.
Don't let anyone else own you
Ann came to Yale from an underprivileged financial background, and for her it represented the idea that if she worked hard, she could get ahead.
While there, Ann co-founded the Yale Undergraduate Women's Caucus, and was subsequently asked to lead a report into the status of women at the university. During her investigation, she discovered dozens of reports of rape and sexual harassment that Yale students had alleged had been perpetrated against them by members of Yale faculty. Ann worked together with Catherine McKinnon, Ronni Alexander and others to bring a case against Yale over alleged sexual harassment by male faculty members.
Although the women lost their case, the court upheld the view that academic advancement "conditioned upon submission to sexual demands" constitutes sexual harassment. Ann makes it clear that she was not supported by Yale. "Decades later, I'm considered a legal heroine. Now Yale claims me as one of their own. But at the time, they didn't want to own me at all. They wanted me to shut up and go away. They wanted the women I was representing to shut up and go away."
Speak up and challenge injustice wherever you see it
After Yale, Ann came to Oxford on a Rhodes Scholarship to pursue a doctorate in quantitative Economics.
During her interview for the scholarship, she was asked, "Ann, you're sueing Yale for sex discrimination. You may have good grounds for doing so. But how do we know that if you go to Oxford you won't sue the Rhodes Trust for the same thing?" She replied, "You're telling me that I shouldn't use the law as a tool, that if there are illegalities and injustices at Oxford I should just look the other way? What kind of person would I be if I did that?" On the morning when I meet her in her Maidenhead office, she has been up since 4am working on a case of sexual abuse against two powerful US doctors.
From her undergraduate days to now, she has been recognising problems that need to be challenged, fighting powerful institutions and winning her cases. Ann has been responsible for changing the conversation around assault and for gaining political support for advancements in women's rights which, in turn, advances the conversation around men's rights and opportunities.
You can make good money by doing good
After Oxford, Ann returned to Yale before working in litigation, finance and corporate advisory work for a decade. "I've made a fabulous amount of money," she tells me. "If you can make money by doing good, that is the best of all worlds, and I think that my life in business proves this. I run a business that promotes women. We pay really well and most people love working here. We take clients who we're really passionate about. We want to change Britain and the world for the better. And in the process, we make good money." McAllister Olivarius will only work on cases that they believe in. "You can't just come in and hire us – we're not for sale – because I know that if I get hired I'm going to do my damnedest to win my case; so I need to want to work for you. I win nearly all my cases, or settle them strategically – which is another form of winning. The motivator is not the money; it's the opportunity to do good, it is the importance of the case."
Pass it forward
Ann feels a duty to use both the skills she's developed and the money she's earned in the corporate world to improve the lot of less fortunate women. When I ask Ann how she chose sexual harassment and violence as one of the issues she wanted to focus on, she says simply, "I'm in a position to do this. I have a quality education, excellent credentials, and have earned a lot of money so I am someone to be reckoned with. I am resourced. I should be fighting the hardest battles, I shouldn't depend on others, less resourced, to do this work." Ann asks me if I know how much of global giving goes to women's issues – 6%, and half of that to breast cancer charities. "Only 3% of the world's philanthropy goes to women and girls?" she asks incredulously. To rectify this, Ann is an advocate of "genderlens investing", and part of a community called Women Moving Millions, a network of those who have donated over a million pounds to charities improving the lives of women and girls around the world.
Speak out, name, shame and penalise rapists
Using the law to advocate for women's rights has been a staple of Ann's career. I ask Ann how we can stop rape and sexual assault – a difficult question for a crime so wide-spread that one in three female students experiences it during her time at university. "Have people named, shamed and penalised. For these bad acts, kick them out of the university; name them publicly. Have accolades, tenure removed from them. Women and men who have been assaulted have to speak up. They must tell their stories and the police and authorities must respond. We have to encourage women and men to report their assaults, and to use the legal tools and services available to them."
Change requires institutional reform and regulation
Ann thinks educational institutions have a critical part to play in holding rapists to account. "If Somerville were to say, any Somervillian who has been sexually assaulted, we will stand beside you and we will pay what reasonable funds you need to bring a legal case against the person who has assaulted you, and if Somerville were to advance any therapist fees that are necessary and which the NHS doesn't pay, that would provide a model for all universities. We would see a real change in climate; behaviour would improve; shame for being assaulted – and assaults themselves – would diminish." Researchers and criminologists have found, repeatedly, in both the US and UK that the average rapist at universities rapes six times. Ann recommends the adoption of Callisto, a software used on many American campuses to connect survivors of sexual assault with others who have been attacked by the same person. Survivors can record the name of the person who assaulted them on the system, and then if someone else is assaulted by the same person, both survivors will receive a notification asking whether they want to be connected. They can then be connected to a Legal Options Counselor to discuss ways to protect their community.
Ann has criticism for Oxford too. "There should be clear regulations that a professor cannot have sexual relationships with an undergraduate or a graduate in their field," Ann says. Since Alexander vs. Yale, relationships between staff and students are widely prohibited in the US. In Oxford, while it is required that staff disclose relationships with students to their superiors, they are still permitted.
Write the script of your own life
"There came a time when I realised that either I was going to write the script of my own life, or not much was going to happen in that life. I could keep applying for jobs but by my mid-30s I was looking for very good jobs with very good money; the days of apprenticing were over. I applied for a number of jobs for which I was qualified and was rejected.
Prospective employers told me they were afraid I would come in and take over the place. Men were getting positions and promotions; no-one tried to stop them from taking over the place." And so Ann set up her own law practice, years later inviting her husband to join her as her partner.
McAllister Olivarius is now a leading international law firm supporting those who face discrimination in the workplace, who – through bias, bigotry, gender, race, economics, education, are made less than what they are. McAllister Olivarius works to make people what they can be. My conversation with Ann was an invaluable opportunity to speak with someone who has had an exceptional career, and still plans to accomplish much more. Ann made me believe that I can have a positive impact; that we can all leave Somerville and change the world for the better.
Rosie Sourbut (English, 2017) is a Laidlaw Scholar and CoChair of Oxford SU Women's Campaign. More of her writing can be found in The Day, LookLeft, The Oxford Student and Anthroposphere.
This article was first published in the Somerville Magazine 2019.