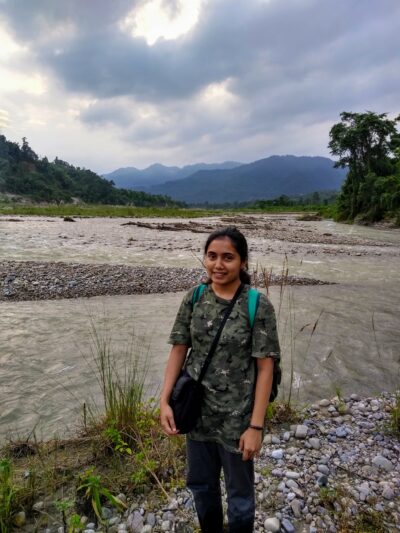 We are delighted to announce that OICSD's Mary De Zouche scholar Aavika Dhanda (2019, DPhil Zoology) has been awarded the first Rufford Small Grant by the Rufford Foundation to support her project on the effects of land-use land-cover changes on forest bird communities of Dibang Valley, eastern Indian Himalaya.
The grant will facilitate Aavika's field work in remote villages and community-owned forests in Northeast India. It will also support a birdwatching training program that she is conducting with the Idu-Mishmi people, an indigenous tribe of Dibang Valley.
In addition to the Rufford Grant, Aavika has also received a grant from the Eurofins Foundation Fund and from the Santander Academic Travel Award this year.
Excerpts from a recent interview with Aavika Dhanda:
It started with a song
My interest in studying birds began many years ago, visiting the green gardens of Teen Murti Bhavan in New Delhi and watching a Bluethroated Barbet calling and vibrating its blue throat so beautifully. Almost immediately, my friend began to imitate its call (the first instinct of any avian biologists on hearing a new call). I said to myself, "Wow, I want to do that!" – and before I knew it I was writing a Master's thesis on the bio-acoustics of myna birds. Dr Erach Bharucha (Director of the BVIEER in Pune where I studied) also nurtured my love of birds. We could speak for hours on mynas, owls, flamingos, and imitate their calls.
Lessons from the forest
My current work started in October 2017 when I joined Dr Rajkamal Goswami as an assistant in the tropical forests of the Jaintia Hills in the state of Meghalaya, Northeast India. I studied birds in the apex forests of Narpuh Wildlife Sanctuary, which was previously a Reserve Forest. 'Narpuh' means 'where light cannot penetrate' in Pnar, the language of the dominant tribe of Jaintia. It's a perfect description of the dense foliage and multiple canopies of the forest there. It was here that I started to appreciate the connection indigenous tribes share with nature. I worked alongside tribal communities in North-eastern India again in my next project, interviewing villagers to learn more about their culture. It taught me how ignorant we've been in learning about tribal community systems, languages and customs. And I couldn't help but notice that we know so little about most of the species in this global biodiversity hotspot, or the threats they are facing.
Challenging the narrative
While studying for my MSc, it was not uncommon to hear the view that 'wildlife research is not for women' – despite the fact that female conservationists already work alone in many of India's toughest regions. The experience of being a woman field researcher is all too often one of not being taken seriously by men in villages who have never seen a female researcher from a big city before. I often field questions like "Why have you come all alone?" or "Why is your supervisor hiring females to go to the forests?" Such incidents are innumerable, but usually those responsible come around and, by the time I leave, ask if I will visit again.
A new chapter
Arriving in Oxford, it took at least a term to adjust to everything: the weather, people, culture, food. The differences have mainly been really positive, though. My lab meetings are a place where everyone is heard and all ideas are taken seriously. No one here would want to categorise anyone's ability based on gender; there have been no attempts to assign me a male researcher for 'safety' when planning field work. There are challenges, but there is always help on offer and I never feel like I am stuck or alone.