Somerville College and the Margaret Thatcher Scholarship Trust are to offer a new scholarship for undergraduates from Singapore, thanks to the generosity of ST Telemedia, a global investor in communications & media, data centres and infrastructure technology businesses based in Singapore.
The Lee Kuan Yew-Thatcher Scholarships will focus on providing opportunities to exceptional Singaporean students from disadvantaged backgrounds. The award, made on the basis of academic excellence, will cover the full cost of tuition fees and provide a living allowance. One new scholarship will be awarded every year for the next four years to students who have shown that they have succeeded against the odds, whether it be financial disadvantage, disability, bereavement, or being a first-generation university student. The first scholarship will be awarded in October 2020 and they will join a community of 15 Thatcher Scholars at Somerville.
The Margaret Thatcher Scholarship Trust (MTST) was established at the College in 2013 to create a living legacy for Britain's first female Prime Minister. Mr Lee, Singapore's founding prime minister, was one of the first patrons of the MTST.
"This partnership between the MTST at Somerville and ST Telemedia highlights the enduring bond between Singapore and the UK.  This is a bond that is rooted in shared values: a belief in opportunity for all; that hard work will reap rewards; a commitment to academic excellence," said Principal Jan Royall.
"I look forward enormously to welcoming the first Lee Kuan Yew-Thatcher Scholar in 2020.  This most generous gift from ST Telemedia will make a significant contribution to preparing the coming generation to meet the challenges they will face."
The scholarships have been established to help disadvantaged Singaporean students by offering them an invaluable opportunity to pursue their academic aspirations at top universities. ST Telemedia has also launched scholarships in partnership with Fitzwilliam College, Cambridge – Mr Lee's alma mater – and the Lee Kuan Yew School of Public Policy at the National University of Singapore.
"Access to quality education has never been more vital to economic advancement and quality of life in a knowledge-based economy. As part of our 25th anniversary celebration this year, ST Telemedia is delighted to extend our impact on education with the launch of our first university scholarships," said Stephen Miller, President and Group Chief Executive Officer of ST Telemedia.
Ho Ching, chief executive of the Singapore-headquartered investment company Temasek and a valued patron of the MTST, spoke of the transformational potential of the scholarships at the launch on Monday.
"This Scholarship Trust gives young people a chance to study at the Somerville College, especially those from around the world who have succeeded 'against the odds'," she said.
"It is a fitting tribute to two transformational leaders who deeply valued education as a way to uplift lives, and also to build just and equal societies."
The Scholarships further strengthen the University of Oxford's ties to Singapore. Around 300 Singaporeans currently study at Oxford, and over 2,100 Oxford graduates are based in the country, including 40 Somervillians. The University and Singapore have also worked together on a number of initiatives, including research partnerships such as the A*STAR-Oxford Partnership.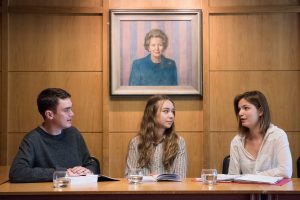 Thatcher Scholars in conversation