We've been so busy that September flew past us in a lightspeed blur, but we've finally had a chance to catch a breather and get you another update on the gardens. 
This month, we begin with a rhyme: One man went to mow a meadow…
In case you never ran into this one as a child, the idea is to teach children to count backwards and forwards from 1 to 10, and quite possibly to keep them out of trouble during meadow season. It's also a convenient way to ease you into this month's topics: as you may have now guessed, September's horticultural update is all about our wildflower meadow.  
Managing and establishing a meadow is much harder than you might think from gardening programs. We just take an area and stop mowing it and let the magic happen right?

Wrong.
Our meadow by the Flora Anderson Hall was a regularly mown lawn until fairly recently. This makes the move to a meadow a long process: in fact, it could take anything up to five years to ensure the area is providing the greatest possible increase in biodiversity.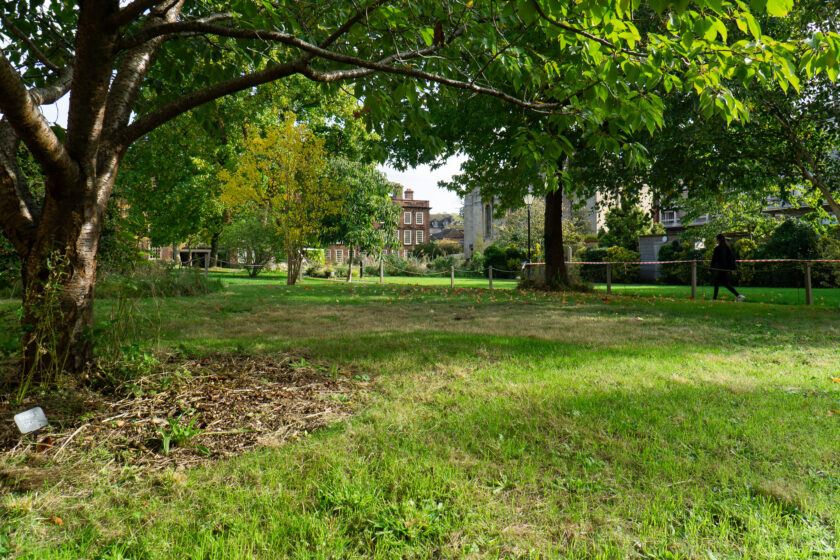 The meadow is currently mowed short, ready for new wildflowers to seed
Let's start at the bottom and work our way up – literally. The soil (or for any wine aficionados the terra) is where we need to start. In particular, we need to reduce the level of nutrients in the soil a bit. We do this by removing all the vegetation after it is cut down and mowing off all the fallen leaves so that less organic matter is returned to the soil. This might sound counterintuitive, but wildflowers actually prefer less nutrient-rich soil than grasses do, so changing the soil properties encourages a more diverse range of plants.

Next is the year-round process of managing the plant composition. We will scarify the ground and sow wildflower seeds in the autumn, as they need winter cold to germinate. We will also add more varieties of bulbs to give a long spring flowering cycle, and plant plugs in the spring. There is even some mowing: we carefully cut the flowers in the late summer and the winter and lay them for a few days to allow them to drop all of their seeds and support the planting. This is a cycle that is repeated year on year until we obtain the result desired both by us and our hungry college invertebrates.
As you can tell, despite being 'wild', our meadow requires just as much love and care as any other part of the garden in order to establish the best possible habitat we can for all of Somerville's wildlife. 
And speaking of wildlife – we now have a nature camera in college! As soon as we have some shots, we will be updating you on how our tracking of college fauna is going. Keep your eyes peeled…"