Anna Hart, our Second Gardener, showcases an exciting new addition to the gardens in this month's blog: the Gloriosa superba 'Rothschildiana'.
After the blossoms of May and June, July is historically known as the month of the 'green glut', a time of more leaf than flower (although we appear to be doing quite well here at college on both fronts, as you'll see in the gallery at the end!).
In my personal search for colour during the summer months, I always find myself drawn to the tropical and exotic. If you're the same, then, boy, do I have a treat in store for you. Let me introduce you to one of my favourite flowers, Gloriosa superba 'Rothschildiana', which is flowering here for the first time.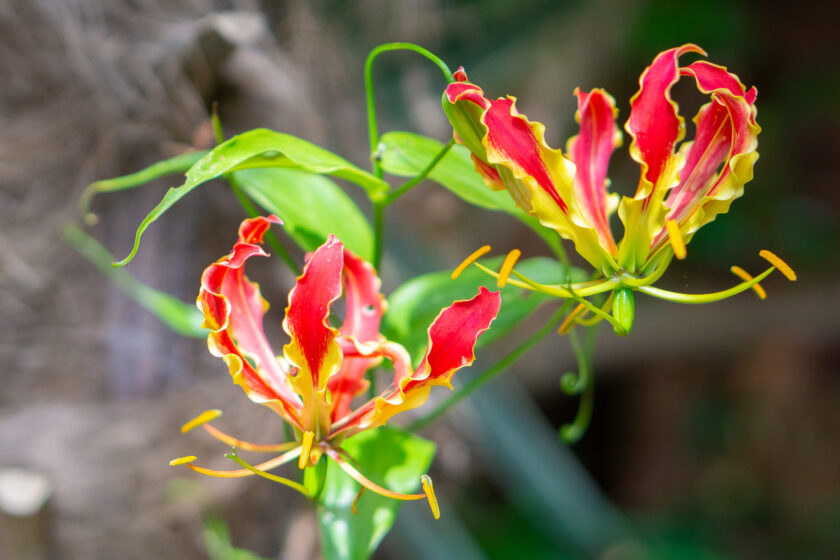 Gloriosa superba 'Rothschildiana'
Isn't it beautiful? Aside from its unique aesthetic qualities and the later flowering time, this variety of the plant has some interesting chemical properties and a fascinating history behind it to further add to the fun of having a go at growing it here at Somerville.
The plant gains its name 'Rothschildiana' from the famous Rothschild family, variously bankers, politicians, aristocrats, and collectors. The plant was named in 1903 by the 2nd Baron of Rothschild (who also has a place in the history books as both the UK's first Jewish Peer and the addressee of the controversial Balfour Declaration). The baron encountered it during his travels in Africa, and brought a sample back to the family estate at Waddesdon Manor.
Baroness Alice Rothschild was the head of the English Rothschilds and the owner of Waddesdon at the time. She defied convention for Victorian and Edwardian women by shunning marriage in favour of her many talents: she spoke several languages fluently, played music, read widely and was an expert horse rider. She was also a pioneering conservator whose 'Miss Alice's Rules' for preserving and caring for objects formed the basis of the National Trust's first conservation guidelines.
But most of all, she had a deep passion for the family gardens. Her love of all things horticultural led her to spend the equivalent of half a million pounds (oh, to have that budget…) a year on her main residence and equal amounts on others. Her love for her leafy charges knew no bounds – she even once shouted at Queen Victoria for walking on the flower beds (you tell them, Alice!).
Anyway, that's quite enough history – it's time for a quick bit of botany.
Originating from Africa and India, Rothschildiana is a member of the Colchicaceae family, the same type of flower as our autumn crocus. The plants of this family contain a chemical called colchicine, rendering them poisonous if eaten, but funnily enough the molecule can also be used therapeutically as a drug to treat gout and prevent atrial fibrillation following cardiac surgery.
Very pretty, very dangerous – and very useful!
July In Pictures