The groundbreaking interdisciplinary work of our Senior Research Fellow, Professor Radhika Khosla, has been recognised with an honourable mention for this year's Bina Agarwal Prize for Young Scholars in Ecological Economics.
The biennial prize is awarded by the International Society for Ecological Economics to "honor young scholars who have made pioneering intellectual contributions in this interdisciplinary field, especially those relating to developing countries and least-developed countries." Alongside this year's main prize, which was awarded to Professor Federico Demaria (Universitat de Barcelona), two honourable mentions were also made by the jury, including to Professor Khosla.

As Principal Investigator of the Oxford Martin School's Future of Cooling project, Professor Khosla brings approaches from geophysics, policy studies, geography, engineering and more to bear on the problem of reducing emissions from cooling to zero in a world where billions – and counting – are reliant on the technology to maintain a basic quality of life in the face of global heating. She is also Research Director of the Oxford India Centre for Sustainable Development, which is based at Somerville.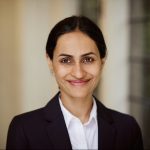 Professor Radhika Khosla