It May be hot, it May be cold, it May be wet, it May be sunny – May is typically a most variable month, and this year was no different.
(Although in all honesty, the rain – a little bit of a distant memory now the sun is shining and the garden is lush – has been a joy for the Somerville flora.)
With its conditions and its position at the junction of spring and summer, May poses many horticultural and ecological questions for the garden department. One of the main conundrums is the popular No Mow May movement. We confess, we haven't done it at Somerville – but for an extremely important reason. We believe that creating a habitat for insects and flowers that is destroyed after one month is not the right way forward. So instead, we have done or are continuing to do this:
We have our year-round wildflower meadow area by Penrose, where the wild tulips blossomed in April. It's now decked with lovely Ox-Eye Daisies which bob around in the breeze, as you can see in the video clip below.
Certain 'wild' areas that are awaiting development (remember that Alastair and I still haven't been here for a full year yet) have deliberately been left, as opposed to stripping and covering, or using chemical controls.
We have been trialling the use of biological pest control methods. For instance, an aphid infestation on our Beech balls in Darbishire quad met its match recently when we unleashed an army of hungry ladybirds on them (see below).
Using seed production or bare root purchases to reduce our use of plastic plant pots.

And we have lots of other exciting plans and dreams for the garden too. Things will and are changing rapidly – but not mowing the main quad is, at present, not part of the agenda. The main quad is a very important community space at Somerville, and the truth is that no one likes sitting on long wet grass. But, as you can see, there is plenty we are doing to ensure that insects and wildflowers have a home here, not just in May, but year-round.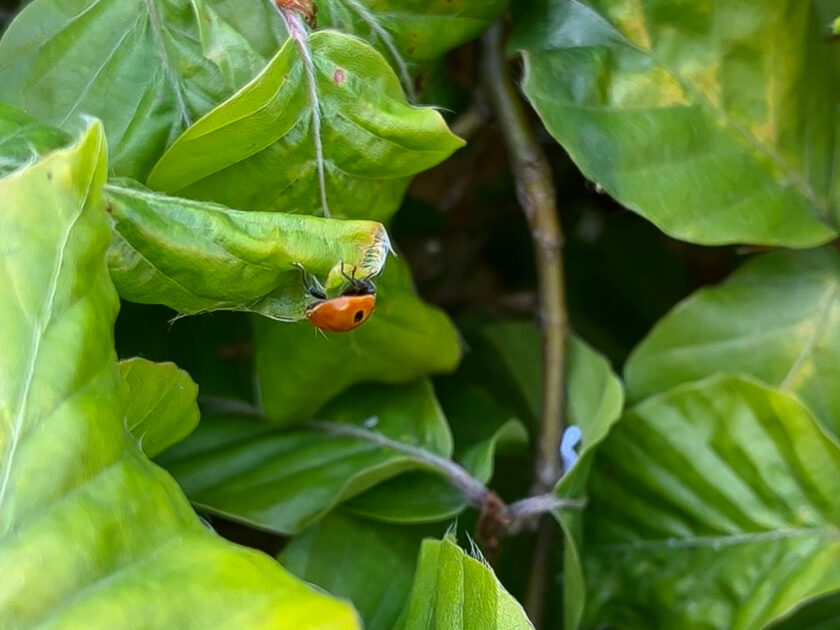 Ladybirds have been deployed in the garden this May as a biological pest control
The Summer border