Somerville College is proud to take part each October in the annual celebration of Black History Month. On this page, we are highlighting the stories and achievements of just a few of the Black members of our community who have passed through Somerville since we opened our doors in 1879, and added indelibly to our recent history through their contributions in the fields of academia, finance, social inclusion and the arts.
Professor Bolanle Awe
Born on January 28, 1933, in Ilesa, Nigeria, Bolanle Awe (Yoruba: Bọ́láńlé (Fájẹ́m̄bọ́là) Awẹ́) is a Nigerian and Yoruba history professor and pioneer of feminist history, intersectional thought and decolonisation. She studied history at the University odf St Andrew's before coming to Somerville in 1958 to read for a DPhil in 1958. In 1960, she became the first woman formally appointed to academic office in a Nigerian university, and was made Professor of Oral History in 1967. Professor Awe's interest in oral history has made her a pioneer in the pre-colonial histories of Nigeria and the Yoruba people, as well as an early advocate for feminist and decolonial interpretations of African history.
Lucy Banda Sichone 
Lucy Banda Sichone (Zambia & Somerville 1978) was a human rights activist and educator who was selected in 1978 as Zambia's first female Rhodes Scholar. She left her fiancé and daughter in Zambia to come to Somerville and read PPE. Tragically, her husband died in a car accident just after Sichone finished her Finals. Friends from Somerville rallied round to help her buy mourning clothes and pack her things. Sichone subsequently wrote to Principal Daphne Park to express her gratitude for all that had been done ('It is not something I am likely to forget'). Upon her return to Zambia, Sichone practised as a lawyer and public defender, and founded the Zambia Civic Education Association. Notoriously outspoken, Sichone made a name for herself challenging and chastising her country's government officials. She died in 1998.
Margaret Casely-Hayford
Margaret Casely-Hayford read Jurisprudence at Somerville from 1980-83. On leaving Somerville, she spent twenty years in the legal profession and became the first Black woman to be made Partner of a City firm. Following a decade in the retail sector, Casely-Hayford was named Black British Businessperson of the Year 2015. Now focused on championing better governance and democratic processes, she has advised the Foreign Office on strategic reform of the British Council, Oriel College on Cecil Rhodes and CILIP on the diversity of the Carnegie and Kate Greenaway Medals. She is currently Chair of Shakespeare's Globe, Chancellor of Coventry University and a member of the Institute of Directors Corporate Governance Advisory Board. She was awarded a CBE in 2018 for her work as Chair of international development for ActionAid UK, and became an Honorary Fellow of Somerville College in 2020.
Of her time at Somerville, Casely-Hayford has said, 'It gave me greater strength to champion what I believe, and it also gave me a platform to be stronger in the cause of promoting women and diversity.' 
Professor Patricia Kingori 
Patricia Kingori is a Senior Research Fellow at Somerville College who specialises in exploring ethics and power in global health. In 2021, Patricia became the youngest woman to be awarded a full professorship in Oxford's 925-year history and the youngest Black professor at Oxford or Cambridge. In 2022, she was the inaugural recipient of a £6.5m Wellcome Grant for New Research for a new project about the role and underlying power dynamics of 'endings' in global health crises. She is currently the subject of a forthcoming documentary about the phenomenon of 'Untitled Scholars' and extractive intellectual practices in the Global South made by Oscar-winning director Steve McQueen's production company.
Of her College, Patricia said, 'Somerville has provided a safe and creative space for me throughout my time in Oxford. The warmth and support I've been shown has been so important to my development as an Oxford academic!'
Afua Kyei 
Afua Kyei (2000, MChem) is the Chief Financial Officer, and an Executive Director of the Bank of England. She was appointed CFO aged 36 in 2019, and is the first senior black executive in the 328 year history of the Bank. Afua was an integral part of the Bank's leadership during unprecedented times through Brexit, the Covid pandemic and Russia's invasion of Ukraine. She is currently responsible for developing the Bank's strategic priorities and for the financial governance of the Bank's c. £1 trillion balance sheet.
Afua won CFO of the Year, 2021 at the Women in Finance awards UK. She is the Bank's co-executive sponsor for Diversity, Equity and Inclusion and is co-executive sponsor for Climate Change. In October 2022, she was named in the 2023 Powerlist, which profiles 100 of Britain's most influential people of African, African Caribbean and African American heritage residing in the UK. Afua read Chemistry at Somerville from 2000-2004, and told us, 'I loved my time at Somerville and made lifelong friends – including my husband, Robert (Dickinson, 2003, Modern History)!'
Dr Anne Makena
Dr Anne Makena is the Co-Director of the Africa Oxford Initiative (AfOx), a vibrant platform for all things Africaat Oxford. She read Biochemistry at Moi University, Kenya, and later obtained her doctorate from Somerville in the same discipline. It was in the final year of her doctorate that Anne realised she was excited by broader questions that couldn't be answered simply by well thought-out experiments.
Knowing she wanted to work beyond disciplinary boundaries and have a more direct input into decisions that influenced research trajectories, Anne helped launch AfOx in 2016. Today, AfOx has supported over 300 researchers in making advances in medical sciences, big data engineering, environmental conservation, the humanities and more. AfOx has facilitated 250 collaborations across 70 University of Oxford departments, 120 African institutions and 32 countries, building a network of 3,000 members.
Danielle Welbeck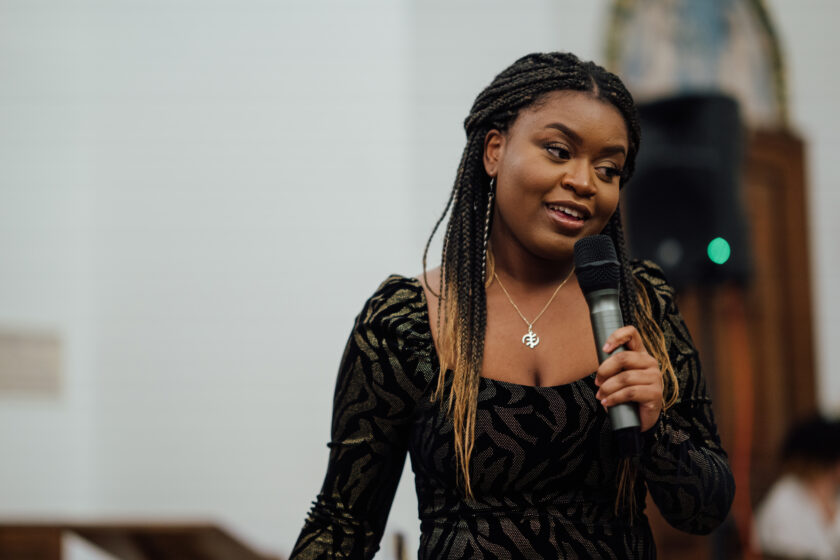 Danielle Welbeck graduated from Somerville in 2022 with a degree in Music. During her time at Oxford, she helped co-found the Aseda Gospel Choir, the first choir created by and for African and Caribbean students at Oxford. Despite the pandemic, Aseda sang to packed houses throughout Oxford while Danielle was a student, and will continue to perform now she and her other co-founders have left.