Event Start Date:
13 November 2022
We are looking forward to welcoming Sir Simon Russell Beale and Professor Emma Smith (1988, English) to Somerville for this year's literary tea.  Simon and Emma will be discussing all things Shakespeare to mark the forthcoming 400th anniversary of the publication of Shakespeare's First Folio. The event starts at 3.00pm and will be followed by tea. This year's event will be in dedication to the great Shakespeare scholar Professor Katherine Duncan-Jones, our Fellow and Tutor in English for 35 years, who died in October 2022.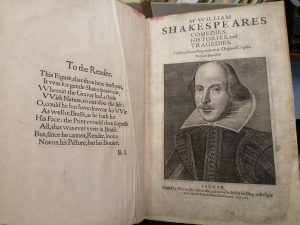 Somerville's Second Folio
You may remember that Simon and Emma featured in our second Somerville at Home series back in 2020, when they discussed interpreting Shakespeare on the page and on the stage.  You can watch our recording of that event here
Simon is currently playing John Gabriel Borkman at the Bridge Theatre  in a version of Ibsen's play adapted by Somervillian Lucinda Coxon (1981, English). Simon, Lucinda and Sir Nicholas Hytner, who directed the play, featured in the University's Meeting Minds programme in April 2021 and you can watch the recording of that conversation here.