Event Start Date:
20 October 2021
Somerville City Group is hosting an online event to help you 'Go your own way' and become an entrepreneur. The event features four successful Somervillian entrepreneurs with a wide variety of start-ups between them.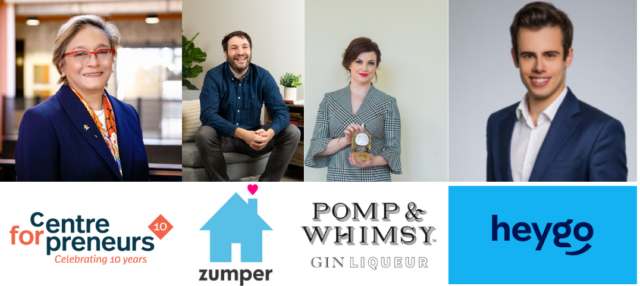 Neeta Patel CBE (1980, Chemistry) – Centre for Entrepreneurs:
Neeta has led CFE since the start of the original New Entrepreneurs Foundation charity. She has a broad range of commercial experience in finance, media, publishing, education and the arts. She has also worked in private equity and has led her own Fintech startup. She is passionate about the role that tech entrepreneurs can play in the economy and supports and mentors first-time entrepreneurs both in and outside CFE through her work as Entrepreneur-Mentor in Residence at London Business School, as a board adviser for Cass Ventures and Tech London Advocates. She is also a board director at £1.3bn, FTSE350-listed Allianz Technology Trust, which invests in quoted technology companies. Neeta was awarded a CBE (Commander of the British Empire) in the Queen's birthday honours in October 2020 for services to entrepreneurship and technology.
Anthemos Georgiades (2001, Lit. Hum.) – Zumper:
Anthemos is the Co-Founder and CEO of Zumper, the largest privately-held residential rentals marketplace in the US. As CEO, Anth leads the company in its mission to make renting an apartment as easy as booking a hotel. Since 2012, Anth has grown Zumper to 200+ employees, 75 million annual users, and raised $150 million in venture capital for the company. Prior to his work at Zumper, Anth worked at the Boston Consulting Group in London and NYC, and was an Economic Advisor on the 2010 British election. Anth has a First Class BA from Oxford University, an MPhil from the University of Cambridge, an MBA with Distinction from Harvard Business School. 
Nicola Nice (1995, Human Sciences) – Pomp & Whimsy:
A seasoned entrepreneur, Nicola worked in the world of spirits innovation for over a decade through the brand strategy and consumer insights agency THINK Conservatory, which she founded in 2007.  A sociologist by training, she has dedicated her professional career to understanding how consumers connect with categories and brands, identifying what drives those connections, and applying these insights to new idea generation and strategic brand positioning. 
A specialist in liquor, fashion, beauty, and the female consumer, Dr Nice has consulted with and delivered new products for some of the largest global producers including Diageo plc, Bacardi Ltd and Gruppo Campari.  Her dedication to writing women back into cocktail history has received high praise, and has been profiled by The New York Times, Vogue and Wine Enthusiast. In 2019, Forbes named her one of the top women running the liquor world.
She holds a BA in Human Sciences from the University of Oxford, and a PhD in Sociology from Imperial College London.
John Tertan (2012, Law) – Heygo:
John co-founded Heygo (formerly Virtualtrips) with fellow Somervillian and friend Liam Garrison (2012, Chemistry).  As avid travellers themselves, they wanted to help people stay connected with the world and for those in the travel industry to continue doing what they love.  Prior to launching Heygo, John was an Associate at Freshfields Bruckhaus Deringer.