Event Start Date:
17 November 2021
Matt Hawkins (2007, History) and Jennifer Nadel co-edited the forthcoming book: How Compassion Can Transform our Politics, Economy, and Society (Routledge) The book is a collection of essays by academics and draws together experts across disciplines – ranging from psychology to climate science, philosophy to economics, history to business – to explore the power of compassion to transform politics, our society, and our economy.  Matt and Jennifer will be joined by contributors Professor Anthony Grayling and Professor Mark Maslin to discuss how a compassionate approach can revolutionise different aspects of our lives.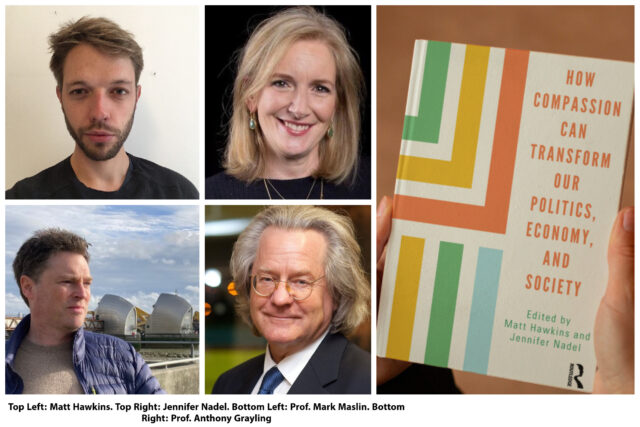 Matt Hawkins: Matt is Co-Director of Compassion in Politics and has led a number of social and environmental justice campaigns. He was part of the Nobel Peace Prize winning team at the International Campaign to Abolish Nuclear Weapons (ICAN) which successfully lobbied the UN to introduce a ban on nuclear weapons. Most recently, he managed the Equal Civil Partnerships Campaign which secured the introduction of civil partnerships for mixed-sex couples. He studied History at Somerville College from 2007 to 2010.
Jennifer Nadel: Jennifer Nadel is Co-Director of Compassion in Politics, a qualified barrister, author, political strategist, activist and award-winning television journalist. She has reported for the BBC, Channel Four News and was ITN's Home Affairs editor. Her report exposing the use of rape as a weapon of war in Bosnia was used by UN war crimes investigators and she's reported extensively on how the law discriminates against women. Her most recent book, WE, charts how to bring about individual and societal change. Her father came to the UK on the Kindertransport. She is on the board of INQUEST, a charity which supports families whose relatives have died in custody.
Prof Mark Maslin: Mark Maslin FRGS, FRSA is a Professor of Climatology at University College London. He is a Royal Society Industrial Fellowship, Executive Director of Rezatec Ltd and Director of The London NERC Doctoral Training Partnership. He is science advisor to the Global Cool Foundation and the Sopria-Steria Group and a member of Cheltenham Science Festival Advisory Committee. Maslin is a leading scientist with particular expertise in past global and regional climatic change and has published over 165 papers in journals such as Science, Nature, and The Lancet. His areas of scientific expertise include causes of past and future global climate change and its effects on the global carbon cycle, biodiversity, rainforests and human evolution. He also works on monitoring land carbon sinks using remote sensing and ecological models and international and national climate change policies.
Prof Anthony Grayling: Anthony Grayling CBE, MA, DPhil (Oxon) FRSL, FRSA is Master of the New College of the Humanities, and a Supernumerary Fellow of St Anne's College, Oxford. Until 2011 he was Professor of Philosophy at Birkbeck College, University of London. He has written and edited over 30 books on philosophy and other subjects; among his most recent are The Good Book, Ideas That Matter, Liberty in the Age of Terror, and To Set Prometheus Free. For several years he wrote the 'Last Word' column for the Guardian newspaper and a column for the Times. He is a frequent contributor to the Literary Review, Observer, Independent on Sunday, Times Literary Supplement, Index on Censorship, and New Statesman, and is an equally frequent broadcaster on BBC Radio 4, BBC Radio 3, and the World Service.