Event Start Date:
27 June 2022 13:00 - 18:00
Join us in reimagining the role of global agriculture on the path to Net Zero emissions
Around the world, hunger is rising at an alarming rate. Recent global crises such as the COVID-19 pandemic alongside violent conflict and erratic weather in various parts of the world have hiked food prices and deepened food insecurity especially in developing countries.It is in times like these when we need to urgently re-examine the question of producing both more and healthier food in an environmentally sustainable and socially equitable way.
We are pleased to announce that the second annual OpenAg Symposium – Food Futures in a Changing Climate: Reimagining the role of global agriculture on the path to Net Zero emissions – will be hosted by the University of Oxford and UPL on 27 June 2022.
This hybrid event will work towards carrying forward the conversation on the future of food and agriculture in a changing climate by exploring the role of agriculture in decarbonisation strategies on the path to Net Zero emissions.
If you wish to attend this conference in person at the University of Oxford, please get in touch with us at oicsd@some.ox.ac.uk
The Symposium will begin with a virtual keynote address by Dr Agnes Kalibata, President of the Alliance for a Green Revolution in Africa, who will be in conversation with Jeevan Vasagar, Climate Editor of Tortoise Media, on the need for collaboration and negotiation, social equality and financial support for efforts towards emission reduction in the agricultural sector. Please use the link below to attend this session virtually.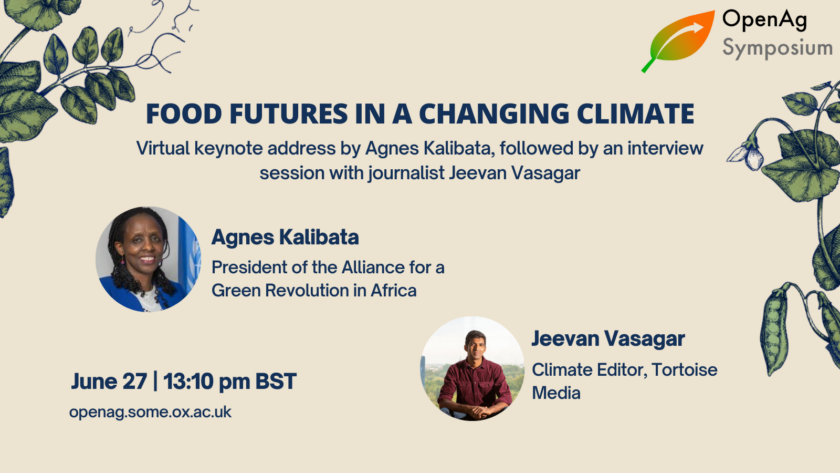 Time: June 27, 13:10-14:15 pm UK time
Event link: https://bit.ly/3mJEYXe
Passcode: 496574
The keynote segment will be followed by three panel discussions – on the challenges of financing agriculture on its mission to Net Zero, how to pave way for an inclusive Net Zero agriculture, and the synergies between renewable energy and agriculture. Each panel will feature a mix of guests from academia, policy, industry, and NGOs moderated by a global expert. Please use the links below to attend the panels virtually.
Panel 1: What are the opportunities and challenges for financing the transition to Net Zero agriculture?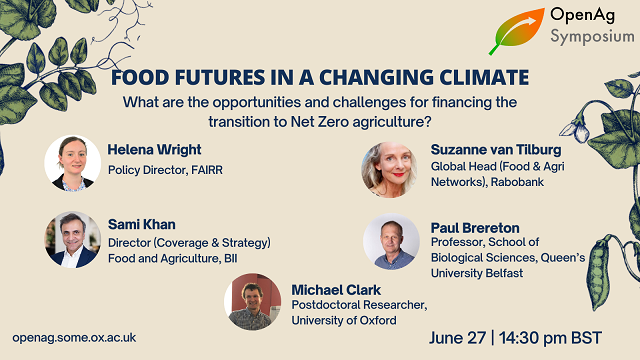 Agribusinesses are increasingly faced with the urgent need to develop innovative and ethical solutions to maintain a balance between food security and environmentally sustainable practices in the face of climate change. The panellists will examine the changing role of agribusinesses, as well as banks and financial institutions, in the climate debate, all while keeping stakeholder interests of farmers, consumers and the environment into consideration.
Time: June 27, 14:30-15:30
Event link: https://bit.ly/3mMmlC3
Passcode: 501497
Panel 2: How do we pave an equal and inclusive path to Net Zero Agriculture?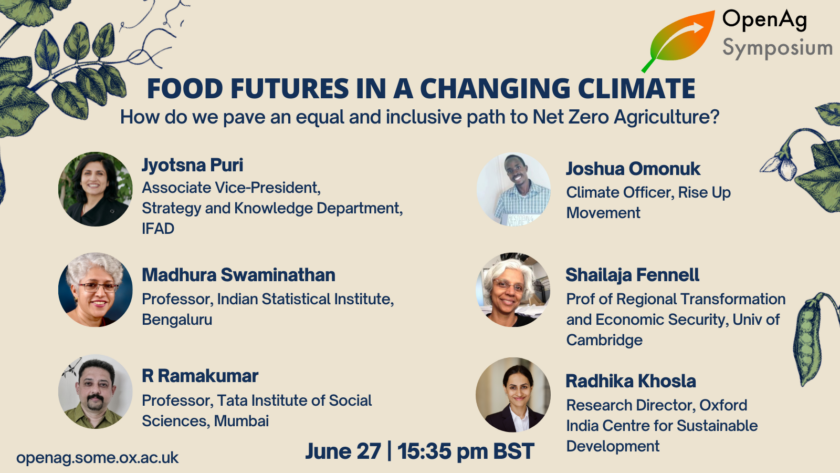 In the face of environmental challenges and climate risk, technological interventions are being deployed to meet food security challenges – but how does this intersect with ideas and practices of social inclusivity in the agricultural sector? For instance, we know that the way farmers and farms are operating is changing with new technology and innovation, some of which require kinds and levels of education often denied to women. How has the role of women in agriculture changed with new practices, if at all? This panel will discuss ways in which sustainable development initiatives in agriculture could be more inclusive and equitable for all.
Time: June 27, 15:35-16:30
Event link: https://bit.ly/3xPPN0h
Passcode: 049339
Panel 3: Competing or collaborating? Synergies between renewable energy and agriculture for accelerating Net Zero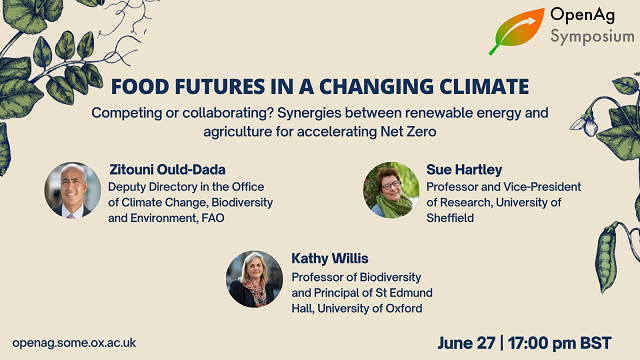 From how and why land is used to the availability of government subsidies for green industrial development, renewable energy infrastructure and sustainable agriculture have often been cast as uncomfortable – if not outright competing – fellows on the path to Net Zero. But with an increasing overlap in decarbonisation activity, what are the shared objectives for agriculture, renewable and green industry and what are the most compelling models for cross-sector collaboration? What are the opportunities and challenges to scaling up renewables in agriculture? How can land-use be complimentary between renewables, crop cultivation, and water usage? This panel explores the synergies between renewable energy, agriculture, and wider green industrial development and makes suggestions for greater collaboration.
Time: June 27, 17:00-18:00
Event link: https://bit.ly/3MY2EC4
Passcode: 979373
You can learn more about the series on the OpenAg website <https://openag.some.ox.ac.uk/> and see a summary of last year's conference. <https://openag.some.ox.ac.uk/video/openag-symposium-summary-2021>