Event Start Date:
09 November 2023 17:30 - 18:30
Location:
Flora Anderson Hall, Somerville College
Join us on Thursday 9th November for the latest of our annual lectures on mental health, featuring guest speaker Professor Sir Simon Wessely, by completing the sign up form below.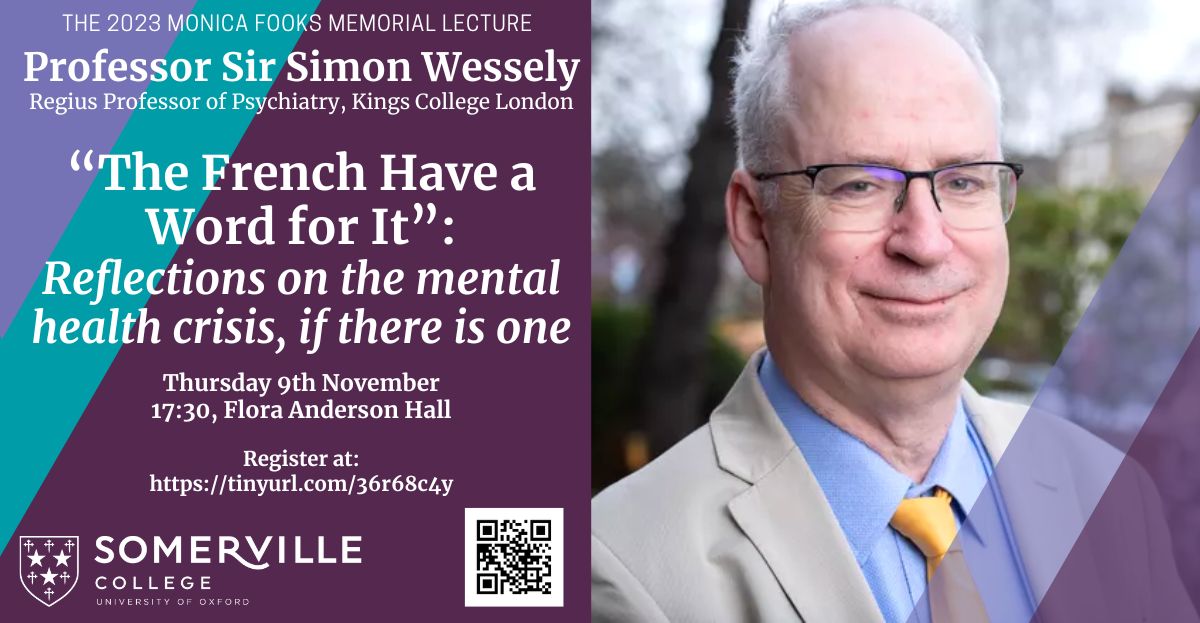 The Monica Fooks Memorial Lecture was established in 2002 at Somerville College, in memory of Monica, the daughter and sister, respectively, of Jean and Carolyn Fooks, who were both students at Somerville. Monica studied at Edinburgh University and developed bipolar disorder, which led to her taking her own life in September 1994 at the age of 26. Monica's parents, Geoffrey and Jean Fooks, gave Somerville the funds to set up the lectureship, with the specific aim of improving public awareness of mental illness and to encourage medical students to take more interest in psychiatric illnesses such as Bipolar Disorder.
We are honoured to welcome Professor Sir Simon as this year's speaker, who will be discussing the idea of a mental health crisis. It is an unusual day in which there is not media coverage of the "crisis", most often in the context of children and young people, students and the world of work.  However, it is not clear what this is, nor why – and, if you want to find out what the French word actually is, all will be revealed on the day…
Professor Sir Simon is a psychiatrist and epidemiologist. He started his psychiatry training at the Maudsley in 1984, and joined King's College School of Medicine, as it was then called in 1991. He has been at the Institute of Psychiatry, Psychology & Neuroscience, King's College London, ever since. He did pre-clinical at Trinity Hall Cambridge, with a BA in History of Art, and then BM BCH at University College Oxford. His Masters and Doctorate are in epidemiology.
He is a fellow of the Royal College of Physicians, Royal College of Psychiatrists and Academy of Medical Sciences. In 2021 he became a Fellow of the Royal Society (FRS). His is the first ever Regius Chair to be appointed at KCL, and the first Regius Chair of Psychiatry in this country. He established the King's Centre for Military Health Research in 1996, and remains the Co-director. He was also the Director of the PHE NIHR Health Protection Unit for Emergency Response and Preparedness (2014-2022), and is now a Non Executive Director of NHS-England. He is a Past President of the Royal College of Psychiatrists and the Royal Society of Medicine. Between 2017 -19 he led the Independent Review of the Mental Health Act, which was supposed to pave the way new legislation in 2023, but hasn't yet. As of Jan 2023 he has 900 professional publications,. H index 110 (Scopus)"
Register for your free ticket:
2023 Monica Fooks Memorial Lecture: Registration Form
Sign up for the 2023 Monica Fooks Memorial Lecture with Professor Sir Simon Wessely on Thursday 9th November.