Choral and Organ Scholarships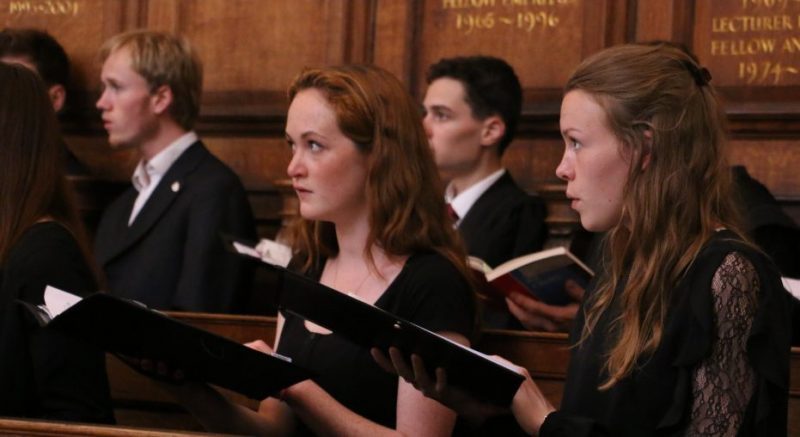 Somerville College Choir is the place for you if you want to be part of an ambitious yet supportive choir that's professionally directed and meets to rehearse and perform only twice per week.
Its members flourish within an atmosphere of inclusion, mutual respect, and good humour, achieving a very high standard of performance. It is  the only auditioned college choir to sing as part of a non-denominational format in the weekly service, meaning our repertoire draws from a diverse range of secular works in addition to favourite anthems from the Anglican choral tradition. A significant proportion of our output is by female composers and/or poets.
Somerville College Choir plays a central role in the life of the college – including singing services and regular concerts within the fine acoustics of the College Chapel, and supporting the college's endeavours elsewhere in in the UK and abroad.  Dinner and wine is provided each Sunday evening, and the choir also sings and dines at the major college dinners through the year, all of which are free of charge.
The regular weekly commitments are:
·      Thursday afternoon rehearsal (5.15-6.45pm)
·      Sunday evening service of Choral Contemplation (3.45-5pm rehearsal for 5.30pm service, with refreshments provided during the break)
Concerts, often in conjunction with the excellent Somerville Music Society, range from full operatic productions through oratorios and other choral and orchestral works, including biannual performances of Bach's John Passion. The choir has toured the USA and Europe several times in recent years.  In December 2018, the choir was the first Oxford college choir to visit India. Upcoming tours include Hong Kong & Singapore and the USA, in addition to plans for a new CD recording.
Somerville offers up to eight Choral Scholarships each year to join the 28-strong choir. Scholarships are open to applicants wishing to read any subject at Somerville and for any voice part. Choral Scholars receive free singing lessons and have plenty of solo-singing opportunities. Masterclasses over the last year have taken place with Ben Parry (Director of the National Youth Choir of Great Britain), Rachel Nicholls, and The King's Singers.  Choral Scholars also give an annual recital of solos and duets and have the opportunity to put on their own recitals. Recent Somerville Choral Scholars can currently be found at the Royal College of Music and in the group VOCES8.
Organ Scholars at Somerville are provided with an honorarium of £300pa, as well as £750pa for organ, conducting, and singing lessons, as well as the purchasing of sheet music. Like every UG at Somerville, they are guaranteed rooms in college for the duration of their course.  The College also subsidise expenses associated with professional development (eg. RCO examinations or course fees). Organ Scholars take a leading role in fostering all aspects of the choir's activities – the exact commitments vary from scholar to scholar, but all organ scholars play, conduct, and sing as part of their role. The organ is by Harrison & Harrison. There is also a Steinway grand piano within the chapel, as well as a two manual harpsichord. There are at least two organ scholars at any one time.
The Director of Chapel Music is Will Dawes, (william.dawes@some.ox.ac.uk), a choral professional who was trained in conducting at the Royal Academy of Music and is also a member of Stile Antico – a triple GRAMMY nominated vocal ensemble. Will is available throughout the year and would be delighted to meet prospective Choral and Organ Scholars and/or provide further details about Organ and Choral Scholarships at Somerville.
More information about applying for a Choral or Organ Scholarship can be found on the following part of the University admissions website.