Instructions for Biography and Photo Submission to PPE Centenary Celebration Gallery
Objective: a couple of paragraphs reflecting on your experience reading PPE at Somerville and how it shaped your career and outlook post-Oxford, accompanied by a photo of yourself, to be featured in our celebration gallery!
Ideal word count: between 150 and 200 words.
Sample biography from Sally Prentice (PPE, 1987):
"PPE was an obvious choice for me: economics was my favourite A Level subject and I was fascinated by politics and current affairs, sitting down to watch Panorama every Monday evening at 8:10pm!
"My memories of PPE are eclectic: cycling down the Cowley Road to buy Blueprint for a Green Economy; finding Denis Healey's autobiography The Time of My Life invaluable in writing Finals essays in Modern British Government; and debating with Dr Martin Holmes, a Thatcherite and Eurosceptic, in tutorials. I wrote a dissertation on Women and Trade Unions alongside studying Labour Economics and Industrial Relations, two subjects that have fundamentally changed since the 1980s.
"I feel immensely fortunate to have been taught Public Economics by Dr Dieter Helm. Studying economics gave me confidence to think critically about public policy issues, to scrutinize budgets and ask challenging questions: skills that I've used every day since.
"For 20 years I was a senior councillor in Lambeth with responsibility for education, children's services and regeneration. Alongside politics, I worked for The King's Fund, Age UK and Relate. I am studying for an MSc in Grantmaking, Philanthropy and Social Investment at City University and in late 2020 I joined the charity Carers Network as Chief Executive."
Sample photo from Sally: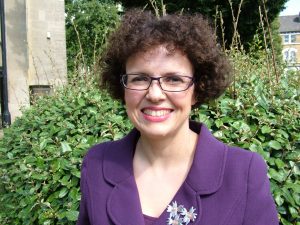 Tips for your photo: Our aim is to get a good, print-ready portrait of you. This can be done using any iPhone or Android phone that is not more than three or four years old, or alternatively a high-resolution digital camera.
The most important pointer is to look out for light levels. Try to find somewhere well-lit, ideally in natural light, but avoid having a light source like a window or lamp directly behind you, as this will throw your face into shadow.
Additionally, if using a phone:

Use the phone's front-facing (as opposed to rear-facing or "selfie") camera, or, if possible, ask someone to take the photo for you!
Use portrait mode, i.e., hold the phone vertically rather than horizontally.

Finally, please do not paste your photograph into a Word document, but rather attach it to your email separately from your biography.
THANK YOU!