Alternative Curricula

Alternative Curricula is an open, informal discussion group exploring postcolonial and decolonial theory. All are welcome: staff, students, locals and visitors. No prior knowledge of the topic is necessary, nor is there any obligation to attend every meeting.
We generally meet on Wednesdays in weeks 3, 5, and 7 at 5pm in Somerville College (unless otherwise stated on the termcard), but we will meet online only from October to December. We will circulate a link for the meeting via our mailing list, which you can join by emailing altcurricula@gmail.com.
Michaelmas Term Card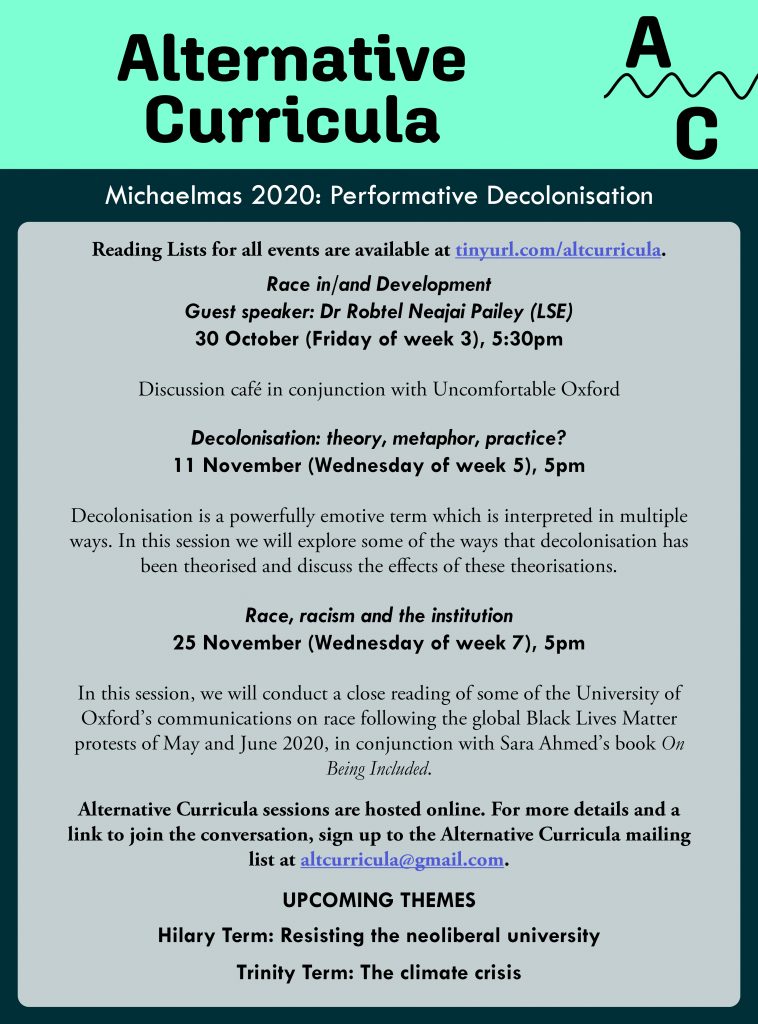 You can find the reading list for upcoming meetings at https://tinyurl.com/altcurricula. You can find reading lists from past years via the links below.
Reading lists from past academic years
Frequently Asked Questions
What is this group?  
'Alternative Curricula' is a reading and discussion group, set up to explore decolonial & postcolonial theory. Anyone from any background is welcome. No familiarity with the topic is required; we are all learning from one another as we go.
Approximately 3 readings will be circulated in advance and participants should ideally have read at least some of these before the meetings. At the meetings, we will discuss the ideas in the texts. The focus is on the texts themselves rather than a general talking shop.
What are your objectives?
This group aims to be a counterweight to the Eurocentricity of much of the academic theory that we encounter in university and in everyday life. We plan to critically read and discuss theorists from outside the traditional academic canon, with a particular focus on writers from the majority world (i.e. not Europe and North America), and writers who identify as Black and/or as people of colour.
What do I need to know before I come to one of your sessions?
We want this group to be a place of collaborative learning and discussion which is accessible, inclusive and respectful of its members –: adherence to this ideal is the only restriction that we wish to place on attendees.
Other than that, you do not need to have any qualifications in order to participate. Most of the readings will be accessible to any compassionate human being.
You do not need to have come to a previous session nor commit to going to future sessions. Each meeting focuses on a different topic.
The majority of the readings can be found online.
Who are the organisers?
The group is convened by two PhD students at the University of Oxford.
When and where do you meet?
Discussions will take place during University terms. They are usually on a Wednesday afternoon at Somerville College, though currently all are being held online. You will need to ask at Somerville lodge for directions to the room.
Please email altcurricula@gmail.com if you want to be kept up to date or receive reminders of the meetings. Any changes to the schedule will be communicated over email.
The time, venue and date of each meeting can be found on the reading list for the relevant session.