Somerville at Home: Season 2
Our 'Somerville at Home' series returns this autumn for another programme celebrating the best of Somerville with free events, videos, livestreams and more.

Somerville at Home is back! From September through to Christmas, we will once again be broadcasting the best of Somerville in the form of convivial chats, hard-hitting talks and far-reaching panel discussions.
Highlights of this term include a conversation between the actor Simon Russell Beale and Shakespearean scholar (and Somervillian) Emma Smith, looking at the changing dynamic between performers and academic students of Shakespeare over the centuries. We are also hosting conversations between our Principal, Jan Royall, and the broadcaster and journalist Joan Bakewell, as well as a series of events to commemorate Black History Month in October.
The archive of events can be found below, along with this season's term card.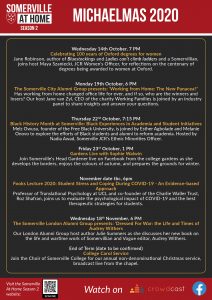 Season Two Archive
07/09/2020: The Actor & The Academic: Simon Russell Beale in conversation with Emma Smith
23/09/2020: A Life Less Ordinary: Somerville Principal Jan Royall in conversation with Joan Bakewell
14/10/2020: Jane Robinson: Celebrating 100 Years of Oxford Degrees for Women
19/20/2020: The Somerville City Group presents 'Working from Home: The New Panacea?'
22/10/2020: Black History Month at Somerville College: Black Experiences in Academia – Student Initiatives
23/10/2020: Gardens Live with Sophie Walwin
12/11/2020: The 2020 Monica Fooks Lecture by Professor Roz Shafran: 'Student Stress and Coping during COVID-19 – An Evidence-Informed Approach'
18/11/2020: The Somerville London Group presents 'Dressed for War: Julie Summers on Vogue's Miss Withers'
24/11/2020: The Somerville Upside: Lalage Bown (1945, History)
01/12/2020: The Somerville Upside: Susie Dent (1983, Modern Languages)
06/12/2020: College Carol Service featuring readings from Sir Simon Russell Beale, Matt Maltby, and Ella Road
07/12/2020: Actors at Home: Alison Skilbeck reads John Betjeman's 'Sun and Fun'
You can view the Somerville at home homepage and archive for all seasons here.